Safecracker Turned Prayer Ambassador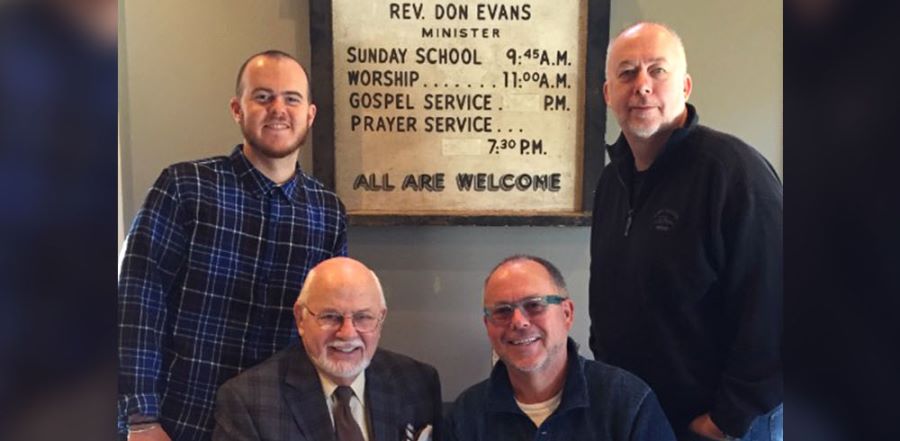 Don't miss any stories. Follow AG News!
At 82, Don J. Evans isn't ready to retire from the multifaceted ministry career that has included more than four decades of pastoring New Life Assembly of God in Trumbull, Connecticut. Evans became pastor in 1973 when 40 people attended regularly. Now, in spiritually dry New England, 1,375 show up on average.
Part of the draw certainly is due to the colorful Evans, an extroverted storyteller with a prodigious recall for details. The deep-voiced Welsh native has a flair for accents and impersonations.
Evans remains senior pastor at New Life, where son Mark is the executive pastor and primary preacher. Don recently retired after 18 years as a Southern New England District presbyter, but District Superintendent Robert Wise Jr. left a seat at the table whenever he wants to drop by as "presbyter emeritus." Wise also has tabbed Evans to lead a forthcoming district initiative as "prayer ambassador."
"Less than two percent of New England residents attend church," Wise says. "We need a prayer force like we've never had before."
"There's not the commitment to disciplined prayer with fervor as there should be," Evans concurs.
In his youth and early adult life, Evans didn't appear destined for prayer warrior candidacy. Raised in the rural sheep farming and coal mining village of Bedwas, South Wales, he consented at the age of 11 to the persistent invitations of his older sister to attend church. Shortly afterwards, the family moved to a suburb of the capital Cardiff, and Evans surrendered his life to Christ at the largest Pentecostal church in the nation.
Pastor P.S. Brewster of Elim City Temple allowed the baritone young teen to sing solos. Well-known Welsh evangelists invited the boy to sing at their revival meetings. At 17, Evans enrolled in Elim Bible College in London, and he continued as a gospel singing worship leader at crusades. He only lasted at the school half a semester.
"I was not a good student," Evans recalls. "My heart was not in it."
THE WRONG CROWD
Subsequently he joined a Welsh infantry regiment of the British Army. En route to promotion as drill sergeant, Evans learned to enjoy smoking and drinking while leaving God behind. After his two-year hitch ended, Evans couldn't find a job.
"I became an angry and bitter young man," Evans says. "I began to mix with a bad crowd — out-and-out criminals."
Gradually, Evans succumbed to participating in an organized crime network, which committed burglaries of ever-higher stakes. Evans participated as one of a four-man team engaged in a heist of a factory monthly payroll. But the explosive expert assigned to crack the safe blew it up instead, along with all the cash inside. The factory caught fire, and as alarms sounded the would-be thieves fled their separate ways.
In a downpour, Evans took a circuitous route home to his wife, June, whom he married at 20, and their two sons.
"I realized my life was polluted," Evans says. "I told God if He would provide a way back, I'd take it."
Near his home, police officers emerged from the shadows and slapped handcuffs on him. One of his already-captured accomplices implicated Evans in exchange for immunity from prosecution.
In his jail cell, Evans fell to his knees and wept, praying to God all night. The following morning, his unsuspecting wife visited, and he asked for forgiveness.
"She said, 'Who am I to remember what God has chosen to forget,'" Evans remembers. "I realized, with God's help, I could make it back."
The last defendant to be sentenced in the crime ring, Evans might have gone to prison for nine years. Instead, a lenient judge let him off with one year behind bars. That stretch included hard labor digging trenches.
NEW OPPORTUNITIES
Life grew even more difficult on the outside. No employer would hire Evans because of his prison record. He applied for a job as a men's clothing salesman, and in a brisk interview no questions arose about his unsavory background. Evans rapidly became the store's top salesman. Six months into the job, office personnel said they needed additional biographical information for insurance purposes.
Evans sought out his boss for a private conference and revealed his checkered past. The supervisor kept the details confidential, and Evans remained employed. Multiple promotions and pay increases followed, with the promise of joining a team of junior buyers to tour Europe.
However, one day on his lunch hour Evans bumped into David Shepherd, whom he had heard preach as a 12-year-old youth. Shepherd asked Evans if he would sing at his upcoming weekend revival services. Soon, Evans began sharing preaching duties with Shepherd, and churches started calling to ask him to speak solo.
With no guaranteed income, Evans discarded his clothing career and entered full-time ministry. At 31, just after he made his first long-playing record album, Evans received an invitation to preach at an Assemblies of God youth camp in Connecticut.
"I always wanted to go to America and here was an invitation!" Evans says.
But the U.S. Embassy in London, cognizant of his convicted felon past, refused to grant Evans a visa. Eventually, a letter from then-Southern New England District Superintendent David W. Flower convinced government authorities that Evans didn't pose a risk.
That same year, 1970, June and the couple's four sons joined Don. June also sensed the Lord calling the family to the U.S. as a mission field. They began an evangelistic ministry mainly in New England, with the entire family being granted permanent residence status in 1973. By this time, several thriving congregations had invited Evans to fill their pulpit permanently.
In 1973, lay leaders of an AG church with just 40 members in Bridgeport decided to stop interviewing pastoral candidates. Elder Wally Johnson told Evans that God had let the search committee know he would be the new pastor — but Evans had failed to listen.
"Bridgeport was full of crime and drugs in those days," Evans recalls. "The church was in a lousy neighborhood and had no parking area. Yet I could feel God drawing me. God put a love in my heart for the place."
So, with no pastoral experience at age 37, Evans took the position. He immediately realized the church needed to move to a more expansive location and he found five acres in nearby Trumbull. Local white neighbors, some fearful that African-Americans would be part of the Pentecostal church, waged an unsuccessful four-year legal battle in an effort to keep the church from being constructed.
Currently, New Life holds three multicultural services each Sunday morning with a total average attendance of 1,300 people. Don and June's son Mark is the executive pastor, son Jason is worship leader, and grandson Luke is youth pastor. These four family members along with three other ordained pastors comprise the ministerial staff.
PRAYER EMPHASIS
Ever since Don arrived in 1973, the church has held an hourlong Tuesday night prayer service, which consistently draws 50 to 100 people. Evans believes that is the key reason the church has grown.
"Things fail when people don't take time during the day to seek God eye to eye," Evans says. "When prayer goes up, suddenly God sovereignly moves by His Holy Spirit and people know Him."
Wise has recruited Evans to join him on a September district tour to cast vision for the 185 AG congregations in Connecticut, Massachusetts, and Rhode Island. Wise, who has been superintendent for a decade, believes people respond to Evans because he is jovial, passionate, and well-respected. The initiative will be launched officially on Oct. 29 to coincide with the 500th anniversary of the Reformation.
"We need our pastors to have an altar in their home and in their personal life," Wise says. "A lot of churches have eliminated the altar. There is no time to tarry. Revival will come from our knees."
IMAGE - Don J. Evans (seated left) is supported on staff by (from left) grandson Luke, son Mark, and son Jason.