Sarah's Home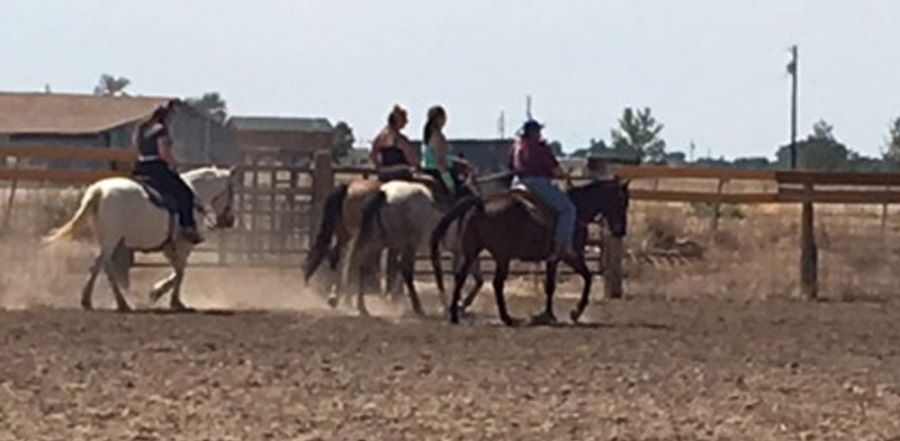 Don't miss any stories. Follow AG News!
Several years ago, women's ministry leaders in the Assemblies of God
Rocky Mountain Ministry Network
became concerned for victims of sex trafficking, after seeing the problem on mission trips abroad.
Subsequently, they realized the same scourge happens frequently in the United States.
Visiting an urban Denver ministry in 2012, team members were shocked to see victims, some obviously underage, being managed by pimps on city streets. A ministry leader took the team to a bus station, where he pointed out traffickers waiting to pounce on runaway teens.
The women knew they had to do something. Led by Peggy Vawter, women's director at that time, team members shared the vision with women across the ministry network. In 2013, the network provided a former church property to be used as a recovery home for young female survivors of sex trafficking.
Women in the ministry network raised money for remodeling, and
U.S. Mission America Placement Service
teams provided labor. Now
Sarah's Home
in El Paso County, Colorado, comprises three buildings and offers housing, care, therapy, and education for girls ages 12 to 18. The ministry became a separate nonprofit in 2011, but current network
Women's Ministries
Director Linda Bottoms says many district women's groups still donate monthly. Some also volunteer.
When Sarah's Home opened, only 30 recovery facility beds existed nationwide. The need remains great .
"Rescue and recovery are two different things," says Sarah's Home Executive Director
Vicki Proffit
. "Victims need a place to heal before they are ready to function in a safe, healthy way." Now, secular and faith-based ministries together offer about 600 beds nationwide, while FBI sources estimate the need at 13,000. While an estimated 40 percent of rescued victims are boys, only one home is currently available for them.
Prior to joining Sarah's Home, Proffit, 69, served as founding director of the
Women and Women with Children Teen Challenge Center
in Olathe, Colorado (U.S. MAPS and Adult & Teen Challenge are both departments of U.S. Missions). Proffit had been involved in network women's leadership and is an experienced foster parent.
"Some of the women I worked with were probably trafficked," she says. "We didn't really use that term, but any time there's deceit or coercion, it's trafficking." She transitioned to her new role in 2015.
According to Proffit, about 85 percent of trafficked children and youth in the U.S. are born and raised in this country. Although demographic factors such as children in foster care may increase vulnerability, any child or teenager is susceptible, she says. Victims are seldom kidnapped; contact is likelier made through social media or online gaming. Girls often deny being trafficked — instead describing the relationship as a boyfriend or father figure — until they begin to heal and realize the deception.
Even children who have a good relationship with their parents are vulnerable, according to Pamela, a parent whose daughter graduated from Sarah's Home. Jaden is now happily married with a new baby, although the family is still healing. Pamela cautions parents about not only online activity, but also allowing children and teens to stay overnight in homes of friends or relatives.
"Predators are master manipulators," she says. "Our daughter was 10 years old when the abuse started, but because the person threatened to harm her family, she didn't know what to do."
Jaden eventually left home, but was rescued at age 16 by a ministry working with the FBI. After learning her daughter's whereabouts, Pamela's search for a recovery facility began.
"I made so many phone calls," says Pamela. "I was in such a horrible state as a parent during a time like that — the anxiety, the questions." Wanting a faith-based facility, she believes God helped her learn about Sarah's Home. Staff facilitated a smooth transition from the rescue ministry, keeping in touch with the former therapist. Pamela is also grateful for volunteers providing practical and healing instruction, such as gardening and cooking, or hiking and nature skills.
Jaden, now 19, says she is grateful that her parents lived close enough to visit and they could heal as a family. She says the mentor program at Sarah's Home is also helpful, especially when parents cannot be present or the relationship is rocky.
Sarah's Home receives referrals from courts, social workers, law enforcement officials, medical personnel, and sometimes directly from desperate parents like Pamela. Proffit says God provides for expenses through staff speaking engagements, women's groups, special events such as sponsored five-kilometer runs, and word-of-mouth. Program costs are based on what families can afford, using school free/reduced lunch qualifications as a guide.
The multifaceted program includes an accredited school, so girls can catch up on their studies or even graduate. Director of Education Amy Bell has a master's degree in education and develops an individualized education program for each girl. There are also several forms of practical therapy. In addition to art and music, the girls visit the ranch of U.S. Missions chaplain
Linda Scholtz
for equine therapy.
"That was my favorite thing ever," says Jaden. "Linda and her helper, Carol, were so encouraging."
The girls receive weekly trauma-informed therapy through a licensed child placement agency. The agency also assists staff with regulatory compliance. Regulations prohibit requiring religious participation, but the intake packet acknowledges the faith-based focus. Christian music plays in the facility, the curriculum includes Bible classes, and church services are available. Each phase of a girl's recovery includes a contract with new privileges, eventually including attendance at youth group. Internet use is limited to supervised schoolwork, but classes include guidance about relationships and social media as girls prepare to return to family and social settings.
As leadership continues to develop at Sarah's Home, Proffit hopes eventually to walk alongside other people wanting to develop similar ministries to meet the great need.
"All of our staff are mature, Spirit-filled women," says Proffit. "We want the girls to know Jesus is the center of what we do, and our only hope."