Saying Yes First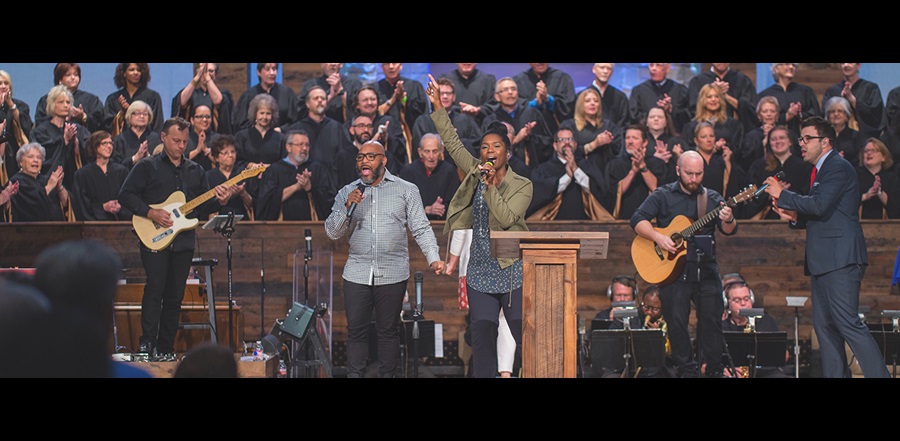 Don't miss any stories. Follow AG News!
After 33 years as music pastor of Bethesda Community Church in Fort Worth, Texas, J. Daniel Smith became senior pastor. During the pastoral transition, he would be awakened each night with curious thoughts that began the same way: Wouldn't it be wonderful if Bethesda could.... Each night, the message ended with a different idea.
"I called it 'download from heaven,'" says Smith, 63. One such "download" pondered the church reaching the next generation. Another focused on the church body reflecting the community.
At the time, Bethesda's attracted 850 regular attendees. Except for a couple of African-American families and a few Hispanics, "That solid core was largely white Anglo, and the median age was in the 50s," Smith says. "We had a very faithful following over three decades together."
But that demographic didn't reflect the urban population, a reality driven home when Smith made a point of people-watching in the community.
"I thought, Our church doesn't look like this at all," Smith says. "We need to look more like the demographic of the city for today, and heaven for tomorrow."
Smith felt confident that Bethesda would be enriched if diverse ethnicities started attending in bunches, but he didn't know how to bring about what amounted to a shift in the church's culture. The Holy Spirit gave no detailed to-do list on how to make it happen. Instead, Smith says he only heard the Lord seeking his willingness to try.
"We weren't forsaking the church we had been, but rather opening it up for other communities," he says. He understood the urgency of answering in obedience, even before knowing the cost.
"When the Holy Spirit began to drop these things in my heart, saying this is the direction I need to be headed, I said 'yes' first," Smith says. "When the Lord gives it to you, He is the one who leads the way."
And God has, even providing a pastor for each language that now holds a Sunday service at Bethesda.
Will Aplicano, who previously ministered with a prominent Honduran evangelist, approached Bethesda about leading a Spanish-language service. He joined the staff as Hispanic pastor. When French-speakers began attending, Israel Alfany became French pastor. Several Africans from the Democratic Republic of Congo who began attending Bethesda asked about launching services in Swahili. Recently, the church installed Joseph Boomenyo as pastor for Swahili-speakers.
Boomenyo, 43, grew up in Democratic Republic of Congo, where his father ministered 50 years as an AG pastor. In 1997, war pushed Boomenyo to relocate to Zimbabwe, where he planted Pentecostal churches. In November, he joined Bethesda's staff as Swahili pastor. Boomenyo says the congregation's diversity is reminiscent of the Day of Pentecost.
"We are complementing each other very well," Boomenyo says. "We see the presence of God in our diversity of language. But we speak about one subject: Jesus, who serves all regardless of color, language, and background."
Late last year, a Korean group expressed interest in worshipping at Bethesda. Now they meet Sunday afternoons. In February, Smith heard from a California pastor that Burmese Christians in Fort Worth with Pentecostal AG roots needed a place to worship. A Vietnamese group not directly under Bethesda's leadership meets in a building down the street, joining Bethesda congregants for joint prayer services.
Together, the non-English language congregations' average attendance is 400, less than four years after they first began. Between various language services, plus children's church, Bethesda's five auditoriums remain a flurry of activity each Sunday.
"I didn't go out and pursue any one of these," Smith says. "I don't have an understanding on how to do it. Every one fell in our lap and sought us out."
None of the separate people groups knew about the others that already assembled as part of Bethesda. Combined attendance now hovers around 1,400.
Smith says the traditional English-speaking congregation has embraced the changes. Some people who initially expressed reservations have since written to him that they see enrichment in connecting to other ethnic groups — inviting them to join them for Christmas, taking part in each other's events, developing relationships, even helping meet financial needs.
"People have chosen to be engaged with other cultures," Smith says.
Corporately, the various language groups hold worship services together. Sometimes just one of the language bodies, such as the French-speakers, join the English service. Baptismal services and Communion are conducted together.