Second Act of Grace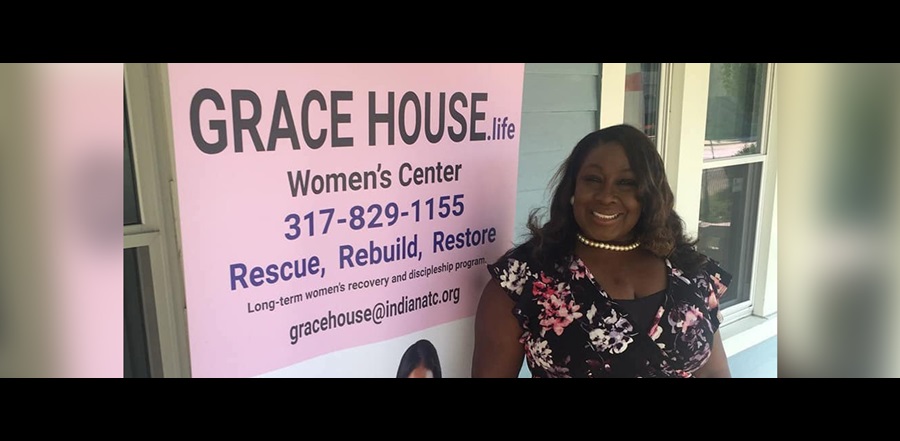 Don't miss any stories. Follow AG News!
In March 2018, Grace House Women's Center opened in Indianapolis as a long-term Adult & Teen Challenge residential program for women. The Christ-centered U.S. Missions program is intended to help women dealing with life-controlling issues by focusing on discipleship and recovery. Lavonne Y. Savage, Grace House's executive director, has firsthand knowledge how such an environment can be life-changing.
Savage, 52, graduated from a Teen Challenge program in Missouri more than 20 years ago. She grew up in a dysfunctional family and felt a sense of abandonment during her formative years, having been sexually molested by multiple family members. Her history of abuse led her down a dark path.
"By the time I was 14, I knew how to proposition a man for sex," says Savage. She became a sex worker at age 15, an alcoholic by 17, and a crack addict at 21.
Savage's crack addiction became so severe that her trafficker put her in the Teen Challenge program. He hoped she would return working for him after getting clean, but God had other plans.
"God got ahold of me," Savage says. "I can't explain what happened. I just wanted more of God." During her time in Teen Challenge, Savage experienced the saving and delivering power of God from frequent dreams that tormented her with temptations to use drugs. In the dreams, an angel always intervened and delivered her.
"I know that it was the angel of the Lord protecting me in those dreams," she says.
Savage began to sense a call to ministry, so she moved to Los Angeles after graduating from Teen Challenge and entered Teen Challenge Ministry Institute. There she developed a desire to minister to people living on the streets. After graduating from TCMI, she started Beans and Rice and Jesus Christ, a ministry to the homeless in downtown L.A.
Through Beans and Rice and Jesus Christ, Savage touched many lives, but she says she failed to keep a vow she had made to the Lord to work for Teen Challenge. Instead, she invited TCMI students to work alongside her. She says the little compromise resulted in her failing to fully surrender control of her life to the Lord, a pattern of behavior that would cost her dearly.
Savage's life began to spiral out of control when she escaped from an abusive marriage. Instead of turning to God for healing and strength, she started using drugs again. This time, her addiction landed her in jail. Being incarcerated forced Savage to get clean, but she still felt empty inside. Realizing that she needed to surrender control of her life to God, she sought a restoration process through the Assemblies of God.
"I began to release, surrender, and get honest with myself," she says.
After going through restoration, she made good on her promise to God and started working for Teen Challenge. In 2017, almost a decade after her restoration, Savage was invited to become executive director of Grace House.
"You don't often find people who will give you so much grace," says Beverly L. Seitz, a Teen Challenge graduate who came to Grace House in June and now serves as an intern. Seitz, 57, says Grace House helped restore her relationship with her family. Through Savage's mentorship, Seitz has been able to get her life back on track.
"Lavonne has a really big heart," Seitz says. "She's gracious and willing to listen. She's good at helping people through their problems."
"The key thing that we do is point women to Jesus," says Jennifer L. Baca, program director at Grace House. Baca, 38, left her job as an insurance specialist to work with Savage, overseeing day-to-day operations at Grace House and working closely with the residents.
Currently, 11 students are in the program, ranging in age from 19 to 62. They deal with a variety of life-controlling issues, including substance abuse, depression, and eating disorders. The women — many of whom live there as an alternative to incarceration or just after being released — participate in discipleship classes, mentorship, work therapy, and other programs that are designed to help them function in society.
"My payoff is when I see one of the women succeed," says Savage.