Serving God, Serving People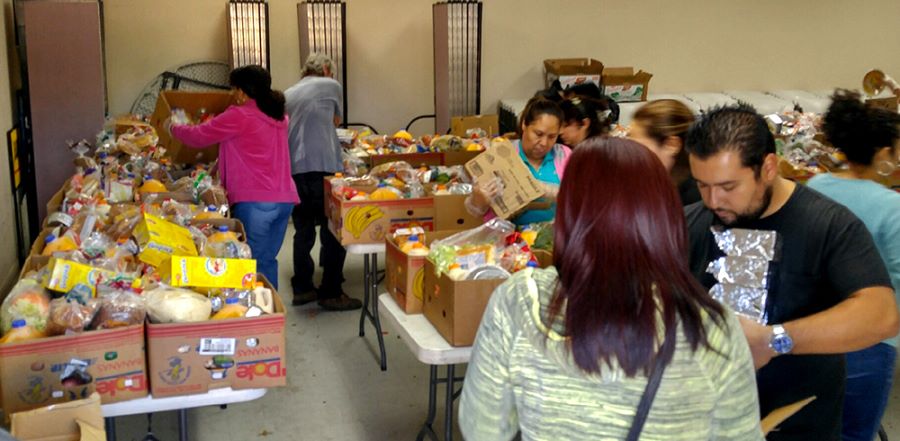 Don't miss any stories. Follow AG News!
Way of Life Church (Iglesia Camino de Vida) looks beyond traditions in order to reach a younger generation and a hurting community in Phoenix.
When Pastor Burke Montoya arrived in 2006, the church had about 100 people attending on a weekly basis. Way of Life now hosts more than 350 people each weekend. The church has grown by altering traditional views about volunteer service.
Seven years ago, Way of Life Church began an outreach to provide food and clothing to those in need on Saturday mornings. As with many such programs, organizers hoped that recipients whose physical need had been met on Saturday would respond to an invitation to have their spiritual concerns addressed at a Sunday church service.
Two years ago, the church shifted its paradigm.
"We changed our mentality from focusing on trying to get them to come to service on Sunday," says Montoya, who also is assistant superintendent of the Assemblies of God Southwest District. "We brought Sunday to them."
The Saturday outreach is now a worship service. Individuals receive free clothing prior to the meeting; participate in worship, teaching, and time at the altar; and leave with food for the week. On a typical Saturday, around 125 individuals will attend the Saturday worship experience.
Church leaders also switched their views on the qualifications of who can serve.
Burke, concerned by statistics on young adults leaving the church, recognized they needed to see an opportunity to make a difference.
"Unless young adults are living out their faith through service and making some kind of impact on the life of someone else, the Sunday church experience will not be enough, no matter how dynamic it is," Burke says.
Formerly only those who had obtained a certain level of respect and status in the church by demonstrating an exemplary lifestyle could be in positions of service.
"You can't force change, but if they are hearing the Word and being convicted, not condemned, people realize they can't serve effectively without putting Christ first in their lives," Burke says.
Leadership has focused on creating environments to develop relationships and providing opportunities to serve. Nick Zamorano, associate pastor, believes the intentional effort to connect the younger generation has stabilized the church. If young adults left en masse, it would create a huge hole because they have become such an integral part of the body — at Saturday worship service and community outreach, Wednesday night gatherings, Bible study groups, Sunday morning service, and different ministry and mission opportunities.
"If you love God, you will love people," Zamorano says. "If you want to serve God, then you will serve people. Our church, including our young adults, have done that."