Sharing Freedom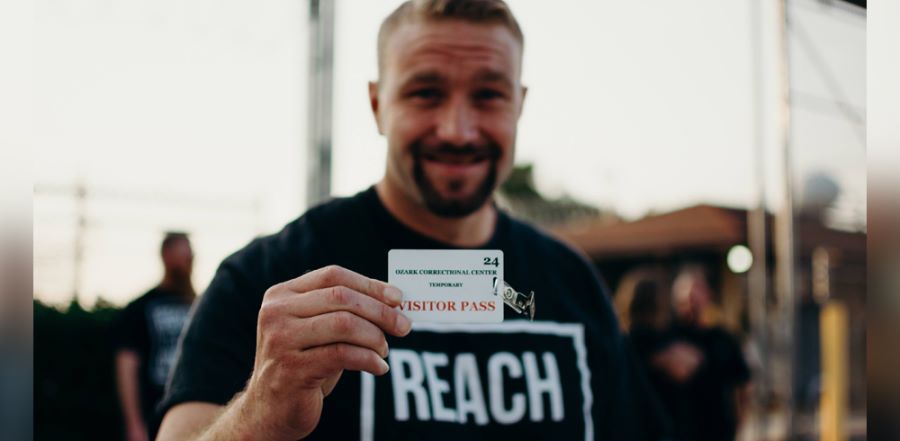 Don't miss any stories. Follow AG News!
Three years ago, Zachary S. Rogers wrapped up his sentence at Missouri's
Ozark Correctional Center
. Now he is a missionary associate with
U.S. Mission America Placement Service
, studying for ministerial credentials and a bachelor's degree through the
School of Urban Missions
campus at Freedom City Church in Springfield.
With his wife, Alicia, he serves as campus director for the
Freedom City Church
Branson location .
Rogers, 40, was born in Lancaster, California, to a mother struggling with addiction. Only two years later, his father was murdered. Over the next several years, various relatives and friends introduced Rogers to methamphetamines, gangs, white supremacist culture, and cults. At 15, on probation, he made an unauthorized move with his mother to Galena, Missouri.
Regrettably, rural Stone County, Missouri, offered some of the same kind of company they had left in California. After being expelled from school, Rogers tried Alcoholics Anonymous and other programs, but eventually his drug and gang involvement landed him in prison.
Released in 2007, Rogers vowed to do better. He wanted to connect with the daughter he had fathered in 2003, and he started a flooring and tile business. He visited a small Pentecostal church and accepted Christ as Savior. However, confused by a mixture of religious experiences, he didn't know how to proceed. His business, slowed by the 2008 housing downturn, failed. In 2011, his mother died of cancer. Once again, he relapsed.
Charged in another drug bust in 2015, he cried out to God in desperation, making a more solid commitment than before. He began serving a one-year sentence at OCC in 2016.
At the facility he ran into old drug and gang connections. But he also met people who had turned their lives around. Jason Schwyhart, a Stone County friend, had accepted Christ and joined the
Freedom City team
. Another OCC volunteer, Allen Thompson, had tried years earlier to talk to Rogers at an AA meeting. Rogers also cites the faithfulness of late chaplain William Marcink,
"Grandma" Priscilla Edwards
, and Freedom City pastor
John Alarid
, plus others from
Central Assembly of God
and
James River Church
. He spent time in prayer at chapel services and recovery meetings, and received the baptism in the Holy Spirit.
In the summer of 2017, Rogers was released to
Hope Homes of the Ozarks
, an Adult & Teen Challenge Ministry started by Freedom City. (
Adult & Teen Challenge
, like U.S. MAPS, is a department of U.S. Missions). He worked hard, assisted Alarid with a variety of ministry tasks, and attended a
SUM Mardi Gras outreach
. He eventually became resident manager at
Timothy House
, a sober living home.
While at OCC, Rogers had expressed hesitation about entering a recovery program due to concern about not being able to see his daughter enough. Alarid ascertained that Rogers had practically no contact with her before.
"What's nine more months, to never have to leave her again?" Alarid asked.
Rogers now enjoys a restored relationship with the 17-year-old Kalli.
"Long before anyone realized, God had it covered," he says.
While finishing his commitment to Timothy House, Rogers began dating Alicia, who also found Christ through Freedom City. Pregnant and living in a motel in early 2017, Alicia's story included substance abuse and a failed relationship with her child's addicted father. As she found freedom in Christ, she and Rogers also recognized God's leading to pursue ministry together. They wed in March 2019, and a month later began leading Friday Night Fire meetings at the Branson campus. The church officially launched in October.
The church meets in the Old Stone Church, Branson's oldest church building and the original home of
First Presbyterian Church
. The structure also hosts a Hispanic Assemblies of God congregation,
Adullam Christian Church
. First Presbyterian pastor
Thomas N. Willcox
says the congregation is enthused about this newest partnership.
"We see ourselves as an incubator of other ministry in the area, sort of a launching point into a network of care," says Willcox, who also serves as a police chaplain. "We don't personally have the expertise in recovery ministry, but this helps us point to people who do."
Rogers continually thanks God for restoration, including his intellectual capabilities.
"After a traumatic brain injury and years of drug use, I'm on the dean's list at SUM," he notes. "Only God could do that."
After finishing his studies, Rogers hopes to devote more time to ministry as a missionary associate , including increased visibility in Branson. His goal is to develop local leadership.
"We're not just a recovery ministry; we're about reaching the unchurched," Rogers says. The church conducts regular visitation to extended-stay motels and high-need neighborhoods. Local attendees are being trained to serve in worship and children's ministry, and a
Living Free
class will start soon at Branson's
Simmering Center
, a sober living facility.
Alarid says Freedom City leaders believe Zach and Alicia are the perfect couple to lead the Branson campus, which is in a
parent-affiliated relationship
. Both are Church Multiplication Network
Matching Fund
congregations and leaders from both campuses have attended
Launch Training
events.
"When Jesus met me in solitary confinement years ago, he spoke to me about an army he was raising up out of the prisons," says Alarid, himself a former cocaine and heroin addict. "Zach is the embodiment of that vision. He and Alicia encountered God and were transformed. They know firsthand what God is doing, and have bought into the vision."