Sharing Stories of Triumph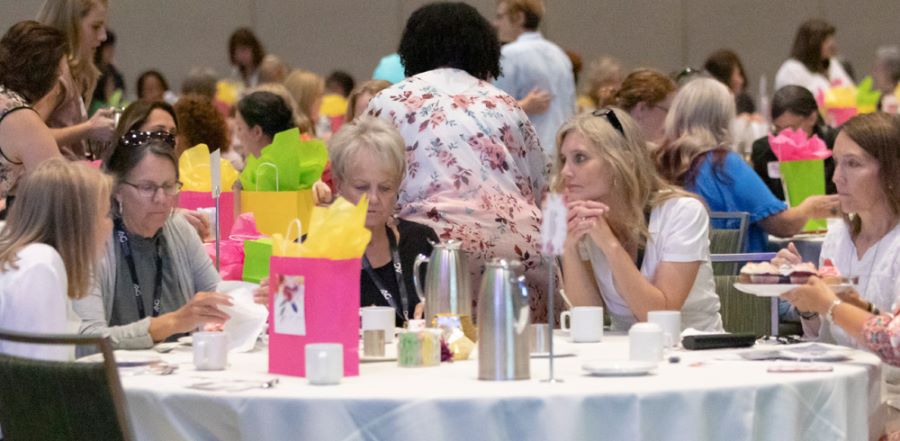 Don't miss any stories. Follow AG News!
ORLANDO, Florida — Women told stories of struggle and triumph as they met for the For Every Woman Gathering at General C19 in Orlando. The Aug. 1 reception brought nearly 780 women together to connect and communicate stories of God's working in their lives.
"Story is such a powerful way to communicate," said event emcee Kay Burnett, national director for
AG Women
. "Narrative, metanarrative, and story help reveal truth. Jesus was a master at using story to teach principles we can follow."
Attendees heard three video stories.
Evelyn Klingler
, missions and ministries coordinator for AG Women, told the audience that when she and her husband, Sam, were world missionaries, she came home one evening to a note from her husband saying that he had sinned against her, and against their marriage.
Klingler
fell to the floor weeping, but in days following, as she began to tell of her struggle with other Christian women around her who prayed with her, eventually her marriage was restored.
"I needed other women in my life who loved God, and also cared for me," Klingler said. "I want to encourage you, if you are going through something, there is a God who hears and answers, and cares for you deeply."
The second video shared the testimony of
Linda Seiler
, campus pastor with
Chi Alpha Campus Ministries
at
Purdue University
. Seiler grew up struggling with same-sex attraction. As an elementary student, she heard of sex-change operations for the first time, and immediately planned to save money to have the operation, change her name to David, and live as a man.
When Seiler became a Christian in college, she realized she needed help. With trepidation, she confessed her same-sex attractions to her small group leader, who committed with other group leaders to get her the help she needed.
Seiler said the acceptance and love she felt from God overwhelmed her. Seiler's peer group and women in her life accepted her. "All of those relationships helped bring healing to me," she said.
Pamela Crosby, with
EMERGE Counseling Services
, a ministry to pastors and families based in Akron, Ohio, told the audience in a third video that she struggled with deep depression most of her life. One day, as Crosby prepared to lead a women's event while struggling with depression, she received a phone call. Ellen, a woman in the church Crosby and her husband, Robert, pastored, said the Lord had been bringing her to her mind all day. Ellen asked if she could pray for her.
"That phone call was a step in the direction of healing for me," Crosby said, noting that Ellen became a faithful prayer partner. "What an encouragement to walk in life with each other."
After watching the three videos, Burnett called
Lindsay Petri
, women's director for the Arizona Ministry Network, onstage to tell her testimony of being saved from a life of domestic violence and drug abuse to a new life as a church planter and director of women.
"The enemy provides a distorted counterfeit," Petri said. "God provides the real experience."
Also at the gathering, AG Executive Presbyter and
Project Rescue
Director Beth Grant reflected on those who have spoken into her life throughout her years of ministry.
¬"Don't be afraid to speak over older women's lives if God speaks to you," Grant told younger women. If the Holy Spirit gives you a word, then speak. Hear Him and honor and respect Him enough to be obedient. We are in a prophetic moment in God's time born of the Spirit." Grant also encouraged older women to not put themselves "on the shelf, because there is no shelf life with the call of God."
AG General Secretary
Donna Barrett
prayed for Grant.
Attendees learned of a new initiative called
Light the Way
, a missions-giving model that will unite AG women to provide resources for the victimized and marginalized.
The premier project for Light the Way throughout 2020 is
Calcutta Mercy
, a nonprofit organization with roots in the Assemblies of God that offers food, education, and medical care. Bob McGurty, president of Calcutta Mercy, helped present the project to attendees.