Showing Compassion in 'Witch City'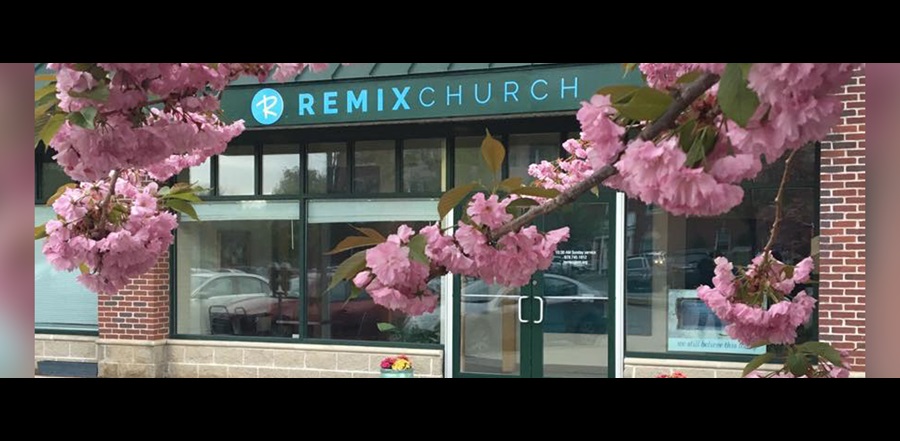 Don't miss any stories. Follow AG News!
In the proudly self-proclaimed "Witch City" of Salem, Massachusetts, the Halloween season and the occult are marketing gold for opportunistic shop owners and serious neo-pagans alike.
But it's not just true witches and warlocks who are among the tens of thousands of costumed tourists trekking this northern New England town's Essex Street in October. So are adherents of Remix Church, an Assemblies of God congregation pastored by Guy and Tana Miller.
Remix Church is focused on caring outreach rather than confrontation in the unique, periodically bizarre, city on the north shore of Massachusetts Bay.
"We welcome people, no matter what costume they have on," Tana says.
Remix Church's approach — rather than the hellfire and damnation shouts of some street preachers directed at Salem's Wiccan practitioners during yearly Halloween events — is to offer hot chocolate and coffee to chilled revelers, to engage in board games at tables, to freshen smartphones at a bank of charging stations, or just to engage in friendly conversation.
Remix, a Church Multiplication Network congregation planted six years ago by Calvary Christian Church in Lynnfield, Massachusetts, has a prime location for its gentle, yet effective outreach. It is attached to the Witch City Mall, the epicenter of Salem's monthlong Festival of the Dead, annual Psychic Fair and Witchcraft Expo, and similar events every October.
Remix Church also is a mere 150 yards away from Salem's Witch Museum, and just half a mile away from the world headquarters of the Satanic Temple.
Consequently, the Millers acknowledge Salem can be a tough environment to share Christ, at least in traditional evangelical ways.
Despite its 17th century Puritan roots, the 43,100 residents of Salem today are hardly resolute heirs of that Christian faith legacy. Known not only for its celebration of the occult, but liberal social and cultural leanings, the city reflects Massachusetts' standing as least religiously observant state, according to Pew Research.
Still, it is the specter of witchcraft, first made infamous by Salem's historic 1692 trials of alleged practitioners, that continues to hover over the community today. Perhaps the largest part of that representation is due to tourism marketing and mass media hype. However, there is indeed an aura of the dark arts over the area that has figured into much cinematic and literary lore, especially before Halloween.
"Everything changes overnight in October, overnight," Guy says. "Then, we definitely are infused with all manner of witchcraft, psychic activity, tarot card readers, and just lots of 'different' kinds of people."
Out-of-town Christian visitors to Salem often report sensing spiritual oppression upon arrival, the Millers concede. Those perceptions aren't to be dismissed wholesale as just imaginative excess, according to the Millers.
"We have awakened in the middle of the night, especially in October, and felt demonic oppression," Tana says. "We just wake up and pray through it."
Such observations, Guy believes, likely are due as much to the region's more general anti-Christian mindset, rather than witchcraft specifically.
"Those other elements carry the notion that the Church and God are enemies of the culture," he says.
The Millers served for 13 years at Calvary Christian Center as associates under Pastor Tim P. Schmidt. When the Millers arrived in Salem in 2012, the city had been without a lasting AG church for more than 40 years.
"Salem is a graveyard of gospel-teaching churches," Guy says.
Both ordained ministers now in their 50s, the Millers have made it a point to get involved in Salem's civic activities. Guy joined the city's Haunted Happenings Committee and Tana serves on the Witch City Mall Committee. Those associations helped Remix build bridges, respect, and friendships.
"We decided when we came here that we didn't want to be known for what we are 'against,' but to be known for what we love: God, people, and Salem," Guy says.
That can even mean reaching out to someone like Christian Day, a controversial, self-defined warlock with an international following. Day visited on Halloween, and while some pastors preferred to keep their distance, Miller introduced himself.
"I think Jesus would shake everyone's hand, regardless," Guy says. "Everybody deserves respect, everybody deserves love, and everybody deserves to have their story heard. If you aren't willing to hear someone's story, I really don't know what you are doing in the ministry."
Remix is a Matching Fund church that has fully replenished the $30,000 received from AGTrust to launch.