Silent "Breathe Walk" Speaks Volumes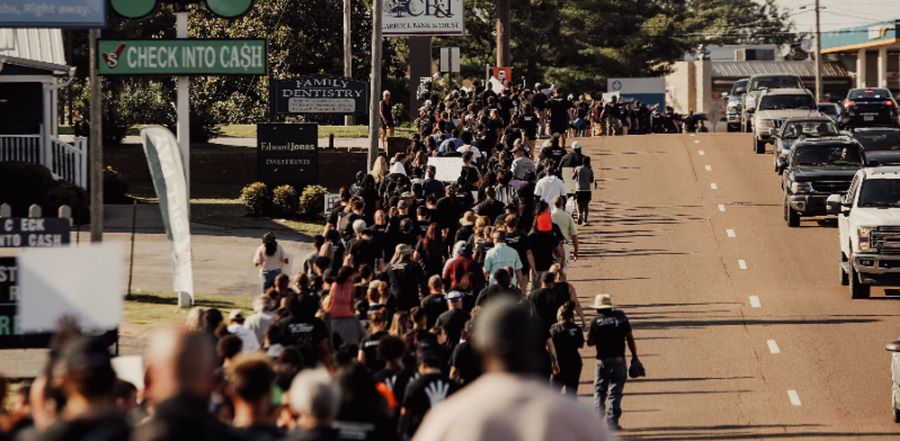 Don't miss any stories. Follow AG News!
In contrast to the demonstrations and riots that took place in some parts of the country, a small town of 7,800 in western Tennessee saw people take a much different approach.
Pastor Rick Waycaster, along with a trio of women from
Milan First Assembly of God
, brought a community together in peaceful unity. Approximately 1,100 people from diverse demographics and ethnicities came together for a 2.2-mile walk through Milan in silence, dressed in black T-shirts, and in unity of purpose on June 14.
"God breathed life into all of us," Waycaster says. "So, the theme of the walk was 'Breathe.'"
The walk was the result of prayer and seeking God's guidance on what the church could do to help bring the community together as well as recognize and respond to the perceived and real needs of the black community.
With the church in the middle of an extensive remodeling program on three buildings that required much of his time, Rick says that "the triplets" — as he warmly refers to them — were in charge. The trio of women consisted of his daughter-in-law, Rebecca Waycaster, who also serves as a youth pastor at the church with her husband, Alex, along with church members Raven Williamson and Kristi Rushing.
Rebecca says that as she watched the protesting and riots on television, with the chaos and rioters wreaking havoc, the Lord spoke to her that His will is to bring people together, not tear them apart.
"He reminded me of the Battle of Jericho," she says. "The people walked in unity, in specific order, and did specific things — they walked in silence and shouted at the end. The shout wasn't about scaring the enemy away, but the shout was an indication to the heavenlies to come in."
When Rebecca contacted Rick about doing the walk, he knew this had "God" written all over it, but he was unsure if it would get approved. He knew the mayor and chief of police were very concerned about the potential of any kind of walk or march turning into a riot. Nevertheless, he placed a call to the mayor's office. His concerns were well-founded — initially neither of the men supported the idea.
But the women would not relent. They wanted to meet with the mayor and chief of police. They not only wanted permission, but the men's blessing, validation, and participation!
"When we walked in there, the mayor and chief of police seemed very skeptical at first (about the walk)," Rick says. "I sat there and watched God change their minds with my own eyes — their posture, their demeanor changed, it was God! Not only did they approve of the walk, they were going to lead it."
"When they came and met with me and the chief of police, they had put together a very good plan and a great theme for the walk," Mayor B.W. Beasley says. "They offered a measure to bring the community together in a loving fashion."
It seemed that the walk from that point on should have been nearly unopposed, but Rick says he was deeply surprised and disappointed by the number of local pastors, both white and black, who did not want anything to do with the walk. However, by the number of people who participated, it seems clear that many parishioners did approve.
"Being used by the Lord is a humbling experience," Rebecca admits. "One day, it had been a tough day, as we were coming against so much opposition from all sides, and I came across a Scripture passage in a book by Priscilla Shearer . . .
2 Chronicles 20:15-17
, which says 'don't fear, the battle is not yours, the battle is God's.' I knew at that moment, that when you reach for souls, the enemy is going to come against you . . ., but it's God's battle."
Despite the opposition, including by some who attend First Assembly, Rick believes that when God's people lead or respond, they should handle things differently than the world does.
"We wanted to come together as pastors and churches and lead our city in a unity walk that showed that we can be unified," Rick says.
The walk concluded with a shout and an all-invited block party at the church, which provided food and live music. Community leaders also spoke, including the mayor, ministers, and the high school football coach.
But this was much more than just a gesture or feel-good moment. In addition to coming together in purpose and fellowship, Rick says that once a month pastors from the community will now be coming together for prayer and to identify areas in the black community that desperately need attention.
"We are also putting together a team of carpenters and workmen who are willing to help repair areas of neglect," he explains. "We're going to do this through prayer — that God will tear down strongholds — and put words and action to our faith by going into the community to help fix people's homes, repair porches, do things that show we are sincere in what we're trying to do."
Rebecca agrees, noting that the walk was just the starting point to tearing down walls between black and white community members.
The walk, which went off without any problems, received numerous complimentary honks and waves as well as a few "stare-right-through-yous." Feedback on social media has been overwhelmingly positive from all corners. The walk was also covered by a television station from nearby Jackson and made front-page news in the
Jackson Sun
and
Milan Mirror.
Beasley, who's in his second term as mayor, says the day after the walk he started receiving phone calls almost immediately about what a blessing it was to see black and white walking together. "We got a lot of positive response from citizens all across the city," he says.
Rick and Rebecca both feel that the groundwork for the success of the walk and the cooperation they are now experiencing has come through the church's years of commitment and demonstrations of love to the community. The church, which averages about 300 on Sundays, regularly teams with Convoy of Hope as well as hosts other events to touch the lives of community members.
"Milan is very fortunate to have First Assembly," Beasley states. "Everything is done so professionally in the church and their hearts are to serve God and make Milan a better place to live. When you have good people who have good hearts and want to do good for the community, it has a ripple effect."
"It was powerful," Rebecca says of the day and its results. "One thing that stood out to me the most, through the whole process, was it was important to keep our eyes on the prize — walls coming down and hearts and souls experiencing the love and acceptance of Christ."