Sister Chaplains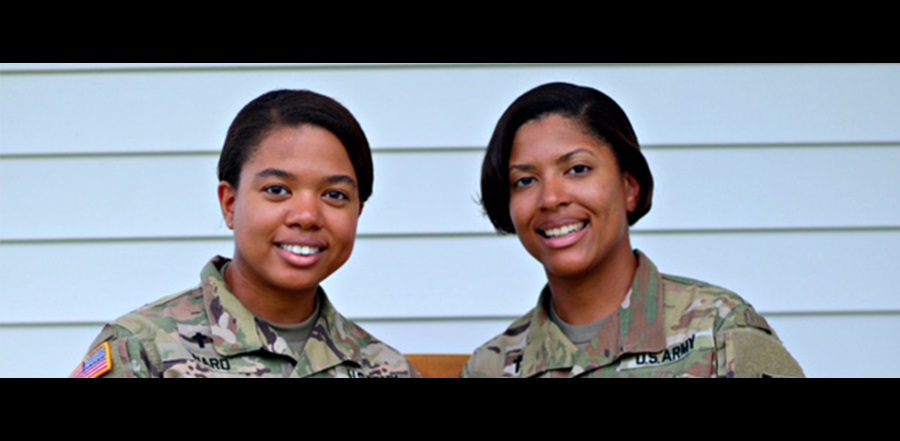 Don't miss any stories. Follow AG News!
The first sisters ever to serve together as U.S. Army chaplains are settling into their roles, more than four years into their active-duty careers.
The ordained active-duty Assemblies of God military chaplains LeyAnne P. Ward and Alison L. Ward initially reported for duty in 2013 at Fort Bragg, North Carolina.
Since March 2016, both have been stationed at Fort Stewart, Georgia. LeyAnne is a captain with the 10th Brigade Engineer Battalion, responsible for the religious support of 650 soldiers. Alison is a captain with the 385th Military Police Battalion, providing spiritual assistance to over 800 troops and 100 civilians.
Scott McChrystal, U.S. Missions AG military endorser who administered the oath of office to the Wards in 2013, says they have exhibited exceptional skills in their brief careers, demonstrating an adroit capacity to connect with soldiers, family members, other chaplains, and chaplain assistants.
"They both represent an amazing blend of intelligence, interpersonal skills, and a total commitment to serving God and His people," McChrystal says. "Individually, they are continuing to blaze new trails for female chaplains in the Army, displaying incredible maturity along with grace in navigating the challenges of ministering to the military."
The sisters are able to support each other through prayer and conversations, sharing their stresses with each other that might violate confidentiality if repeated elsewhere. The pair, who are both single, serve as sounding board for each other in dealing with matters such as counseling those who are enduring events like the death of a loved one or pending divorce.
"Ministry can be a lonely road where it's hard to have friendships," Alison says.
Although they room together, the Wards don't see each other much during the day because of their disparate duties. Occasionally they are able to team teach. They also conduct a Sunday gospel service together with fellow AG chaplains Capt. Michael J. Scholes and Capt. Angel L. Berrios. Another AG chaplain attached to the base, Capt. Erik C. Alfsen, currently is serving with Army Rangers.
"I never envisioned ministry opportunities that would be so diverse," LeyAnne says. "It might be in a hospital or in the back of a Humvee."
Though just 1½ years apart, the sisters don't sound alike. LeyAnne has a pronounced accent from their mother Gloria's native Trinidad that Alison doesn't possess. Both are well-spoken.
While sister chaplains are unique, female chaplains aren't that common either, because various denominations don't ordain women ministers. There are only 69 women chaplains on active duty in the U.S. Army. While there are 33 chaplains stationed at Fort Stewart and companion Hunter Army Airfield, only three of them are female, and the trio are all African-American. Overall, under 14 percent of U.S. Army personnel are women.
The Wards are able to relate to many millennial soldiers because of their age. LeyAnne is 32, Alison 31. Many young adults have been raised in a morally ambiguous, sexually confused culture, and the chaplains are able to explain God's standards outlined in the Bible.
Both LeyAnne and Alison strive to attend the annual AG U.S. Missions Chaplaincy Ministries conference for training and renewal, including the one held in Springfield, Missouri, in June.
"I love to hear the speakers' powerful stories, as they honestly share struggles and victories," Alison says.
"The conference spiritually recharges me," LeyAnne says.
The Wards each earned Master of Divinity degrees at Southwestern Assemblies of God University in Waxahachie, Texas, and began service as U.S. Army Reserves ordained chaplains in 2010.