Small Church Gives Away Big Groceries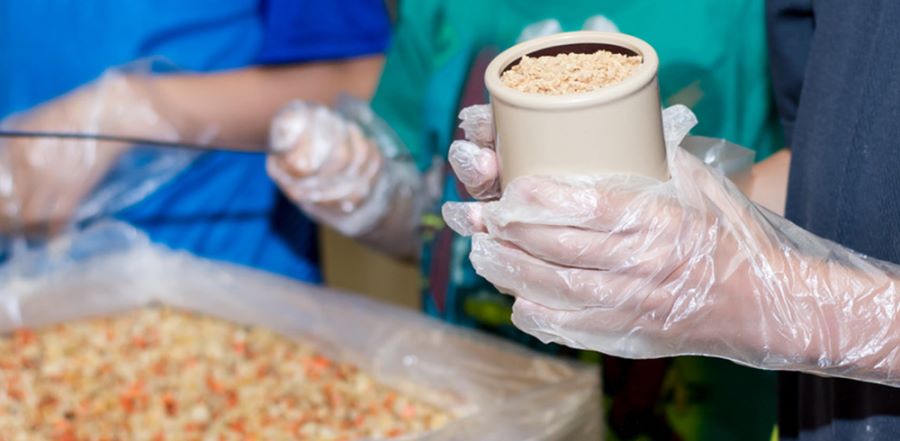 Don't miss any stories. Follow AG News!
In 2007, a simple request by a homeless man began an unexpected journey for First Assembly of God in Portland, Maine. 
The man asked the church's pastor after a Sunday evening service for something to eat.
"I said I'm sorry, we don't keep food here," says Memana Abraham, pastor of the 106-year-old church on Cumberland Avenue. "That really touched me that the church didn't have anything to offer someone who was hungry."
The next Sunday, Abraham, bothered by not being able meet that basic need, made sure the church had bread, peanut butter, and jam. And that was just the beginning. Today, the church has established a meals ministry that distributes up to 10,000 pounds of food each week, feeding about 500 people in the inner-city neighborhood.
It's like a super market on Sundays as people fill boxes with food to take home. But the church isn't just a food bank, giving out provisions. It's an evangelistic outreach.
"We go out there, meet the people, shake their hands, talk with them and talk to them about Jesus," Abraham says. "We invite them to come to church. We pray for them. It's a wonderful opportunity for ministry right in our parking lot."
Initially, about two bags of donations came from Panera Bread, a local branch of the nationwide bakery-café chain, and it was distributed only to the church families after Sunday morning services. After several months, canned goods and fruits were included and the food ministry has continued to grow. 
As an inner-city church in downtown Portland, there is a lot of need.
"There's a lot of poverty," Abraham says.
As a result of obtaining donations from several outlets, the church had an abundance of food.
"Everybody took what they wanted and there was food left over," Abraham says.
So he suggested offering the ministry to the public to allow others to be blessed. Consequently the church outreach began to run short on supplies.
"But God began to open up other sources," Abraham says.
Besides relying on food donations, the church also needed volunteers to help pick up the goods during the week and to distribute the food on Sunday afternoons at the church. Angie Guillette, a retired sales clerk, is among those who spend their Sunday afternoons helping the food ministry. 
"We've touched lives for sure," Guillette says. "The basis is make a ministry for feeding people who needed it and also through that to help bring them to the Lord."
When their food ministry began, Sunday morning attendance hovered around 75. Now nearly all of the 137 chairs at the church are filled.
It's a diverse audience, which includes a few French-speaking Muslims. And they're no longer coming just to get food. They're coming to get fed spiritually.
The Muslim attendees have been given Arabic Bibles. On Sunday morning services, there is now a French translation, with interpretation provided by a group from Rwanda and other African French-speaking countries. The church prints its bulletin in French as well.
"We have started praying for a bigger space," Abraham says.
Next to the church's name on the side of the building is the food ministry hours for Sunday afternoons. There's also a sign that says, "Harbor of Hope." But Guillette said the ones receiving a blessing from this food ministry, which feeds between 100 and 150 families each week, aren't just the one's receiving. The givers gain blessings, too.
"I love this little church," says Guillette, who is 75 and has been attending the church since 2007. Despite the death of her husband in May 2014, Guillette is determined to keep service.
"I say, 'Lord use me until I'm all used up," Guillette says. "I want to honor and serve Him with the time I've got left."