Sowing Seeds for Revival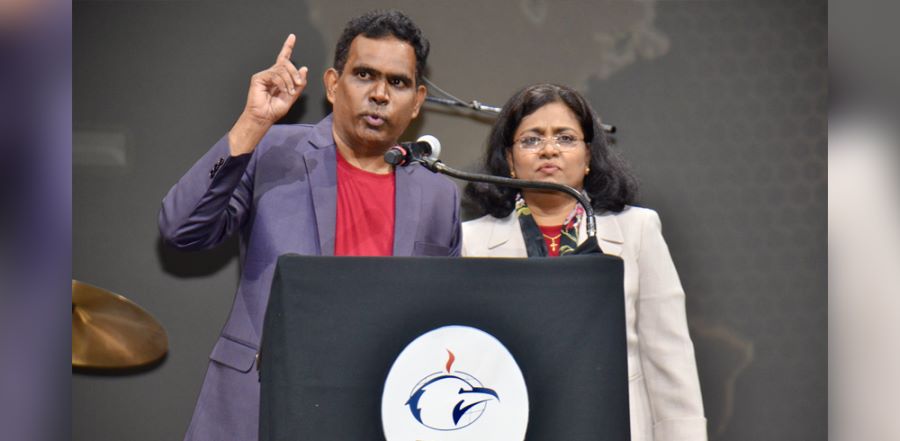 Don't miss any stories. Follow AG News!
Cyril J. Rayan came to the United States from India in the 1990s to pursue a career as an electrical engineer. Today, he and his wife Jemima, also a highly trained mechanical engineer, lead a prayer ministry and church in California's Silicon Valley, pouring their efforts into interceding for revival in the United States.

"We are focused only on America right now because the need is so great," Cyril says, at times openly weeping when speaking about the condition of the U.S. "We must fight for the nation. We are on a mission to see revival in America."

The Blessing Church was born out of the Rayans' prayer ministry nine years ago. Cyril and Jemima, who have served on the National Prayer Committee, says they decided to officially launch as an AG congregation in May. The move aligns them with like-minded Christians and gives the church a covering as the couple lead prayer efforts.

Cyril grew up in Mumbai, India, and he met the Lord while attending graduate school at Mississippi State University in 1992. He then landed a job in Silicon Valley designing TV micro-controller chips for on-screen display. He also earned a master's degree in business administration.

He and Jemima say they received a prophetic word in the 1990s about serving the Lord in ministry in America. At the time they showed no interest.

"I was not thinking of launching a ministry," says Cyril, 55. "I was definitely thinking of launching businesses."

In 2000, when Jemima received a job offer from Cisco, she says the Lord told her to turn it down and start a ministry instead.

"It was a clear direction from the Lord," Cyril says. "We were like any other immigrant family, trying to settle down and buy a home. But the Lord had different plans. We didn't know what to do, but we agreed to try."

So The Potter's Ministries came into being, with prayer at its heart. The Rayans began hosting regular prayer meetings and Bible studies. Today, they facilitate seven hours of prayer per day via conference calls led by different prayer leaders. The sessions are regularly joined by 60 participants.

Their sole purpose: to lift up the United States.

"Praying for America is our main work," says Cyril. "We see the need as the enemy is trying to destroy the nation. We have to fight back on our knees, big time."

The church's annual Redigging the Wells of Revival prayer conference, now a dozen years running, is held at different locations throughout California, including at the Azusa Street revival location and the Bonnie Brae house, where the worldwide Pentecostal movement began in 1906. The conference is a day of fasting and prayer with prayer sessions for various topics, times of worship, and messages from prayer leaders.

Raleigh B. Washington, 83, a retired lieutenant colonel and Vietnam War veteran who served as president of Promise Keepers for 10 years, met the Rayans through mutual prayer efforts.

"Cyril is a godly man, a man of integrity, a man of prayer," says Washington, who lives in Jacksonville, Florida. "He has a burning heart for the lost and for the condition of our nation. I call him my precious friend."

The Blessing Church draws families from the tech industry that are mostly from Indian backgrounds. Simon R. Johnson, 37, has worked as a software engineer at Meta (formerly Facebook) for four years and is originally from southern India. He and his wife and children felt led to start attending The Blessing Church 18 months ago.

"The Blessing is a prayer church," he says. "Before joining I was shy and wouldn't pray in a crowd. I pray in church now and serve in outreach efforts. It's been amazing spiritual growth."

The Johnsons have caught the vision for awakening in America, and are praying and serving toward that goal.

"God has bigger plans and we think it's time for a bigger harvest in the Bay Area," Johnson says.