Sponsor of the Bride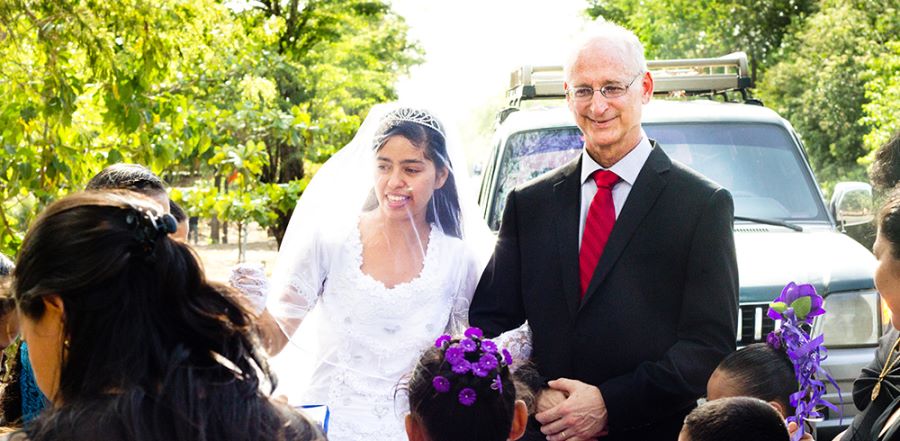 Don't miss any stories. Follow AG News!
She had him at hola. Even though Tim Olson barely even knew what hola meant, he did know one thing: the tweenaged Nicaraguan girl, Maria, needed a sponsor. And he was it.
Olson, 60, began traveling to Nicaragua every year with his church, First Assembly of Fargo, North Dakota, to work with the Assemblies of God ministry Latin America Childcare (LACC). He already had traveled to the country for several years, helping with construction projects and photographing children for their sponsorship photos, when he met Maria in 2008. She was one of the children Olson was slated to photograph, but because she was older, he knew she would have a more difficult time finding a sponsor.
"I could tell just by looking at her that I liked her heart and her spirit," he says. "She was kind and gentle. So I said I would sponsor her."
Every year, when Olson returned, he requested to stay an extra week to visit Maria and her family, as well as other children he had sponsored.
"He can't talk worth beans in Spanish, but it doesn't matter," says Bonnie Hernandez, who, along with her husband, Levys, ministers with Assemblies of God World Missions as country coordinator for LACC's Nicaraguan outreach. "He just hangs out with them. You don't need to speak the language to communicate love — and that's what Tim does."
When Maria's father died a few years ago, and then more recently when her grandmother and mother died within days of each other, Maria's older brother took Olson aside during a visit and informed him that Maria now considered Olson to be a father figure.
"He wanted me to get how important this relationship was to her," says Olson, taken aback by the news.
It doesn't surprise Hernandez, however.
"Tim is just a quiet servant, who really wants God to use him," she says. "He wants to make sure Maria and her family are cared for. And he wants to be kept up to date on what is happening in her life."
A bigger surprise came earlier this year when Olson received a call. Maria, now in her early 20s, was getting married in May and wanted to know if Olson would walk her down the aisle at her wedding. He was stunned and touched.
"I thought she'd want her brother or some other family member to handle that honor," he says. But he agreed and bought a suit and tie for the special occasion.
In May, Olson, along with his daughter Katie, who speaks Spanish fluently, traveled to Maria's village and took on the role of father of the bride. The entire family welcomed him as their own and celebrated as he fulfilled his duties to escort her with a large procession through town on their way to the church and then to give her away to the groom.
"I never saw this coming!" Olson says. "But it was an honor and a privilege to be asked to walk that wonderful young lady down the aisle. He's still amazed at how God took that young girl and changed both of their lives, simply because he agreed to sponsor her almost 10 years ago.
"Even though I see her only once or twice a year, she's still part of my family," he says. "The distance doesn't matter."
Although he no longer is providing monthly financial help to Maria, Olson plans to continue to stay in touch, and is keeping busy with the other seven children he sponsors.
"I'm not rich, but I have enough," he says. "I have the ability from Fargo, North Dakota, to make an impact on children 3,400 miles away."
With seven other sponsored kids, he may want to hold onto that wedding suit.