Sticking Through the Tough Times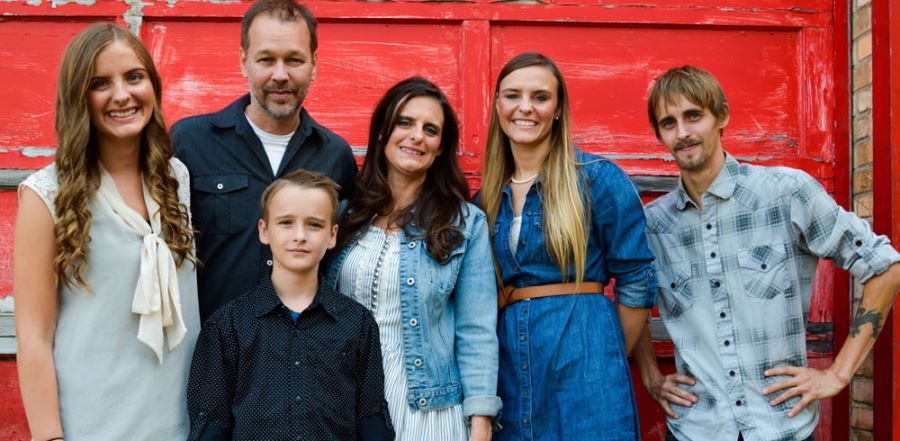 Don't miss any stories. Follow AG News!
On June 2, 2004, the day the youngest of his four children turned 1, Joe Kenna fell violently ill. Within moments, his breathing became shallow and heavy. His skin turned blue and he wouldn't respond to his wife, Marianne.
After being rushed to St. Anthony's Hospital in St. Louis via ambulance, Joe appeared lifeless in the emergency room. Soon, 10 medical personnel hovered over the 37-year-old Joe, paddles applied to his chest in hopes of regaining a heartbeat.
Although diagnosed with type 1 diabetes six years earlier, Joe had always kept the disease under control. Until this day. He had lapsed into a diabetic coma and suffered cardiac arrest.
In a nearby room, Mari and her friend Darla DeVera cried out to God in an intense half hour of anguished intercession. DeVera beseeched the Lord to bring Joe back to life, just as Jesus resurrected Lazarus (recounted in John 11).
Dr. Jude Reed emerged with the news that Joe had been placed on life support. He might not survive the night, Reed explained, and if he did, Joe could be in a vegetative state thereafter.
The medical prognosis indeed looked bleak: Joe's potassium level had spiked to 12, twice as high as what is considered life threatening. His blood sugar level hovered near 2,000. Under 100 is deemed normal. His kidneys had failed and a specialist warned he would need to start dialysis.
Clearly — if Joe survived — life would never be the same.
But friends and family filled the waiting room to pray. And Joe began his journey back to life.
His vital signs returned to normal ranges. Four days after the incident, Joe came out of the coma — with his kidneys healed.
After another two weeks hospitalized, Joe went home, a medical miracle in many respects, not unlike another St. Louis-area resurrection, the story of Assemblies of God teenager John Smith as recounted in the recent motion picture Breakthrough.
MORE THAN COINCIDENCE
Reed acknowledged to Mari that he kept working on Joe after his heart stopped because he felt pity for the young couple and he knew she was praying frantically down the hall.
Years later, Reed told the Kennas that he still mentions the miraculous case to medical students and residents.
"He was without a pulse for 52 minutes," Reed shared in a text. "There were a lot of things medically that made me continue to resuscitate him, but there was something spiritual, too. There were so many steps from the time he got sick at home until the moment of discharge from the hospital where he could have died. No way for all of the right things to happen by luck."
Yet problems remained after the hospital discharge. Joe couldn't remember the names of familiar friends, streets, or buildings. He couldn't recall what kitchen drawers and cabinets contained utensils and cookware. A trip to a familiar grocery store left him perplexed as to where any of his favorite foods might be located. He repeatedly put 1-year-old son Eli in a car seat and forgot his whereabouts.
"We went to a small church, but I really couldn't put names with faces," Joe says. "I had to write everything down to remember."
Nevertheless, in three months doctors cleared Joe to go back to his information technology job. Somehow he returned to manage 16 employees as a development manager for Reuters.
However, when he arrived home in the evening he would be wiped out. Mari felt like a single mom raising four kids, plus a husband.
Up to the crisis, life had been good for the Arnold, Missouri, couple. Joe had a six-figure salary to support his stay-at-home wife and their kids: Lauren, then 17; Eric, 16; Madeline, 6; and Eli, 1. The family thrived spiritually as lay leaders, and only two weeks earlier, Joe led worship for the first time at church.
The Kennas, who admittedly had been overcommitted at church — greeting, leading small groups, going on mission trips, being on the worship team — cut back on nearly everything.
Meanwhile, Joe had difficulty recalling recent events in the correct sequence.
"I started to drink as a coping mechanism because I had so many problems remembering things," Joe says. "I was barely functioning because of all the drinking, but people didn't notice because they just thought I had a bad memory."
NEW WARNING SIGNS
During childhood, the Kennas attended the same St. Louis-area AG church, he going to Royal Rangers, she in Girls Ministries. But they didn't actually meet until Joe visited his sister at an adolescent drug and alcohol rehabilitation unit where Mari spent 62 days. Joe and Mari wed while still teenagers.
Mari, sober since 17, recognized the drinking warning signs when Joe began to act even odder than before. On a regular basis, she poured out her heart in intercessory prayer, Bible reading, and worship well into the night.
"I grieved that this wasn't my husband," Mari says. "But God reminded me this was a spiritual battle, that my husband wasn't my enemy. It was the hardest time in my life."
However, the road proved bumpy. Mari found booze hidden in the basement, in the garage, and in the bushes. Joe turned surly when she confronted him. Mari began to wonder why God didn't allow her husband to remain dead in the emergency room.
But she had more lessons to learn about trusting God, that perhaps He didn't always answer prayers the way she thought He should. During this period, Joe's car went off a 50-foot embankment and wedged between a boulder and tree; Joe climbed out through a back window, unscathed.
"God was teaching me when to open my mouth and when to keep it shut and pray," Mari says. "I learned how to fully depend on the Lord and to have peace."
After more than two years of his wife's prayers, Joe realized he needed help to stop drinking. As someone who served in the Army for 13 years, he qualified for Veterans Administration counseling. A team of medical specialists also determined that a lack of oxygen to his brain hampered his recovery process.
Today the Kennas have been married for 33 years, overcoming multiple ordeals, including two of their children born with hearing loss.
"I wanted to leave Joe many times," Mari says. "But missions is in our heart. We want to minister to families about staying together."
The Kennas have plenty of opportunities as staff missionaries with Calvary Commission, a ministry founded in 1977 by Assemblies of God U.S. Missions chaplain Joe Fauss. The ministry, based in Lindale, Texas, provides a place where former inmates eat, learn, work, and live in an effort to stay out of prison in the future.
Joe and Mari are associate chaplains for correctional chaplaincy through the AG. Their duties include teaching Bible in men's and women's groups at the facility, weekly jail visitation, and mission trips. They attend Church of the Living Hope, an AG congregation started by Calvary Commission.