Still Rescuing Churches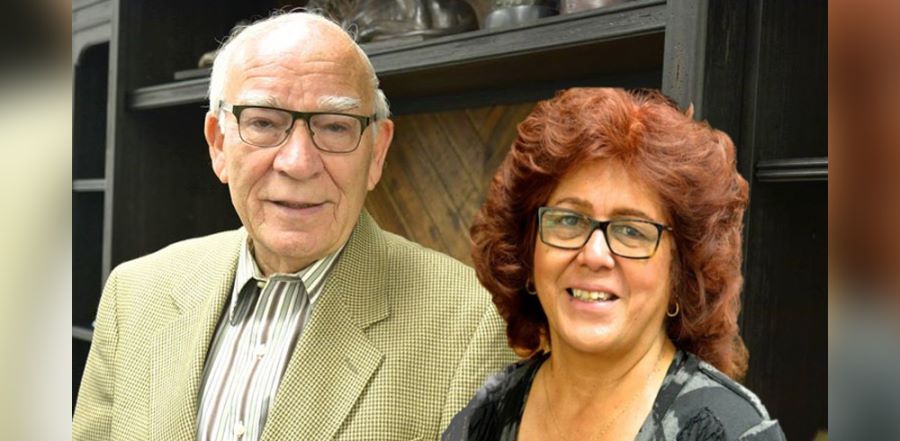 Don't miss any stories. Follow AG News!
When a group representing the Franciscan Sisters of the Sacred Heart offered Queen of Angels Hospital for sale in 1994 for $19 million, real estate agent Augie V. Lopez knew he could negotiate to obtain the complex for much less.

The massive structure had been on the market for several months and needed repairs. Lopez brokered the deal that allowed the Los Angeles Dream Center to purchase the property for $3.9 million. Today it is worth $56 million.

Lopez has been helping Assemblies of God churches, educational institutions, parachurch ministries, districts, and networks find such bargains ever since he became involved in real estate in 1965. At 88, he's still active, particularly in efforts to provide a financial lifeline to small churches that might not survive otherwise.

His father, Augustin T. Lopez, was born in what later became New Mexico. Augustin had been a deputy sheriff, but found work as a Hollywood actor in the silent era. When talkies came along, suddenly Augustin — because of his accent — couldn't find roles.

So Augustin, who became a Christian at the age of 55 in 1930, decided to become an AG minister. Following ordination, he planted Templo Bethel Assembly of God in Greeley, Colorado, in 1934 with 3-year-old Augie in tow.

Augustin fostered a relationship with the nascent Latin American Bible Institute in La Puente, California. In fact, Augustin and Augie helped to physically construct many LABI buildings still in use today. Augie attended the 1946 groundbreaking and 1947 dedication of the school.

"Augie is an exemplar professional businessman, community leader, and board member," says Grace Morales-Scott, chairperson of the LABI Board of Trustees. "The college owes a tremendous debt of gratitude for his service and investment in LABI over the last 60 years."

Theologically, Lopez has known nothing but the AG experience.

"I wouldn't have it any other way," Lopez says. That fondness for the Fellowship has translated into Lopez helping dozens of churches over the years that faced foreclosure. Even when traditional lending agencies have been unwilling to take a risk on churches because of their financial track record, Lopez has managed to service loans to keep them going. In addition, he has negotiated ways for financially strapped congregations looking to expand devise methods to do so.

"It's important to help out churches that are in real estate trouble," Lopez says. "We need to save churches from extinction."

Joshua L. Bartlotti, executive vice president of AG Financial Solutions in Springfield, Missouri, says Lopez embodies the spirit and history of the Fellowship.

"He has helped, advised, and counseled innumerable churches through the generations as they looked to expand their ministry through real estate," Bartlotti says. "Brother Augie is full of life and loves helping ministries grow."

Lopez owns El Camino Realty in Anaheim. During his nearly five decades as a Realtor, Lopez also has worked as a commissioner on the California Board of Realtors and for the Tax Appeals Offices for the Orange County Board of Supervisors. Lopez's first wife of 55 years, Dina, died in 2010. Lopez has two children, Cynthia Hudlin, who works on the BKD proposal team in Springfield, Missouri, and Rusty, a retired planner for Fluor Corp. who lives in Anaheim. Augie and current wife, Rose, have been married six years.

In 2003, Lopez received the General Superintendent's Medal of Honor, the highest award for a layperson in the AG. Then-Superintendent Thomas E. Trask commended Lopez for repeatedly volunteering his time and expertise to help small, struggling churches.

Lopez's financial acumen has been in high demand over the years. In addition to LABI, Lopez has served on the boards of such institutions as Evangel University and Assemblies of God Theological Seminary in Springfield, Missouri; Vanguard University in Costa Mesa, California; and Orange County First Assembly of God in Santa Ana, California, where he has been a member for more than half a century.

No relationship for Lopez runs deeper than with LABI. He has financially invested more than $100,000 to establish scholarship funding for underprivileged students at the school. LABI in 2016 recognized Lopez as a "pillar of faith," and named the college administration building in his honor.

"We are so blessed to have Augie," says Morales-Scott, a 1961 LABI graduate who also has served as a professor, the first female academic dean at the school, and first woman board chair. "It's rare to find a person of his caliber and integrity to give his total life to God's service. He's our favorite person."
Photo: Grace Morales-Scott (right) says Augie Lopez has been an invaluable booster of LABI. Photo is slugged Augie and Grace.