Street Rescue Launching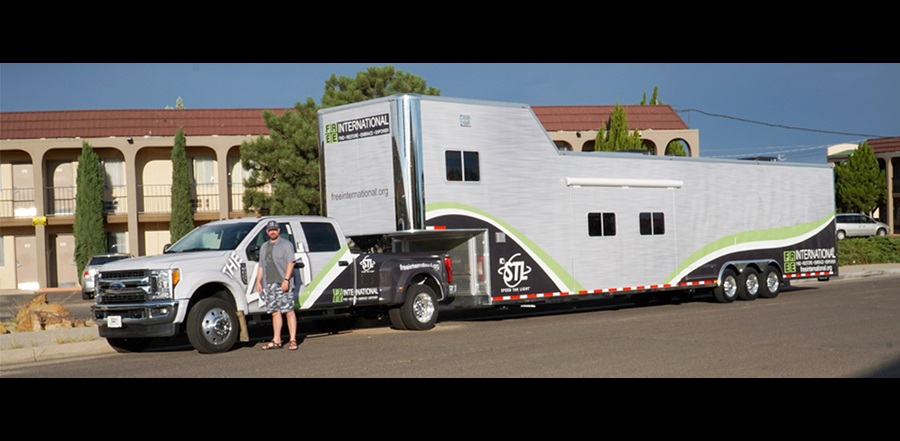 Don't miss any stories. Follow AG News!
F.R.E.E. Internationa
l
, an Assemblies of God U.S. Missions
organization based in Las Vegas, is set to launch emergency mobile command centers this fall, targeting at-risk areas frequented by victims of human trafficking.
"We intend to bring vital services to the streets quickly to help women and men lured into the sex trade," says Michael R. Bartel, who co-founded F.R.E.E. International with his wife, Denise, in 2007. They serve as Intercultural Ministries missionaries.
Partnering with community groups and churches, F.R.E.E. International will offer legal, medical, dental, and employment services from the new units. Victims who might spend hours, or even days, roaming a city searching for help will be served at handy and safe locations.
Speed the Light (STL) anticipates providing more than $500,000 for the first two units, support vehicles, and equipment. Each command center costs $161,000, with additional charges for graphics and installing security systems and cameras. STL hired the same vendor that the Federal Emergency Management Agency uses to make its mobile command centers. STL also is financing a pair of one-ton four-wheel drive trucks to pull the mobile units, plus three all-terrain vehicles.
"F.R.E.E International and Speed the Light partner together because both ministries understand how important justice is to the heart of God," says Heath Adamson, senior director of Assemblies of God Youth Ministries and STL director. "It is our privilege to equip F.R.E.E. International with state-of-the-art resources to effectively rescue people created in God's image from the darkness of injustice and human trafficking." STL has contributed funds to fight trafficking in the past.
The mobile command centers also will travel to national events that provoke a surge in prostitution, such as the Super Bowl, World Series, the Kentucky Derby, and the Sturgis Motorcycle Rally .
RESCUED TEEN
Human trafficking is an international plague. The U.S. State Department reports a $150 billion global trade in illicit human trafficking. Sex trafficking exists in brothels, bars, strip clubs, massage parlors, spas, hotel rooms, and apartments. Transnational organized crime groups lure and force migrants, asylum seekers, and refugees into sex slavery. An estimated 600,000 to 800,000 victims are trafficked across international borders every year.
In the United States, thousands of women, men, girls, and boys are exploited annually. The average ages of U.S. minors forced into the sex trade is 12 to 14. Runaways are especially vulnerable.
For example, F.R.E.E. International was instrumental in recovering a 16-year-old girl lured into prostitution. On a whim, the teenager decided to go joyriding. After running out of gas, she flagged a ride with a truck driver who drove her to the Las Vegas strip. Alone with almost no money, she was easy prey for lurking pimps.
A pimp posing as a Hollywood insider befriended the girl, who had been raised in an evangelical Christian home. He invited her to a party in Los Angeles with the promise of meeting celebrities. She was drugged, groomed for sexual favors, and forced into prostitution.
Meanwhile, her frantic parents connected with F.R.E.E. International.
"It was like looking for a needle in a haystack," Bartel says. "We did not know that the girl had left town and then returned."
F.R.E.E. International counseled the parents, prayed with them, and blanketed the city with missing person fliers. After a week, a hotel security guard spotted the missing daughter, who reunited with her parents. After counseling and healing, the teenager eventually recovered and rededicated her life to Christ. She now serves in an international ministry and her parents, Trent Hickes and Calley Crowley-Hickes, have joined the F.R.E.E. International team, overseeing its empowerment programming.
PUJOLS CONTRIBUTION
F.R.E.E. International's new initiative soon will be highlighted by Los Angeles Angels of Anaheim designated hitter Albert Pujols at a human trafficking awareness event. Pujols, a three-time National League Most Valuable Player with the St. Louis Cardinals, will introduce F.R.E.E. International's ministry at the Angels game against the Texas Rangers on Sept.16 at Angel Stadium of Anaheim.
Pujols, a 10-time All Star and the active player with the most home runs — more than 600 — operates the Pujols Family Foundation with his wife, Deidre. The nonprofit is dedicated to causes closely aligned to the Christian faith of the couple. They have created Strike Out Slavery to raise awareness and funds for F.R.E.E. International and six other organizations fighting modern-day slavery.
"In the end, it's only God who can change a heart and deliver people from the bondage of sex slavery," Bartel says. "We are not shy about sharing the gospel and it is ultimately Jesus and the Holy Spirit that enables us to go on."
F.R.E.E. International stands for Find, Restore, Embrace, and Empower.