Supersized Chi Alpha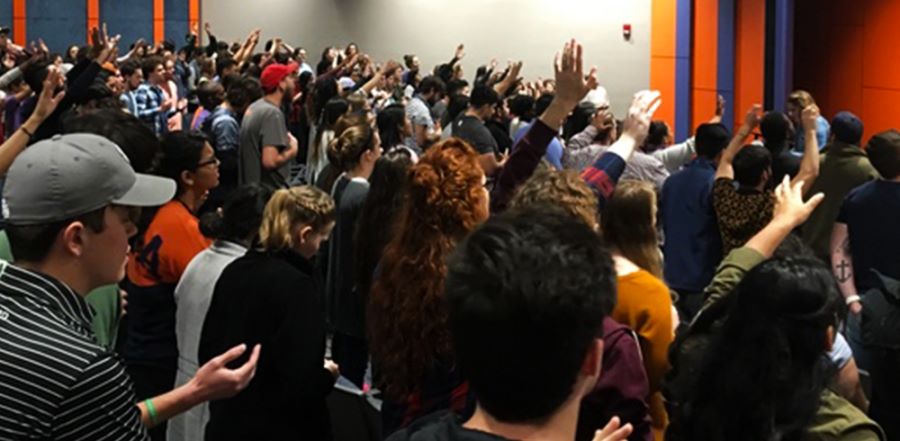 Don't miss any stories. Follow AG News!
Assemblies of God U.S. missionary Johnny Hauck's broad welcome into Chi Alpha small groups covers everybody on the University of Texas at San Antonio campus: believers in Christ, those thinking about becoming a Christian, "or not thinking about becoming a Christian."
Surprisingly, even those who consider themselves in the latter group are just as likely as the second category to put their faith in Christ, says Hauck, Chi Alpha director at UTSA, which has a student population of 28,500.
"We see students all over the board give their hearts to Jesus," Hauck, 40, says of the chapter, which averages 600 students between two weekly meetings at UTSA, making it among the largest U.S. Missions Chi Alpha chapters in the country. In March, a young Buddhist woman who started attending meetings last August was filled with the Holy Spirit.
"It's a matter of how much time we're willing to spend with them, pray with them, and see them fall in love with Jesus," Hauck says.
San Antonio Chi Alpha launched nine years ago with Hauck, his wife, Amy, and a handful of pioneering team members. Today it features 124 small group Bible studies led by student disciplers and 44 staff members.
The roots of the thriving ministry lie 200 miles east in the fertile soil of the Chi Alpha chapter at Sam Houston State University in Huntsville, Texas. That's where Hauck began attending school in 2000, following a post-high-school stint in the military reserves. At Sam Houston, Hauck connected with Chi Alpha as a student and later as an intern. There he came to understand the definition of discipleship.
"Jesus took 12 men and for three years He poured all His resources into them," Hauck says. He points out that Jesus' method was to weave His life together with the others as they lived beyond a once-a-week interaction.
To start the San Antonio chapter, Hauck brought that concept and other foundational principles — notably that Jesus used discipleship to evangelize — that he learned from Eli and Mary Gautreaux, who planted Sam Houston's Chi Alpha in 1992.
Hauck felt a responsibility to build bridges with those on campus, the local church, and in other parts of the globe. Sarah Cokenour, 21, a UTSA junior, has been among the beneficiaries.
"I never would be as close to the Lord if it wasn't for my small group leader showing me that I can have a close personal relationship with God," Cokenour says. She leads a small group of seven young women.
"It's not about how many people you can get to come to your Bible study, but how many people you can build true relationships with, because relationships are the core," says Cokenour, who wants to work on staff with Chi Alpha after she graduates next year with a degree in public health.
Cokenour adds that she wouldn't have grasped the transformational life available through Jesus if somebody in Chi Alpha hadn't taken time to walk through hardships and joyous times with her one-on-one.
"I didn't realize I could have an extreme personal relationship with the Lord before I entered Chi Alpha," Cokenour says.
The Chi Alpha chapter's connections extend beyond campus to congregations throughout the city, part of the legacy of Hauck's ministry at Sam Houston.
"We go to five different churches so everybody can love and intentionally serve the Church," Hauck says. "We have the mindset that it's the body of Christ, and a vehicle through which we can see people reconciled to Christ and discipled to walk with Him for life."
Hauck regards the San Antonio Chi Alpha as an "army of servant leaders," grounded in Mark 10:45. To that end, he encourages spring break ministry, this year in 30 different places. Among the venues for outreach is Teen Challenge, a U.S. Missions department dedicated to helping people build relationships with God and bring healing from the damages caused by addiction. It's close to Hauck's heart as his own brother found freedom from drugs and experienced spiritual transformation through the program. In 2015 alone, 290 from the San Antonio chapter lent a hand at Teen Challenge locations.
Stemming in part from impactful mission trips Hauck took while at Sam Houston, he's organized around 100 trips for students since launching the San Antonio group. Cokenour has traveled overseas on mission trips to Uganda three times, Japan twice, and this summer she'll go to Moldova.