Surviving Marriage Against All Odds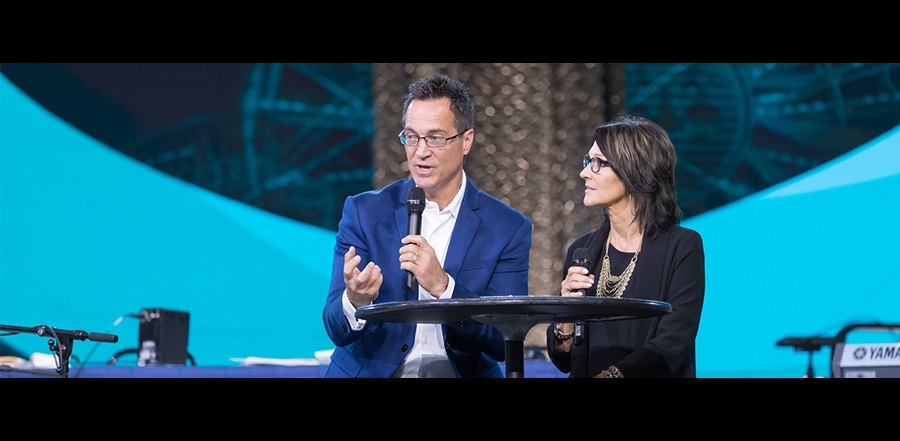 Don't miss any stories. Follow AG News!
God brings hope to hopeless situations, Kendall and Starla Bridges told the crowd Thursday morning at the General Council communion service in Anaheim, California.
The two talked about how God restored their marriage and ministry after Kendall's infidelity more than 14 years ago, a story they share in their recently published book Better Marriage: Against All Odds.
"We stayed together because we believed a restored marriage would honor God more than a broken marriage," said Kendall Bridges, son of the late James K. Bridges, general treasurer for the Assemblies of God (1993–2008).
When the adulterous relationship came to light, Kendall resigned his position as lead pastor of a growing Assemblies of God congregation. He repented and began a rehabilitation process, but healing came slowly for the couple. They said it took only 11 days to write the book — but nearly 11 years before they could get along well enough to collaborate on such a project.
"I know how completely broken our marriage was, how paralyzed to love, how dead hope was, and I saw God come in and restore something that was so broken," Starla said. "How could we not tell our story?"
The Bridges now serve as lead pastors of Freedom Church, a congregation of more than 2,000 in Carrolton, Texas. They recently celebrated their 35th anniversary with their four children and seven grandchildren. They said that while sharing their story is difficult, they hope it will encourage others who are struggling with sin or sorrow.
"Since we released our book last fall, we get two to three calls, texts or emails every week from hurting couples," Starla said. "Our churches are full of hurting marriages."
"There are a lot of couples that need help and somebody who will be transparent enough to say, 'I've been through it,'" Kendall added.
The Thursday morning Communion service also included a memorial tribute to AG credential holders who died since the previous General Council two years ago. The Korean Unified Orchestra played as screens displayed the names of the deceased credential holders from each district.
Outgoing General Superintendent George O. Wood shared a childhood memory he included in condolence letters mailed to surviving spouses of credential holders over the years. He recalled boarding a ship to China with his missionary family. People on deck held one end of a crepe paper streamer, while a crowd on shore held the other end and waved farewell.
"I'll never forget as that ocean liner pulled away, the streamer became taut, and then it broke," Wood said. "The ship disappeared from view. A few days later, the ship appeared on another shore, and there were people waiting on that shore. What a hope we have as Christians! What an incredible hope."