Surviving Multiple Traumas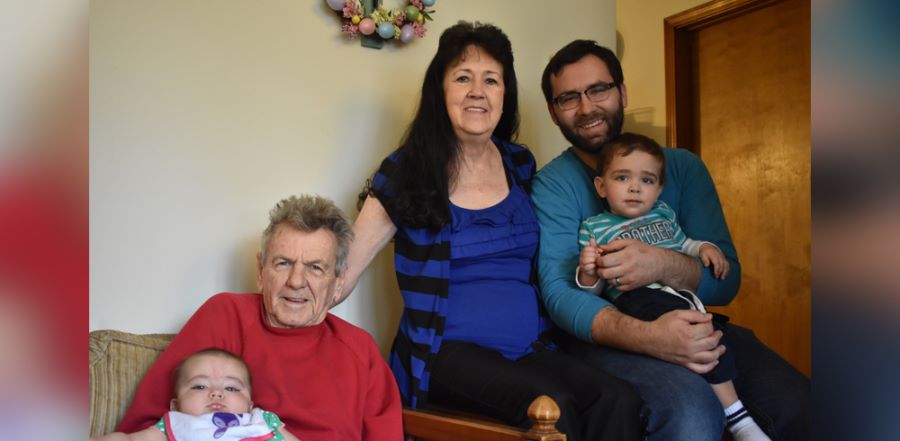 Don't miss any stories. Follow AG News!
Although only 8 years old, Michael Anthony Ellis had grown despondent over repeatedly being shuttled from his mother's residence to a foster home.

"I felt like a burden more than anything else," recalls Ellis, now 27.

On a weekend visit to his mother's residence, Ellis locked himself in the bathroom. He had grabbed a knife from a kitchen drawer, with the intention of slitting his throat. But just as he contemplated suicide, Ellis says he heard from the Lord. Although not an audible voice, he says he clearly sensed God telling him: Stop! I have a plan for you.

It marked a turning point in the life of the boy, who had been attending First Assembly of God in Kirksville, Missouri, since the age of 3 with his foster parents, Donald and Blytha Ellis. The youngster knew about God, but he didn't really start to know the Lord personally until that moment.

Michael had a rough beginning in life — and he nearly missed that. His mother, Maurena Jenkins, later told her firstborn that she almost aborted him.

Maurena, who worked as a stripper, explained that she had met Michael's father in a one-night sexual encounter and didn't even know his last name. Donald and Blytha became Michael's foster parents when Maurena went into a Kirksville drug treatment center. Maurena visited her son periodically under Division of Family Services (DFS) supervision.

Michael went back and forth to the custody of the foster family five times over seven years. That even included a yearlong prison stretch for Maurena after a driving while intoxicated conviction.

Whenever Michael went back into foster care, he stayed in the Ellis home. Blytha worked as a secretary for DFS, which handled foster child placements.

"Every time he left we thought it would be the last time," Blytha recalls. "But Maurena would lose custody again. Caseworkers knew it would be better for Michael to come back to our foster home than a new one."

Blytha and Donald hoped Maurena would turn her life around. Even when Maurena temporarily regained custody, Blytha assisted with her transportation because Maurena didn't have a vehicle. Blytha served as matron of honor and did flower arrangements for Maurena's wedding at First Assembly of God in Kirksville.

"We tried to be her friend as much as we could," Blytha says. "She did make a profession of faith, but she always went back to her old lifestyle. She knew she could call me anytime and keep up with Michael."

When Michael repeatedly returned to live with his biological mother, Blytha prayed for him earnestly.

"Our whole family loved him," Blytha says. She and Donald cared for over 40 foster kids in a 32-year span, starting after Blytha lost a baby in a tubal pregnancy at age 25.

Donald and Blytha continued to pick Michael up for church when he moved back to Maurena's. Even when he didn't live with them, they took him to Sunday School class and Royal Rangers meetings and paid for church summer camp.

The suicide attempt and Michael's subsequent weeklong stay at a group therapeutic facility made Blytha realize the boy had been shielding his true feelings of depression from her.

"I never had a moment's trouble with him; he was always such a happy-go-lucky kid," Blytha says. "He was a straight-A student, obedient and cooperative, and he didn't have social problems."

Maurena ultimately decided to relinquish her parental rights to the 10-year-old Michael so her son could have a better life.

FINAL RECONCILIATION
After not seeing his biological mother for a decade, Maurena one day asked him a question at a Hy-Vee Food Store, where Michael worked over summer during college. Maurena initially didn't recognize her own son. Michael learned he had two younger half brothers, whose fathers had lived with his mother, at least briefly.

"I had anger toward her," Michael recalls. "But she said she had never stopped loving me."

Michael lost track of Maurena again, but found her via prison records. He wanted to reconcile.

"I finally got to the place where I did forgive her, because God told me I had to forgive her," Michael says.

Maurena died in October 2017 from a liver ailment related to alcoholism and drug abuse.

A group of staffers and donors from Chestnut Mountain Ranch, where Ellis works, financed Michael's trip back to Missouri for the sparsely attended funeral and even paid for the headstone. Maurena is buried in the Ellis family plot.

Michael has four Ellis siblings, three of them adopted by Blytha, 72, and Donald, 77. His youngest sibling, Addie, is 15, while the oldest, Tiffany, is 42.

On his daily newspaper route as a youth, Michael spent a lot of time praying for healing from past wounds. He says the Lord always has offered wise counsel.

"God has been my Father in helping me get through everything," he says.

At 15, Michael felt God telling him he would go into ministry, even though he didn't feel qualified. Lorne Arber, who led the Kirksville youth group during Michael's formative years, allowed him to preach during his junior year in high school.

"He was extremely shy, and the experience helped him," says the 59-year-old Arber, who officiated Maurena's funeral. "I thought he would never come out of his shell, but relying on God's Word he became bolder and bolder every time he preached."

BUILDING A FAMILY
Michael and his wife of four years, Rachel, met when they attended Central Bible College. Both now are licensed AG ministers. Rachel is a regular freelance writer for AG News. Michael and Rachel attend Trinity Assembly of God in Fairmont. These days Michael spends as much time as possible with his own two children: 2-year-old David Spenser and 1-year-old Elsie Maurena.

Michael manages the Ranch Quick Lube, which helps fund Chestnut Mountain Ranch, a residence and school in Morgantown. The Christian nonprofit is designed to help children with behavioral issues to develop spiritually, educationally and socially. Kids, many of them from families with endemic drug problems, learn work habits and practical life skills while changing oil. Michael shares his life story as a means of encouragement.

"I know how it is to have a family that has trouble," Michael says. "I know what it's like not to know who your father is and what it is to be evicted."

Both Blytha and Arber believe Michael will wind up on the mission field.

"I see the hand of God on Michael's life from the beginning," Blytha says. "This mother can't brag enough about him."
Top Photo: Michael Ellis (holding David) is grateful for the support of his parents Donald (holding Elsie) and Blytha.
Bottom Photo: Rachel and Michael Ellis.