Sustaining Zeal for the Lord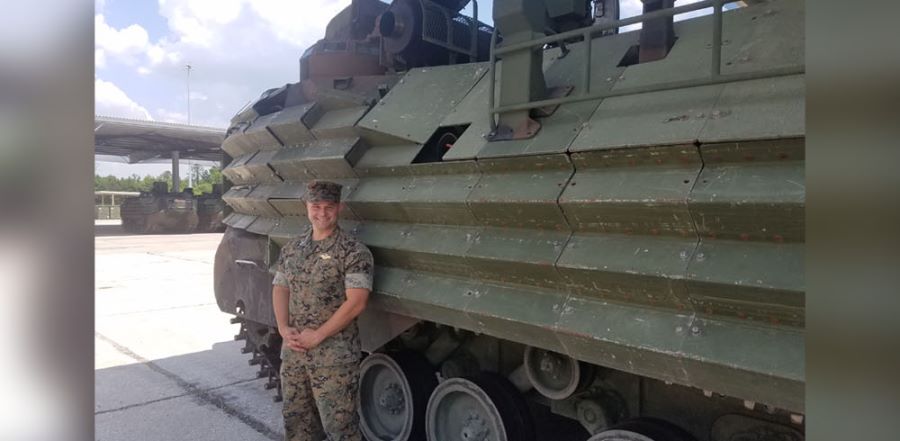 Don't miss any stories. Follow AG News!
CAMP LEJEUNE, North Carolina — After 13 years of serving in the military, it's evident that Derek M. Henson still has passion for his work.
But the Assemblies of God U.S. Navy
chaplain
has seen others lose their zeal for ministry and leave the armed forces. Worse, he's seen burned-out chaplains linger on the job, decreasing their effectiveness.
Such observations prompted Henson's thesis on the need to improve support chaplains. He graduated in May from
Assemblies of God Theological Seminary
(AGTS) with a doctorate in ministry.
"Chaplains hold considerable responsibilities in hearing problems, addressing needs, and advising commanders, but often they neglect self-care," Henson tells
AG News
. "Chaplains who suffer from a critical lack of spiritual resilience frequently experience issues such as compassion fatigue, burnout, or traumatic stress. A time of rejuvenation remains imperative to serving healthily."
Henson, a lieutenant, doesn't lack confidence. A still-youthful 37, his swagger is one reason recruits half his age easily identify with him as he visits their workplaces here at Camp Lejeune. While still a teenager, the Fair Grove, Missouri, native enlisted in the Navy as a seaman apprentice. Along the way, Henson earned a bachelor's degree from Central Bible College and a master's degree from AGTS in Springfield, Missouri.
While attending seminary, Henson pioneered a niche ministry as an emergency services chaplain at
Mercy Hospital
. He went along with medical personnel in ambulances and helicopters.
As he said words of comfort and prayed with relatives of the injured and dying, Henson realized the medical staff needed solace just as much if not more. In debriefings, he brought comfort to paramedics and emergency medical technicians who experienced the trauma of a fatality. Henson met his wife, Autumn, at the hospital, where she worked as an emergency room nurse. They have three children: Kinley, 10; Hadley, 4; and Beckett, 3.
Henson, who served for three years as a sector chaplain for the Coast Guard based in Key West, Florida, also has been a naval chaplain in South Korea and Japan. In September 2019, he began serving as a command chaplain at Camp Lejeune in Jacksonville, North Carolina.
ALLEVIATING STRESS
One of his roles has been leading suicide intervention classes at
Camp Lejeune
, which has 38,778
active duty personnel
.
"Rather than just chaplains being on the alert, we're trying to train the masses on how to be alert," Henson says. "Those living in the barracks will see signs a lot quicker than a chaplain or a doctor."
From his doctoral research, Henson discovered that nearly all chaplains he talked to had experienced signs of compassion fatigue: 65% "somewhat" and 22% "to a great extent." Compassion fatigue means the chaplain, after listening to someone spill troubles, has no capacity to offer counsel.
That can lead to burnout, which — if left untreated — can cause professional impairment. Nearly four out of five chaplains reported signs of burnout: 44% somewhat and 35% to a great extent. Burnout is a debilitating state that occurs after one experiences unsustainable periods of stress over an extended period.
Henson created workshops, attended by 26 chaplains, designed to measure the effects of stressors they face. While deployment and combat are
major causes of anxiety
, chaplains face a multitude of other challenges — ranging from responding to emergency needs after regular hours to carrying the strain of never sharing the experiences and stories they've heard in confidence. Indeed, clergy in the military are asked to help in myriad crises.
"The number of suicides, sexual assaults, cases of burnout, and marriage and family issues continues to increase," Henson wrote in his paper. As such, some chaplains who have been serving in the 12- to 16-year mark exhibit warning signs of stress themselves.
Two-thirds of active-duty chaplains surveyed admitted to struggling with secondary traumatic stress disorder. This might involve a Marine or sailor unloading in vivid detail about witnessing the gruesome death of a colleague. The chaplain — sworn to confidentiality — sometimes is unable to get the gory word pictures out of his head.
SABBATICAL PROPOSAL
Henson is proposing that chaplains receive a one-month sabbatical after six years, two months after 12 years, and three months after 18 years. He realizes it will take months, if not years, to receive feedback from higher-ups about his proposed sabbatical program. But he is willing to keep making suggestions, believing there will be immediate spiritual, physical, and emotional dividends.
Fellow Camp Lejeune chaplain Rick P. Shaffer, 44, has known Henson for five years and considers him a trustworthy friend.
"People are attracted to his authenticity," says Shaffer, who grew up AG but is endorsed through the
Evangelical Free Church of America
. "And knowing that Derek cares is important to people who don't know Jesus."
Shaffer also appreciates that Henson is willing to make him uncomfortable in an effort to better fulfill his role as a chaplain.
"He has high standards and is willing to be honest, even when it's difficult," Shaffer says.
Later this month, Henson will begin a two-year tour attached to
Navy Special Warfare Group
(a SEAL team) in Little Creek, Virginia. Although he admittedly won't be as fit as those in the special operations force, Henson is fairly buff.
"To build rapport I can't be out of shape and unhealthy," Henson says.