Tailor-Made Preacher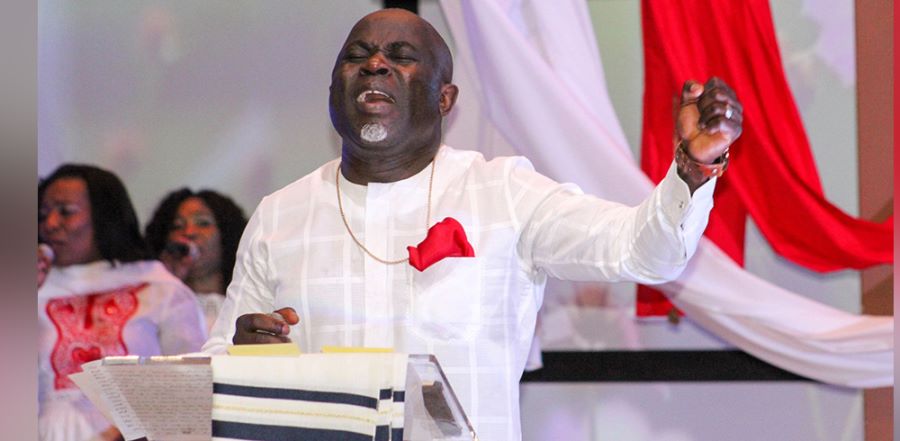 Don't miss any stories. Follow AG News!
Immediately upon completing middle school in 1977, Bismark Osei Akomeah moved from his small Ghanaian village of Kwaso to the city of Kumasi to learn how to become a tailor. In 1985, after a four-year apprentice program, Akomeah opened his own fashion designer shop in the West African nation.
Soon he had four young women working as apprentices under him. One of them, a seamstress named Linda Agyeiwaah, asked Akomeah if the trainees could conduct a devotional Bible study at the business. Agyeiwaah, who attended an Assemblies of God church, kept telling Akomeah that life without Jesus had no meaning. Following Agyeiwaah's repeated evangelism efforts, Akomeah committed his life to Jesus as his Savior.
After being water baptized and receiving baptism in the Holy Spirit, Akomeah became an active lay worker in a local AG congregation. He taught a convert class and helped plant churches. In 1989, Bismark wed the woman who led him to the Lord.
Akomeah sensed God calling him to serve in ministry. However, he thought his lack of formal education presented a serious roadblock to following God's plan for his life.
"In Ghana I could not go to Bible school because I was not educated," says Akomeah, 58. After failing the Bible school entrance examination, a leader at the school recommended that Akomeah pursue ministry training from his pastor. Upon receiving training as a lay leader, Akomeah helped the local congregation plant churches in the surrounding villages, a role he filled for the next decade.
During that first decade of marriage, the Akomeahs had two children, and Bismark longed for a way to provide a better life for his family. After much prayer, Bismark and Linda applied to immigrate to the United States as permanent residents. Of the more than 6 million people who then applied annually due to relatives who already live in the country, only 55,000 could enter the country legally (Akomeah had a half-sister in Houston). Despite the overwhelming odds, the family received government permission to move to the United States in 1998.
When Akomeah arrived in the U.S., he spent three years working as a metal pipe fitter in Houston, never relinquishing the ministry plans he felt the Lord intended for him.
"I knew God had a calling on my life, but I didn't know what He was bringing me here to do," Akomeah says. He believes God made the purpose clear in 2001: move to Columbus, Ohio, to plant a church. Akomeah didn't know 10,000 Ghanaians lived in the city already.
Akomeah had no contacts in Columbus at the time, but he had a friend in Virginia — who had connections in the Ohio capital — that helped Akomeah immediately find an apartment for his family. The Akomeahs held church in their basement apartment for three months, with almost no visitors.
At about the same time that Akomeah moved from Houston to Columbus, Samuel O. Anokye — another Ghana native — decided to relocate to Columbus from Washington, D.C.
"There were a lot of Ghanaians coming to Columbus from different places," says Anokye, 53. He longed to worship alongside other fellow immigrants, but at the time the city had no well-established Ghanaian church. The church Akomeah founded soon would begin to fill that void.
In 2001, Akomeah says that the Lord directed him to approach a local church about using some of its surplus room to meet.
"The pastor asked how many people we had, and I said that, by faith, we would have 25 people." The church agreed to let Akomeah use some available space at its off-site food pantry. The building happened to be located in a neighborhood heavily populated by Ghanaians, and word quickly spread about the new church. The first Sunday, 27 people showed up. Six months later, 120 people attended regularly.
With the help of Randy Feldschau, pastor of Easton Worship Center in Columbus at the time, Akomeah received formal ministry education through
Global University
and became a credentialed AG minister. The small gathering in the food pantry eventually became
Jesus Power Assembly
, today a thriving multiethnic church of 950 regular attendees that caters to the African immigrant population in Columbus. In 2010, the church opened a $3.5 million, 1,500-seat sanctuary.
"When we had the chance to worship God as Ghanaians, everybody started driving from other places to be part of Jesus Power," says Anokye, who now serves as the church's administrator. "As Africans, we worship a little differently than other groups in America. In African churches there is a lot of praise, singing, and drumming. To be able to worship God in that way is important to us."
Akomeah
sees Jesus Power as being able to reach Africans living in America who might not be as willing to accept the gospel in their home countries.
"I see myself as a missionary," Akomeah says, "God has called me to be a missionary to my own people."
Akomeah has helped plant churches across the U.S. Jesus Power has daughter churches in Atlanta, Chicago, Nashville, and Chandler, Arizona, in addition to another Swahili and French-speaking congregation in Columbus.