Tech Training from Titans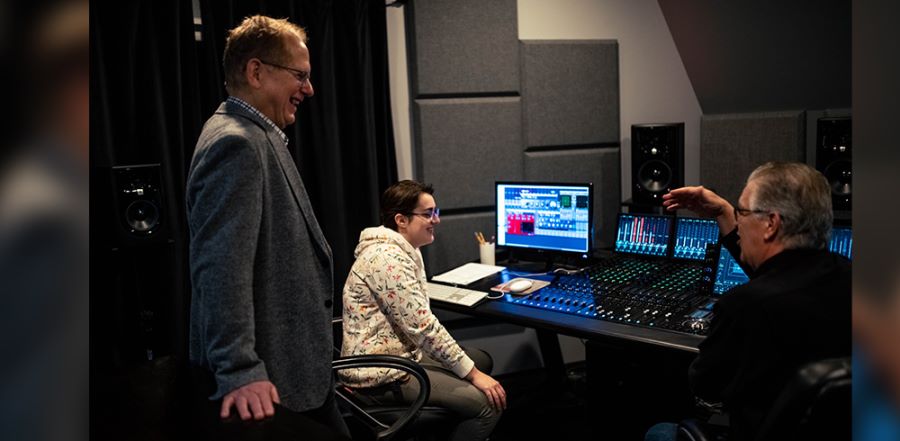 Don't miss any stories. Follow AG News!
KIRKLAND, Washington — The innovative Creatio Center for Technology, Media, and Design at Northwest University (NU) is producing graduates who are stepping into jobs at tech-industry giants in the Seattle area as well as ending up in film work in Hollywood and music careers in Nashville.
Since 2020, the rebranded Creatio Center has offered bachelor's degrees in six areas. Four are in the area of entertainment: audio production, video production, music production, and music industry business. Two degrees specialize in technology (user experience design, known as UX, and computer science) with degrees offered in video game design and video game development in progress. In all, 86 students are enrolled. Each professor and instructor is or has been commercial practitioners. Rather than listen to lectures every class, students gain hands-on production experience.
"When they graduate, our students are ready to walk into a career job on day one," says Craig H. Chapman, a mile-a-minute talker who has been Creatio dean since 2019. The Creatio studios are located on the NU campus in the former Seattle Seahawks training facility here in Kirkland.
Chapman, 68, spent 35 years building advanced software systems and managing engineers for various companies, including Microsoft. Before joining NU, he co-founded INRIX, a pioneering traffic and navigation company that paved the way for the addition of traffic information to the navigation applications for global positioning systems that are so integral to American daily life today.
Creatio began in 2010 with a pair of music-focused bachelor's degrees. Northwest University President Joseph L. Castleberry asked Chapman to expand Creatio beyond the music and business departments into emerging technology. Since then, students have access to laboratories and studios for recording and training. Audio engineers learn proficiencies for television, movies, and videogames. A video production department has been added. User experience design bridges the audio-visual gap.
"Our UX design degree is the on-ramp to a career designing products and interfaces that that are practical and usable for the widest variety of users," Chapman says. "Our focus is to provide degree programs that are not in the mold of other universities. We may be the only Christian university in the country teaching virtual production in as part of our video production degree program and one of a handful that have an undergraduate degree in UX design."
Creatio prepares Christian graduates to work immediately in the digital technology industry. Video game design incorporates video, audio, UX design, and computer science, all working together. Castleberry notes 34 game development companies are located within a 5-mile radius of the campus.
"Kirkland is the capital of game development and that's why we stress audio, video, user experience design, and computer science," says Castleberry, 62. "With all these high-tech startups, students are getting hired at the top companies every year."

Kelsey Cummins, a 21-year-old senior from Edmonds, Washington, will be the first graduate with a degree in UX design.

"The user design experience degree will open a lot of doors," Cummins says. She has learned how to design apps and websites for easier use. A summer internship at a local startup company called Recurrency gave her real-world experience and confidence in building interfaces which are attractive and user-friendly. It also validated her career choice.

Cummins lauds the vision Chapman had for making the program available at Christian college and for the adjunct professors who shared their professional experiences. She hopes to find work at Disneyland or a faith-based nonprofit.
"With our equipment, faculty, and full surround-sound technology capability, we are more advanced than almost anyone in the country," Chapman says. "What differentiates us is that career readiness is a big part of what we do. Our sound consoles are state-of-the-art equipment, the same used by major music studios."

SAAVY CREATIVE DIRECTOR
The personable Steve D. Smith, who has 47 years of experience as a recording engineer, is Creatio's creative director. As he shows off the equipment in the Creatio studios he is as enthusiastic as a boy opening presents on Christmas morning. The Dolby Atmos surround sound system offers cutting-edge technology.

Smith appreciates that Castleberry had the vision for the Creatio Center, incorporating interdisciplinary programs that bring together the creative arts (such as music and video) with technology and design along with other programs at the school, from internet technology to music.

"If we're going to provide students with a ready-to-work initiative, we need to provide them with front-line technology," says Smith, 70. "Our graduates have a leg up on most of their competitors."

Smith's recording engineer experience includes working with renowned composer Michael Giacchino on the "Medal of Honor" video game series and "Jurassic Park: The Lost World," the first video game with an orchestrated score. Smith has earned two Grammy awards and half a dozen platinum records as an engineer.

As a result of a lengthy career at mainstream recording studios, Smith retains plenty of industry connections and is still active in the commercial world. Creatio students work on real-life projects, including one who is currently involved in sound mixing for Netflix.

It's not just businesses clamoring for NU Creatio grads. Smith regularly fields calls from church officials looking to hire technicians.

"People have come to realize communication equipment at church is the mouthpiece of the pastor," says Smith, who during the 1980s served as Jack Hayford's audio director at Church on the Way in Los Angeles.

HANDS-ON EXPERIENCE
Smith appears energized interacting with students. The feeling is mutual. Enzo DeSantis, 20, is studying contemporary music. DeSantis says he appreciates the wisdom and experience Smith brings as a teacher.

"He often talks about treating others well, being poised, staying calm in the storm, and reflecting Jesus' character," DeSantis says of Smith. "He shows the importance of standing out and having the opportunity to witness."

DeSantis also appreciates the tools offered for studio recording and video game sound design.

"I'm a learn-by-doing person, so getting hands-on experience is important," says DeSantis, of Livermore, California. "Being able to use different consoles is a huge help."

Over the summer, DeSantis had the opportunity to work as an intern at Shoreline Studios in Vancouver, British Columbia, because of his Creatio connection. He will graduate from Northwest in 2024.

DeSantis is likewise pleased with the youthful inventiveness of sound design assistant professor Kate Orr, who obtained a contemporary music industry bachelor's degree with a concentration in recording engineering at NU before earning a master's in sound design technology at the University of North Carolina School of the Arts. Smith hired Orr last year because of her tech skills and ability to relate well with students.

Orr is teaching sound design for film and video games. She also is leading the charge as Creatio is in the process of separating music production from audio production.

"I adore my job and I'm passionate about integrating sound and Jesus," says Orr, 26. Orr also operates her own post-production company, AppleCorr Soundscapes.

Being in the Seattle metro region — home to industry trailblazers such as Microsoft, Google, Facebook, Amazon, and Nintendo of America — allows Creatio to hire longtime professionals as adjunct faculty on the technology side. That includes Jenni Cyrek, a full-time unit branch researcher for Aurora Technology, a leader in the self-driving vehicle industry. She spent most of her 20-year plus career at Microsoft, working on products that became mainstays, such as Office, Windows, and Edge. She heard about Creatio at the AG place of worship she attends, Eastridge Church in Issaquah.

"As a user-experienced researcher working in the technology industry, I wanted to give back," Cyrek says. "I'm excited for the opportunity to live out my faith and imbue professional skills to this next generation through NU."
TOP PHOTO: Creatio's qualified faculty includes (from left) Craig Chapman, Kate Orr, and Steve Smith.
LOWER PHOTO: The multitalented Steve Smith has mentored many students.