Teen Author Publishes Book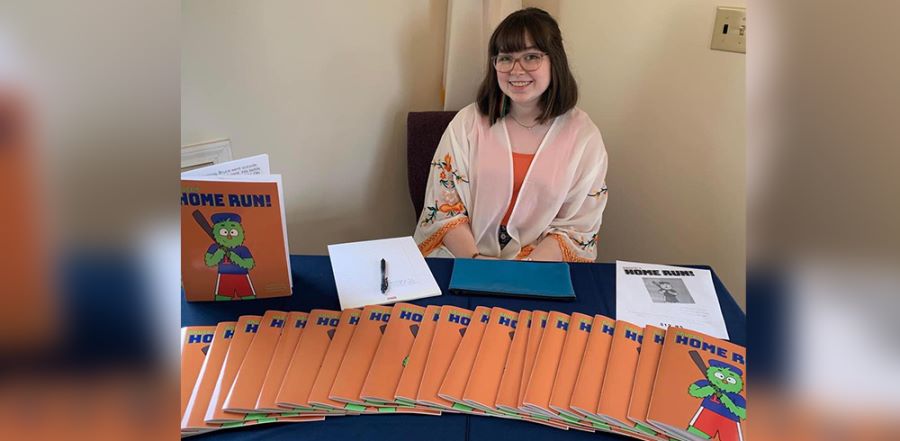 Don't miss any stories. Follow AG News!
At 16 years old, Emma G. Argo already has published her first book, an impressive feat for a junior in high school.
In the past two years, Emma has participated at the Assemblies of God Kentucky Ministry Network Fine Arts competition in the children's literature category. She says she loves to write and enjoys working with children, so it only made sense to combine the two.
Emma placed second in the 2021 Assemblies of God National Fine Arts competition with a book she based off her puppet, Violet.
This year's book had a story line birthed from tragedy.
Emma lives in Dawson Springs, a town of 2,452 and one of the hardest-hit areas in the destructive path of the December 2021 tornado. The twister killed 70 people across Kentucky, including 13 in Dawson Springs. Emma attends Dayspring Assembly of God, where she teaches Sunday School for preschoolers through third graders and serves as assistant children's pastor.
"Our church opened up an outreach center, and with people coming in and out trying to get items to get back on their feet, I heard story after story," Emma says. "Hearing those firsthand experiences definitely had an impact on me."
Wanting to use her writing to help ease the pain of people in her hometown, Emma decided to write a children's book about a little boy named Bruce, who lost a valuable baseball in his possession when a tornado ripped through his community. But as he surveyed the greater loss among his neighbors, Bruce realized he had much for which he should be thankful.
Missy Johnson, 37, is a longtime family friend and Dayspring adherent says Emma's Bruce's Home Run helps children see God's hope from a perspective they can understand.
"After the tornado, the children of Dawson Springs were confused and scared," says Johnson, 37. "Some children lost everything. Trying to explain to children why things happen the way they do can be difficult, but Emma does a wonderful job of bringing God's plan and timing into her story."
Emma wanted to honor the victims of the tornado in her book and sees it as a memorial to them. In the back of the book are the names of all the victims, and every character is named after one. That includes the character Marsha, named for Marsha Hall, the mother of Jason Cummins.
"Emma captured my mom's spirit and how she lived so beautifully," says Cummins, 44. "When I read the book, all I could think about was how happy and humbled my mom would've been if she read it."
The teen author says she has heard stories of how the book has helped people cope with the tragedy and loss they suffered.
"For those of us who survived the tornado and had our lives completely flipped upside down, it brings a simple reminder of God's mercy and grace and His unfailing love," Johnson says.
While Cummins suffered personal loss, he says the book is a blessing as well.
"Emma's generosity and her paying tribute to my mom has been a bright spot in what has been a difficult and dark year," Cummins says. "Her book is something I will always treasure."
A portion of the proceeds from Bruce's Home Run is going toward a memorial garden in Dawson Springs, and some is being donated to Speed the Light.
Emma is the daughter of Ken Argo, the youth and associate pastor of Dayspring Assembly of God. The church's pastor is Emma's grandmother Kathy Redden. Emma's mother, Amy, is Fine Arts coordinator for the AG's Kentucky Ministry Network.
The teenager already is working on another book for the 2023 Fine Arts competition and says after graduation, she plans to attend the University of Kentucky and then become an elementary reading teacher.
"I hope I can read some of my books there," Emma says, "I do want to keep writing."