Teen Climbs Mountains for Speed the Light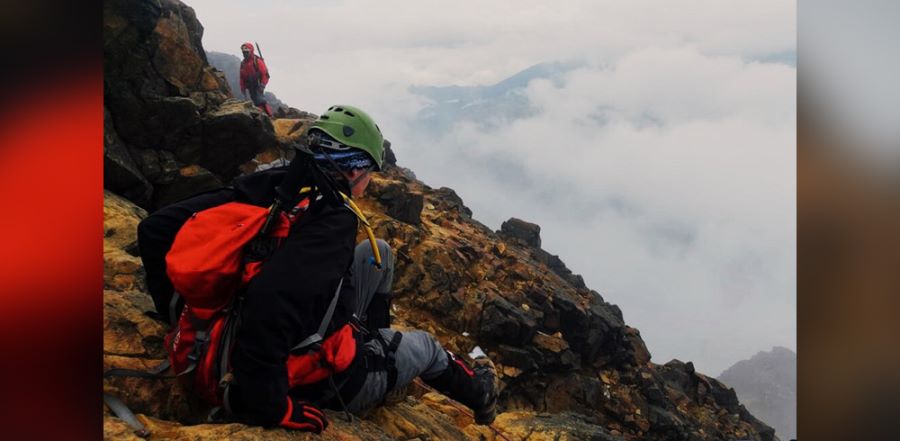 Don't miss any stories. Follow AG News!
Pasochoa, Rumiñahui, Corazón, Illiniza, Cotopaxi. For those unfamiliar with the Andes Mountains, the first three are the names of dormant volcanoes in Ecuador, South America. The last two happen to be active volcanoes in Ecuador. And recently, 15-year-old Drew Marbut climbed them all with the goal of raising $4,000 for
Speed the Light
.
Drew is the son of lifetime missionaries Joil and Leah Marbut, who met as missionary associates in Ecuador, got married, and returned as AG missionaries to the country in 2000. They live in the southeastern portion of the jungles of Ecuador in Sucúa.
"We were returning from a missionary meeting in Quito, the capital of Ecuador (about 240 miles northwest of Sucúa), going through the Andes Mountains," recalls Drew, "and God put it on my heart to climb some of them for Speed the Light."
Joil and Leah were initially not very excited about the prospect of their young teen attempting the effort. The mountains he chose to climb had technical and sheer-cliff ascents, were physically demanding, and dangerous.
"When he presented the idea, we thought it was a great idea, but maybe when he was older," Leah says. "It was kind of scary, honestly . . . those are big mountains — man mountains."
The mountains Drew was attempting to climb ranged from Pasochoa at 13,780 feet — his starter mountain — to the final one, Cotopaxi, at 19,347 feet, which is also one of the world's highest active volcanoes. The challenges to this attempt were significant. Attaining the right gear, the right guide, and the physical conditioning required to attempt the climbs, especially when the Marbuts didn't live close to the mountains, were all real concerns. Not to mention, altitude sickness, due to the reduced amount of oxygen in the air, can start impacting climbers above 8,000 feet.
The guide recommended that Drew and Joil, who joined Drew in his quest, attempt the smaller mountains first, to see how they fared before going on to the bigger ones.
"I was impressed," admits Leah. "Every day Drew went out with a low-oxygen mask on to train. He started out with a backpack with 10 pounds of rice in it and, over time, worked it up until he was hiking with 50 pounds on his back. I was glad to see him taking it seriously — he was very determined."
Following roughly five months of training, the climbs took place in late May and early June. The guide recommended that Drew and his dad drive to the mountain locations, acclimate for about a week, and then take on the first two mountains.
"We climbed up and down Pasochoa one day, took a rest day and then climbed Rumiñahui (15,489 feet) Drew says. "The first one took four hours to go up and two hours to come down. The next one took about six or seven hours to go up and about three hours to come down."
After successfully completing this first challenge, the guide agreed to take Joil and Drew on to the final three mountains a week later. That's when things got interesting.
Corazón (15,715 feet) came first and was similar in challenge to Rumiñahui. The pair took their standard rest day before the next and substantially higher climb.
"Illiniza (17,218 feet) was pretty cold, colder than the previous climbs," Drew says. "There was no snow, but the wind was blowing so hard that it knocked me down a couple of times."
Following this climb, Joil was not feeling well. He knew that he could not complete the climb up Cotopaxi, which is more than 2,000 feet higher than Illiniza. They decided that Drew would go on with their guide.
However, if Joil and Leah knew what awaited Drew on this fifth and final climb, they may well have opted for him to sit this one out.
"There was a group of 18 men from all around the world who had flown here to make this climb," Drew says. "We started our ascent at about 11 p.m. using our headlamps."
"There is no cell service up there, so I didn't know what was happening," Leah says. "I was definitely on my knees all night that night."
On their way up Cotopaxi, a freak freezing rainstorm broke out, covering the climbers in ice and making the footing treacherous. As they ascended, the temperature dropped to -4F with sustained winds of 60 miles per hour (making the windchill nearly -39F).
"Everyone else turned back except me and my guide," Drew recalls. "We were within 30 minutes of the summit when both my crampons broke." Crampons are metal spikes/claws that are connected to a metal foot plate that then attach to the boot to give climbers secure footing — a must for the conditions Drew was experiencing.
Drew explained that he would have had to remove his highly insulated, but clumsy gloves to fix the crampons. However, handling metal and exposing skin in those kinds of conditions could have easily resulted in skin freezing to the metal and potentially frostbite.
"I think the crampons breaking was a God thing — He was protecting us from making a big mistake — that was the coldest I've ever been in my life," Drew says, then adds with a laugh, "I had an icicle growing off my nose, but I couldn't even feel it!"
Even though he just missed making the summit on Cotopaxi, Drew beat his goal and raised $7,100 for Speed the Light. He plans to return to Cotopaxi next year, hoping for better weather conditions, to summit the volcano.
As each climb took anywhere from 6 to 10 hours to complete, Drew spent much of his time praying for the people in his life, his countries (Ecuador and the United States), and for children all over the world. Having the same guide on each climb also enabled Drew to establish a relationship with him, explain why he was doing the climbs, and discuss what it meant to live for Christ with him.
"I also prayed for Speed the Light, that whoever got the offering I raised would be blessed 10 times more than I gave," Drew says. "Throughout the training and the climbs, I recited the Lord's Prayer over and over again to be reminded constantly of what I was doing and why I was doing it."
"I have four children, and each one of them are so passionate about missions," Leah says. "We have Speed the Light vehicles; we've been on the receiving end. Because of Speed the Light, we've been able to go to the difficult places; Drew wanted to help other missionaries also go to the difficult places — he did what he did not for personal gain, but for missions and for God. I'm proud of his heart for that."