Teens Turn Around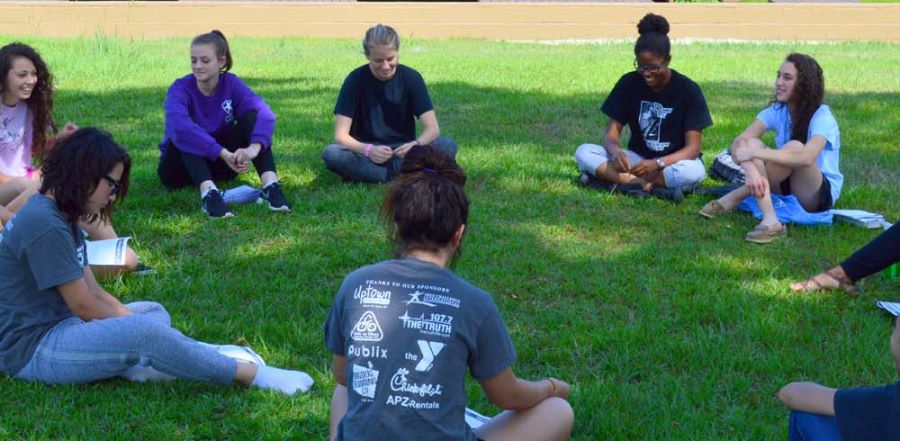 Don't miss any stories. Follow AG News!
At National Fine Arts last year, Columbus Girls Academy placed in the top 10 with a percussion routine, "Ninety-Nine." The unconventional piece creatively addressed the tragedy of human trafficking. The compelling performance packed an emotional wallop because the participants personally had experienced freedom from a painful past.

Columbus Girls Academy is a Christian boarding school for girls dealing with life-controlling emotional or social issues. A ministry of Teen Challenge International U.S.A., the school is located on the boundary line between Seale, Alabama, and Columbus, Georgia. Teen Challenge, a department of U.S. Missions, usually is associated with substance abuse recovery. CGA's therapeutic model encompasses that and much more.

Some girls have suffered abuse, social difficulty, or bullying. Others need a safe place to recover from family dysfunction or trauma. According to Executive Director Bob Lee, around one-third of the school's students have been adopted and need help adjusting.

"Root problems often manifest themselves in rebellion," says Lee, 61. "Parents find us when it becomes serious enough to start searching for help."

Lee became acquainted with Teen Challenge through his wife, Karla, who also is employed at CGA. Before their wedding, she attended Times Square Church and worked for Teen Challenge founder David Wilkerson and his brother Don. The Lees, who founded Lakeland (Florida) Girls Home in 2001, have been in their present positions since 2003.

Students at CGA can enroll for a 15-month residential program. To minister to girls ages 12–17, CGA necessarily includes academics. Students attend class through Alpha Omega online from 9 a.m. to 3 p.m. Monday through Friday. Classes are accredited by AdvancED. Graduating seniors are well-prepared for college options and can transition directly into Liberty University.

The beautiful lakeside campus contains a variety of sports facilities, including a basketball court, softball/soccer field, sand volleyball area, fitness room, and swimming pool. Girls are encouraged to study the arts and enter National Fine Arts competition through area Assemblies of God churches. An equine program will begin in April, incorporating the physical exercise of riding and the therapeutic benefits of connecting with animals and learning to care for them.

For the first few weeks after a girl arrives, the only family contact is with a counselor; the new enrollee is encouraged to connect with other students and staff while adapting to a daily routine. A mentor program connects the new arrival with a senior student to ensure positive peer interaction. After that, parent/daughter communication is reintroduced through mail and phone calls. Parents attend weekend events every other month. Later in the program, siblings and grandparents may come.

Parent weekends include group sessions with other parents plus individual counseling, with and without the girl present. Parents also spend time with their daughter as a family enjoying area activities, plus a movie night with other families. After about a year in the program, a six-day visit home helps the student start preparing to return to her familial setting.

When girls arrive at GCA, they tend to be defensive. Sarah Gibson, lead counselor at Columbus Girls Academy, initially asks a lot of questions in an effort to build rapport.

"That's an advantage of a residential program," Gibson says. "Counselors can observe daily interactions and then ask the girls about them." She also emphasizes being straightforward and truthful.

Parents need encouragement as they entrust their daughter to the school, according to Gibson, 37.

"Parents already feel they have lost control, and they fear losing even more," says Gibson, who has 16 years of counseling experience. In an increasingly less religious society, some view God as a last resort. Church attendance becomes the norm while a student is at CGA

"They have tried other things — medication or short-term programs," Gibson says. "They're just hoping something can fix their daughter. But those who are Christians are relieved to see this really is a Christ-centered program."

Watching a child struggle is one of the most difficult experiences for parents, particularly if they fear they contributed to the problem. Parents interacting with other parents helps them realize they aren't alone. Counseling may reveal needed changes in parenting or family dynamics. Many parents say the program has been a second chance not only for their daughter, but also for their marriage.

Columbus Girls Academy does not take traditional school breaks, even for Christmas. Area churches provide Christmas gifts and hold special events. Besides holiday celebrations, students attend conferences throughout the year, including a purity seminar with biblical teaching about choices and consequences.

Lee says many teen girls struggle with self-esteem. For positive socialization, students join one of three area AG youth groups and also participate in community service.

"They begin to realize their life has purpose," Gibson says. Students also go on outreach trips to New York City and to King's Castle. These experiences help many discern God's calling for their lives.

Girls may stay longer than 15 months if parents and counselors feel more time is needed. When a student returns home, conversations continue between counselor and parents. A key part of aftercare is developing beneficial friendships and good social media habits.

"Many parents have simply not realized the danger of open access to the internet," Lee says. "Issues are completely different than 20 years ago."

Blakely is one graduate who is celebrating freedom from a painful and destructive past. Raised in a Christian family, Blakely experienced bullying in elementary school. By sixth grade she suffered severe anxiety. Low self-esteem resulted in inappropriate relationships with boys and excessive eating. Gaining weight, failing school, and depressed, she attempted suicide several times during 10th grade. Her desperate parents enrolled her in Columbus Girls Academy in May 2016.

"It was six months of fighting God," Blakely says. But that December, during a service at the school's conference center, she felt the presence of the Holy Spirit and surrendered her life to Christ.

Blakely graduated from CGA in August 2017. She entered a Christian college, got involved in ministry, and received an associate degree in December 2018. Family relationships have been restored, and Blakely knows CGA staff are just a call or a text away if she needs to talk.

"I'm a completely different person," Blakely says. "I'm free from the things I struggled with in the past. I can walk into a room confidently and meet new people, knowing who I am in Christ."

Lead Image: Girls sitting in a circle on the grass.
Bottom Image: Sarah Gibson is lead counselor at Columbus Girls Academy.