Temporary Relief After the Storm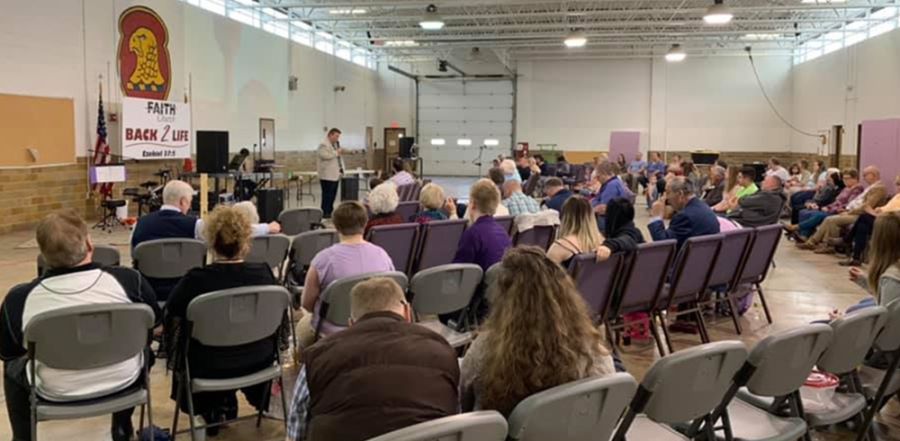 Don't miss any stories. Follow AG News!
Despite the frustrations that have accompanied holding services in temporary quarters, Iowa pastor David L. Martin and his wife, Charlotte, of
Faith Church
have a series of fond memories from the past 15 months.
First is the way God guided him to contact officials at the Marshalltown National Guard Armory about holding Sunday services there after a
derecho ripped through central Iowa
in August 2020. The 125-mile-per-hour straight line winds caused $1 million in damage to Faith's building, originally constructed in 1949.
"For two weeks afterward we didn't do anything," says Martin, 54, who returned to his hometown nine years ago to pastor the church where he grew up. "Finally, I said, 'Lord, I need help. You've got to direct me somewhere.' That's when the thought came to me to go to the armory. They welcomed us with open arms."
The congregation intends to return the favor by constructing a gazebo next spring behind the armory that soldiers can use during dinner breaks.
Military training weekends require Faith to shift to evening services elsewhere once a month. Nazarene and Open Bible congregations have extended the use of their facilities for evening services. In addition, the owners of a nearby apple orchard have allowed members to gather there for regular fellowships.
In May,
Cedar Rapids First
sent Faith a $20,000 offering to help with rebuilding. That provided a much-needed boost, but Martin expects Faith Church will need to raise more than $250,000 to pay for renovations and equipment that won't be covered by insurance.
"It was an incredible gift," the pastor says of the Cedar Rapids First donation. "We've helped other churches in the past; I reminded our people you reap what you sow."
Other kindness came from Charlotte's boss at an investment firm, who is leasing a home to the family after the storm wrecked the parsonage where they had been living. Gradually expanded over the years, the five-bedroom parsonage had to be torn down.
Faith's pastor says it is important to for the church to maintain missions giving, which rose to $51,000 last year after being nearly nonexistent when Martin accepted the pastorate. Among the recipients:
Boys & Girls Missionary Challenge
,
Convoy of Hope
, and 20
U.S. missionaries
and
world missionaries
.
The congregation also reached out to the community of 27,951, helping feed people
after the derecho
and partnering with a nearby elementary school. That includes such gestures as purchasing supplies, giving teachers gift cards, and periodically delivering coffee and cinnamon rolls to the staff.
Although admitting he feels overwhelmed at times, Martin says the struggles he and Charlotte have endured this year have been excellent reminders to trust the Lord.
"It caused us to be more dependent on Him," the pastor says. "We realize how volatile we are, how weak we are, and the frailties we have. My wife and I have grown in how much we realize God loves us. He's been faithful the whole time."
The
Iowa Ministry Network
is considering making a small grant for repairs at Faith, and Superintendent Guy E. Fisher says the network also will make a loan available. Fisher says he and his staff have been regularly calling Martin and encouraging other pastors to reach out to Faith's leaders.
"Dave and Charlotte are working all the time," says Fisher, 69. "They're heroes to their town and their church."