The Boston Massive Cure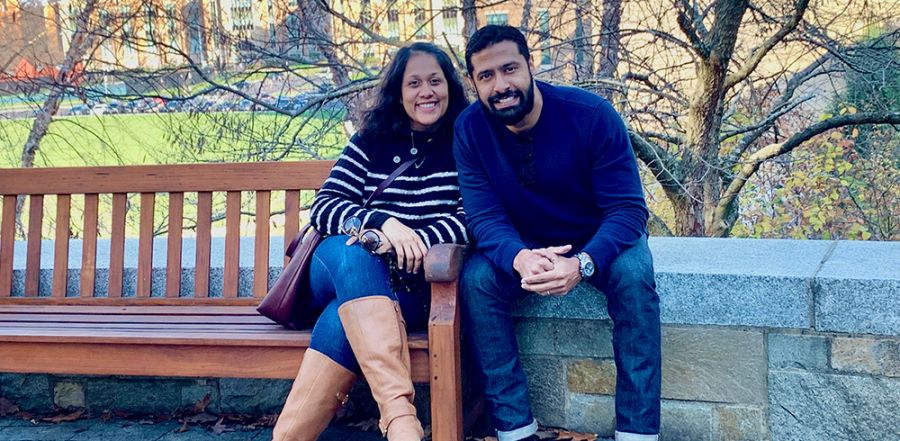 Don't miss any stories. Follow AG News!
Boston, an important American city since the nation's colonial days, lately is renowned as a leading academic and scientific center. Forty educational institutions, including the prestigious Harvard University and Massachusetts Institute of Technology, call the greater urban area home.

The Assemblies of God Southern New England Ministry Network (SNE), led by Superintendent Nick W. Fatato, has embarked on a methodical and intentional strategy to launch a renewed effort to expand Chi Alpha Campus Ministries in the region. Fatato, 63, says research, recruiting, and resourcing are the guiding principles of the endeavor. He doesn't believe the proposal in Boston — the capital of Massachusetts and the largest city in New England — as too massive an undertaking.

"God is not intimidated by the vastness of Boston," says Fatato. "There are a quarter-million students and in four years there will be another quarter-million. The missional strategy to reach this population for impact in our region and around the world demands a large and visionary undertaking."

So far, 30 Chi Alpha team members have lined up to be a part of the task. Six already have moved to the Boston region.

Fatato, who earlier had a 20-year history in Chi Alpha, long believed the Church neglected two key places in the United States: metro areas and secular college campuses. Fatato worked as the first resident national field representative for Chi Alpha. Three decades ago, to model planting the first urban university national target, Fatato relocated to Boston with a team of six.

His vision has remained steady. Even before his election as SNE superintendent three years ago, Fatato led efforts to bring Chi Alpha into a strategic position in the region. He linked with three veteran Chi Alpha leaders who oversee large teams at the schools where they minister: U.S. missionary Anthony Saladino at Virginia Tech University; U.S. missionary Matt Carpenter at the University of Central Arkansas (UCA); and U.S. missionary Eli Gautreaux, Texas Chi Alpha leader who built the chapter at Sam Houston State University (SHSU).

The trio of directors are sending teams and helping steer the vision. They meet regularly with Fatato in person or via teleconferencing.

MISSIONARY MOVERS
The planting team includes U.S. missionaries C.S. and Faith Robinson, who ethnically are Indians.

"The Robinsons bring years of experience and a deep passion for the work in Boston," Fatato says. "They are positioned well to help lead."

Formerly on staff at SHSU, the Robinsons moved to Boston's Mission Hill neighborhood, which has seven universities within a 1-mile radius. With supportive team members, the Robinsons hope to reach all the schools eventually. The largest is Northeastern University, a private research school, which has more than 2,100 students from India.

Because gaining access to public meeting space at private institutions can be challenging, the Robinsons, who are both 40 years old and ordained AG ministers, take a lifestyle evangelism approach.

"So many students live in the neighborhood apartments we technically don't need to get on campus to reach them," says C.S, born and raised in India. "The proximity and access is there, so we can form relationships."

"We see tons of opportunities to connect," says Faith, who grew up in a Pentecostal church in Houston. "Boston is a diverse city with students from all around the world."

C.S., also raised in Pentecostalism, earned a master's degree at New India Bible Seminary in Kerala and immigrated to the U.S. in 2008 — the same year he wed Faith in an arranged marriage.

The Robinsons responded to Fatato's appeal for Chi Alpha workers in 2019 after a visit to several campuses Boston.

"It was a city full of students and young professionals," recalls C.S. "On a 10-minute walk, I heard seven languages spoken. I was overwhelmed."

Their immediate goal is to establish small group leaders who can form neighborhood relationships.

Faith received a bachelor's degree in education at SHSU and C.S. earned a second master's degree at the school in Huntsville, this one in sociology.

"Chi Alpha deepened my faith and I became open to the idea of a ministry career," says Faith, who gave a year as a missionary associate in the Netherlands after graduation.

Although a pastor's son, C.S. initially didn't expect to have a ministry career. He stuttered throughout childhood and youth, to such an extent that he had difficulty keeping friends. After he fully surrendered his life to the Lord at 21, he says God healed him of his speech impediment.

Subsequently, Acts 18:9-10 became a foundational encouragement verse for outreach in Boston. The passage tells of the Lord's vision assurance to the apostle Paul to keep proclaiming the gospel and not fear being harmed.

"Jesus has many people here in the city that He desires to raise up for Him," Faith says. "We're searching for God's people — who may not actually be God's people yet."

In addition to the Robinsons relocating to Boston, U.S. missionaries Michael and Rebekah Quinn have moved to Cambridge from UCA; U.S. missionary associate Steven Longoria and his wife, Alexandra, from the Stanford University Chi Alpha are finishing an internship at Yale University; and U.S. missionary Nick Huber has transferred from Virginia Tech.

PHOTO: Faith and C.S. Robinson are among those who have heeded the call to plant Chi Alpha chapters in the Boston area.