The Global Family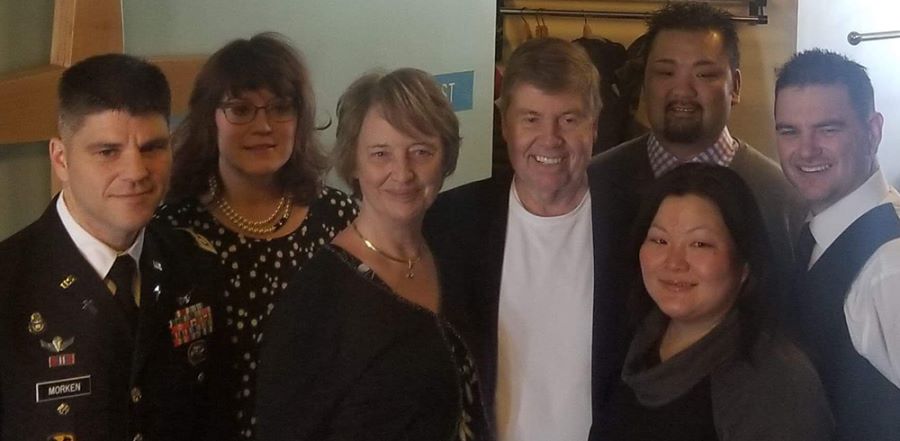 Don't miss any stories. Follow AG News!
The destiny of Troy Morken and his five siblings changed when volunteers from Evangel Assembly of God in Bismarck, North Dakota, placed a flyer on the family's front door inviting them to a children's outreach at the church in 1985.

Arvid and Nancy Morken had been looking for a church where their six adopted children could receive spiritual instruction. The Morkens went to the special evening gatherings and 10-year-old Troy subsequently accepted Jesus as his Savior.

David J. Boyd, who served as children's pastor at the church for five years with his wife, Mary, remembers Troy and his older sister, Tonya, then 13, becoming a part of the puppet team ministry at Evangel AG. He notes that they invited friends to the church to experience skits and ventriloquism incorporated into gospel presentations.

"Tonya was the leader of the pack as the oldest," recalls Boyd, now national director of Boys & Girls Missionary Challenge and co-director of Children's Ministries. "Troy, as the oldest boy, was also a leader, but he had a sweet, calming spirit about him. Tonya and Troy took turns helping with the younger kids."

Biologically, Arvid and Nancy couldn't have children.

"We thought the best way to build a family would be through adoption," says Arvid, 74. The first two children, Tonya Keller, now 46, and Troy, 43, had been born in the region. Scott, 41, and Kailee Murphy, 39, are from Seoul, South Korea. Dustin, 39, and Joel, 37, came from Bogotá, Colombia.

"My wife kept looking for more kids," Arvid remembers. "We finally stopped after six."

Arvid and Nancy became heavily involved in the church, with Arvid serving as Sunday School superintendent. Arvid notes that Troy seemed destined for the military from an early age.

"He liked assignments and deadlines," Arvid recalls. "The structure of the military has been good to keep him on track."

Troy came into the Morken home at two weeks of age. He felt called to full-time ministry at 13 and joined the National Guard at 17, excelling at aviation mechanics. As a U.S. Missions chaplain, Troy has deployed to Iraq, Afghanistan, Syria, and Kuwait. In June, he returned to Germany, where he served earlier for three years as a brigade chaplain. Troy and his wife, Gloria, have two sons, Will, 12, and Spencer, 10. Troy has found the past six years to be the most rewarding.

"I've been training a team of chaplains who walk through life daily rubbing elbows with soldiers and showing how sharing their faith can make a difference," says Troy, who earned his bachelor's degree at North Central University and master's at Assemblies of God Theological Seminary. "Replicating is very rewarding."

"Troy has always had a solid walk with the Lord," Arvid says.

Having four ethnic minority children in one of the whitest regions of the country stood out. Often they would be the only nonwhite kids in class. Bismarck is still over 92 percent white, according to the latest government census.

Arvid and Nancy commemorated their children on two special days a year, taking them out to eat on both their birthday and adoption day.

"Our adoption was never a secret," Troy says. "My parents really celebrated adoption."

The Morkens have belonged to the AG ever since that children's outreach.

"We joined because Evangel Assembly of God had an active, high-quality kids program," Arvid says. "That was important when we were raising six kids."

Arvid has been involved in prison ministry for 40 years. He leads a Bible study at a nearby minimum security facility every Thursday night and preaches two Sundays a month at another penitentiary.

"I love those guys," Arvid says. "I enjoy seeing the Lord restore their lives."

Arvid worked as a banker for 20 years, then owned and operated a flower shop for two decades. Nancy spent 30 years as a nurse before retiring.

Boyd, 60, still believes in old-fashioned evangelism techniques such as door flyers. He himself is a product of a church bus ministry. He and Mary have made a huge impact on children's ministry in the Assemblies of God.

"David and Mary are dear friends to this day," says Arvid. He and Nancy currently live in Mandan, North Dakota, as do three of their children: Tonya, Kailee, and Dustin. Tonya pastors New Hope Mandan, an AG church, with her husband, Gary.
IMAGE: The Morken family includes (from left) Troy, Tonya, Nancy, Arvid, Scott, Kailee, and Dustin.