The Gospel According to Sport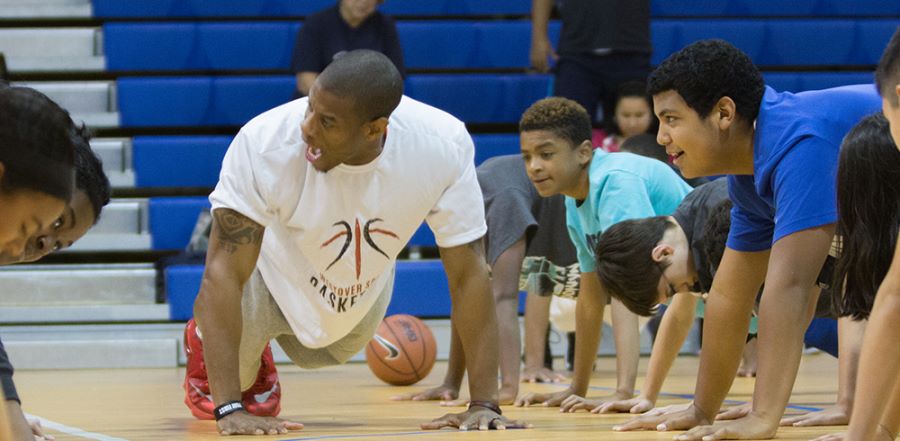 Don't miss any stories. Follow AG News!
For thousands of families in northwest San Antonio, life revolves around sports. Parents want their kids involved at every level, and Westover Hills Assembly of God is turning that reality into its primary outreach. Lead Pastor Jim D. Rion says the megachurch is determined to give the people what they want in order to give them what they don't have, or haven't discovered, in Christ.
This translates into a $5 million sports complex, which will offer year-round soccer, basketball, and softball leagues for children and teens. The ministry moved to a higher caliber two years ago when National Basketball Association veteran Antonio Daniels agreed to serve as sports director.
Daniels played 13 seasons in the NBA, including four years and a championship with the San Antonio Spurs. San Antonio Magazine named Daniels "Local Radio Sports Personality of the Year" in 2015 for his weekly program. He currently works as a TV analyst for the Oklahoma City Thunder and the New Orleans Pelicans, and as a cohost for SiriusXM's NBA Radio's Off the Dribble program.
Rion says he felt intimidated asking a renowned athletic hero and busy media personality to join the staff, but Daniels had told Rion he sensed God had more for him to do. Daniels jumped at the offer when he realized it would help people and introduce them to Christ.
Even with a rigorous media and travel schedule, Rion says Daniels is an integral part of the sports ministry. Daniels is known for heading straight to a church service or sporting event immediately after an airport landing.
Daniels directs planning for each sports league, along with clinics and boot camps. He works directly with almost two dozen coaches and about 40 sports volunteers through preseason trainings. For youth basketball leagues, Daniels meets with parents before the launch of each season to set expectations and answer questions. He attends as many games as possible during the season and is often seen encouraging and helping young players with their technique.
Four years ago, Daniels accepted Jesus as his Savior, after he and his wife, Sonia, had separated and were on the brink of divorce. They frequently share how God has transformed their lives, including at a 2013 Sunday morning interview with Rion at Westover Hills.
Daniels says he and his wife have been given so much it would be selfish to fail to give back to others. Rion feels the same way about the church he founded in 1986, a church that now has 5,400 attendees during an average weekend.
For instance, Westover Hills charges only $20 for sports camps and waives even that fee if it is a hardship. By comparison, Rion's 6-year-old grandson paid $175 to participate in a soccer league elsewhere in the community, and the cost for competition at age 7 jumps to $1,100. Some families in the area pay as much as $1,800 for their teens to go to other sports camps.
Single moms and modest-income families can't afford such steep fees, and their kids don't get a chance to play anywhere else, Rion says. They also may miss out on college scholarships and even non-sports opportunities due to community involvement elements that are out of reach for those who cannot pay to play.
The sports ministry aim is to have hundreds of people on the property each week. Rion lists two major conditions for participation.
"Absolutely no alcohol and no screaming of foul words is tolerated," Rion says. "This is a church campus, and people get that."
Coaches and players pray before every game, and youth leagues include a time of devotion. Rion says a teen may refuse to come to church to hear a sermon, but he will hear a lot of the same messages if he plays on a ball team.
"The coach will tell him over the year the same things the youth pastor would share in a sermon," Rion says. "And he'll take it from a coach!"
Rion likes to share a letter from a high school student's mom to show the impact of the sports ministry. She wrote that her son had never played on a sports team and did not try out his senior year because he had been turned down so many times. He signed up at Westover Hills, despite her fear he would suffer another disappointment.
The mom said for the first time in her son's life he played in an organized sports league, and, for the first time, he won. His team went on to win the league championship. The mom, who doesn't attend Westover Hills, said the participation changed her son's life.
The church plans to keep doing that and more. So far, the new complex features a concessions area; spacious men's, women's, and family restroom facilities; sports ministry offices; and a kitchen to serve several hundred people. This year, a second softball field, an adult soccer field, and multiple kids and youth fields will be added, along with irrigation, fencing, and lighting for night and day usage. A second gymnasium will follow.
When the projects are completed, the church will have invested more than $5 million in sports ministry, Rion says. In the meantime, Daniels says, the focus is shifting from primarily adult sports in the gym to full youth sports.
Daniels fully understands the appeal and impact of sports.
"That's not to say it's right, but it's reality," Daniels says. "Our job is to bring them, to get them around Christians, to speak into their lives, and win them to God."