The Heart of the Family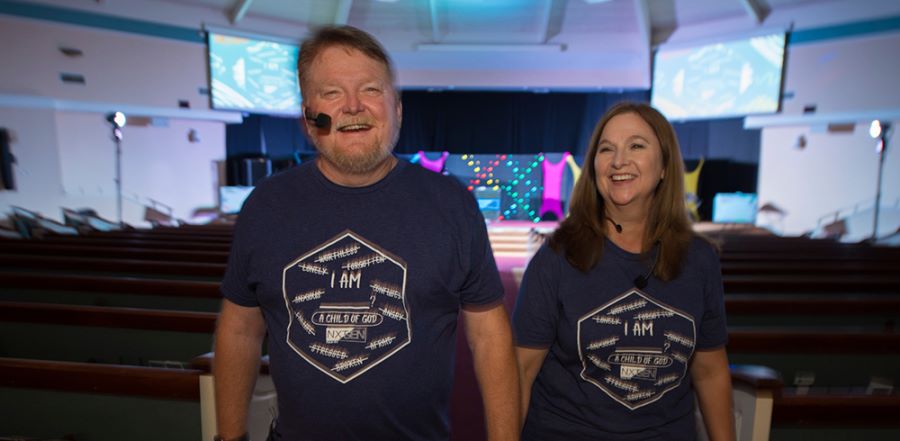 Don't miss any stories. Follow AG News!
U.S. missionaries with U.S. Specialized Tim and Marcia Jones regularly get to see God changing the lives of hurting kids and often hurting family members.

"This year, at church camp, we had a lady who responded to the altar time, and she wanted to surrender her life to Jesus," Tim recalls. "Her husband had just gone to jail for murder. She has kids and didn't know where to turn."

Although the woman didn't know anyone at the church, she thought her kids might be able to have fun and she could afford it — because it cost nothing. Now she and her kids are connected to a local church body.

Appointed as a U.S. missionary in 2018 along with Marcia, Tim put his faith in Jesus after he began attending a church in Leeds, Alabama, at the age of 16. Tim chose to volunteer with children's ministry because he knew Marcia worked with the kids — and he wanted to get to know her. God used that simple beginning to start them on a lifetime of serving children and raising up children's ministers together.

Tim and Marcia have seen a big shift in children's ministry, also known as KidMin, whether in small towns or urban centers, during their more than three decades working with kids.

Marcia tells of her heartbreak at hearing the change in prayer requests in recent years. Rather than praying for themselves, a child now might lament about a father in prison or a mom addicted to drugs.

"We've really got to get in while these kids are desperate and introduce them to God before they have no hope or don't think anybody cares," Marcia says. "God cares, and He sends people to help when their parents can't help them."

The Joneses efforts, though NXTGEN Ministries, involves partnering with children leaders in churches and providing hands-on training. The couple regularly receive calls from churches looking for KidMin staff to hire, but there aren't enough qualified children's ministers available to meet the need.

NXTGEN helps alleviate the problem. First, the ministry leads groups of summer interns, ranging from 16 to 22 years old, in real-world tours of kids camps and services. Each summer they hold 80 meetings across several states, primarily in the Southeast, including churches that invite them back year after year. Each intern pays a basic fee toward expenses, which is supplemented by honorariums and the Tim and Marcia's U.S. Missions budget. The team travels all summer using a Speed the Light truck, a minivan, and a trailer. Over the past five years, NXTGEN has trained 40 young people through these internships.

Kevin W. Lewis of Jackson First Assembly in Alabama has hosted NXTGEN for four years. His daughter, Hanna, participated in this year's summer internship. The daily team devotions combined with regular opportunities to develop ministry abilities and grow closer to God impacted Hanna.

This year the 10-month NXTGEN School of Ministry hosted its first students. Each student receives quality Bible training through Global University's Berean courses on top of a wide-ranging hands-on introduction to kid ministry, supplemented by The AG's Hydrate KidMin training program. The students work with Tim and Marcia to present the children's ministry for many services, camps, and network conferences.

"It's high-pressure at moments, yet they'll know to seek God in the middle of it," Marcia says. "If the Lord speaks to them to pray for someone, they'll go right there to do it."

Tim emphasizes the vital role of parents.

"As the Church, we have to teach the mom and dad that God gives them the ability to teach Scripture even when they don't think they're knowledgeable," he says. "It's just a matter of getting into the Word of God 10 minutes a day that will change a child's life, that will change a family's home."

Pastor Clint Capps of Southview Assembly of God in Opelika, Alabama, applies such lessons with families in his community.

"We tell parents they don't have to parent alone," Capps says. "The church is there, not be the parent, but to hook arms with parents and help them with whatever's taking place in their child's life. Capps' son, Evers, participated in the first year of NXTGEN summer internship five years ago, and now serves as the children's minister for Southview Assembly.

Tim and Marcia also help to encourage and prepare laypeople, who are often the ones filling the need in local churches. The Joneses show local church workers how to find affordable resources, to network and share resources, to plan the church KidMin program in advance, to develop curriculum, and build a team so if the leader is away, children's church can continue.

The Joneses have faced health issues, including Tim's diagnosis of melanoma early in their ministry when he doctors gave him only a 45% probability of survival. They have seen God carry their kids, who are now grown and both in full-time ministry, through their own health crises.