The Joyful Griever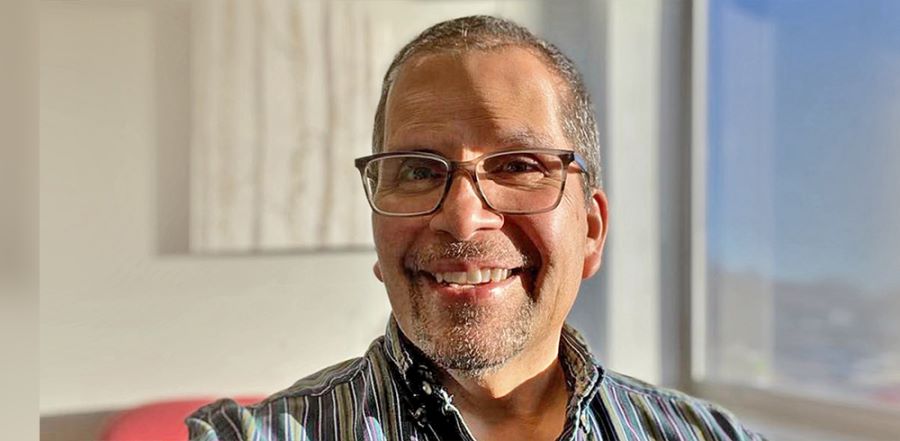 Don't miss any stories. Follow AG News!
For 45 years, graphic designer Steve Lopez has been working at the Assemblies of God national office in Springfield, Missouri. He is always ready with a smile, a quip, a nostalgic reminder, a bit of trivial information. Lopez is an optimistic fellow, a somewhat shy, yet good-natured presence among hundreds of workers.
This belies the reality that Lopez has endured unexpected and untimely deaths in his immediate family and he has survived two brain surgeries himself.
Lopez, a native of Bristol, Pennsylvania, grew up attending Assemblies of God churches with his parents, Puerto Rican father Ismael and Italian mother Lea, along with his only sibling, Mike. Steve decided to attend
Evangel University
in Springfield as a springboard to a commercial artist career. But even before he finished studying art at the school, Lopez began working at the national office, drawing illustrations and designing pages for Sunday School materials.
Early on, he lived in fear of being fired because of his inexperience among the dozen artists at headquarters. Yet he has stayed 45 years. Since 2016, Lopez has been the graphic designer for
Influence
, the quarterly AG magazine for ministry leaders.
At the age of 13, Steve met his future wife, Avonna, in youth group at
Central Assembly
in Bethlehem, Pennsylvania. Avonna, after attending Central Bible College in Springfield, wed Steve in 1979, a year after he started working for the AG. However, Steve and Avonna struggled with infertility, so they decided to adopt a pair of babies — daughter Adrienne in 1984 and son Drew in 1988 — through the AG's
Highlands Maternity Home
.
Steve's brother Mike, three years his senior, earlier had graduated from Evangel and embarked on a broadcasting career. No two brothers could have been closer.
HEALTH CRISES
At the age of 52, only a month after receiving a brain cancer diagnosis, Mike died. Family always has been important to Steve and losing his only sibling in 2006 impacted him profoundly.
"Mike was an incredible musician and a deep thinker," recalls Steve, whose father died of
amyotrophic lateral sclerosis
in 1991, four years after his mother died. "Mike was smarter, more creative, and wittier than me."
But family health woes kept coming for Avonna, who had worked as a day-care center director. In 2010, Avonna, who had diabetes, had to be rushed to a hospital for a
sepsis
-infected foot. Following amputation of her leg, Avonna endured a two-month rehabilitation stint and subsequent confinement to a wheelchair.
Then a personal medical emergency came in February 2018. Doctors identified Ewing sarcoma, a
rare form of cancer
, in Steve's eye socket and ethmoid sinus areas. Medical personnel deemed the cancer as stage 4 because of its presence in the bone and nearby soft tissue, an indication that it had spread aggressively. Steve faced the possibility of losing his right eye.
He didn't lose his eye, but specialists performed immediate surgery to keep him alive. He withstood intensive doses of chemotherapy and radiation.
Two weeks after Steve's final chemo treatment, 61-year-old Avonna, who had struggled with depression, suffered cardiac arrest that proved fatal. The death occurred a little over a week before Christmas in 2019. Avonna, the only woman Steve had ever kissed, had been his wife for 40 years.
Another challenge happened as doctors discovered a mass on Steve's left frontal lobe, this time in the brain itself. Although not a malignant tumor, doctors had to cut open his head in January 2022 for an intricate operation. The surgeries left Lopez's appearance permanently altered, which he takes in stride.
"I got an ear-to-ear scar on my head, not to mention a humdinger of a hospital invoice," he says. Turning serious, Lopez notes that evidence from the second surgical incision is deeper and more noticeable than the first.
"Most humans have scars of some kind, whether physical or emotional," Lopez says. "Because of my scars, I'm becoming more sympathetic to others' scars, especially the invisible kind. I want to help heal scars, not cause them."
STAYING CONNECTED
While he acknowledges many people vilify social media these days, Lopez says Facebook has been a useful outlet for him to post humorous anecdotes, as well as a way to keep connected to those he knows and loves.
"The prayers, the banter, the encouragement build my emotional stamina," Lopez wrote on the site after Avonna's death. "When I'm down, it helps to know someone cares. And there are many who do."
Lopez also is grateful for the hours of counseling he's received from Gary R. Allen. Lopez, as designer, and Allen, as executive editor, worked together for eight years on
Enrichment Journal
, the forerunner to
Influence
. Allen, 77, retired in 2010 but has since kept busy as a corporate chaplain.
"Steve has gone through the valleys and survived the challenges," says Allen, who has been an ordained AG minister since 1970. "His resilience is because of his faith, strong family, and good friends."
Allen notes that Lopez remained devoted to his wife as Avonna struggled with anger and depression following the amputation. Allen helped Lopez process frustrations, disappointments, fears, and anger through many tears.
"I absolutely admire Steve," Allen says. "He has a deep godly character."
Yet Allen notes he never has known anyone able to handle adversity with such humor.
"His satire and puns aren't mean or an attempt to escape responsibilities," Allen says. "He is always ready with a smile and a joke."
"I'm certainly grateful for the care from medical personnel and for medical technology," Lopez says. "I also am grateful for the support and prayers of loved ones. But ultimately, I attribute my recovery and healing to the Lord. He has been more than gracious to me. I continually place my present and my future into His hands, and it brings me strength. And peace."
As a widower, Lopez also says he has benefited from attending
GriefShare
, a therapeutic 13-week recovery support group.
"It's never too late to find ways to deal with grief," Lopez says. "It's not like a cold you try to get rid of; as a Christian, it's best to learn to manage grief among other people who have like issues."
At 66, Lopez could retire, but he hopes to keep working until age 70. The brain surgeries haven't affected his cognitive abilities. Daughter Adrienne Everding is a schoolteacher in nearby Nixa and she and her husband, Luke, with four sons, ages 12, 9, 5, and 2. Steve's son Drew lives in Springfield.
"I still feel I'm contributing, and I don't want to stay home alone right now," Lopez says. "I enjoy my work and feel I'm accomplishing something for the kingdom of God."
Lopez undergoes periodic checkups and is cancer-free. For all he's been through, Lopez says his reliance on God has empowered him to be freed from fear about the future. He says the Lord has granted him a deep-seated sense of well-being and joy, even amid bereavement.
"I had two brain surgeries in four years and I'm not looking for a third, no matter how good the hospital food is," Lopez quips.