The Long Road to Chaplaincy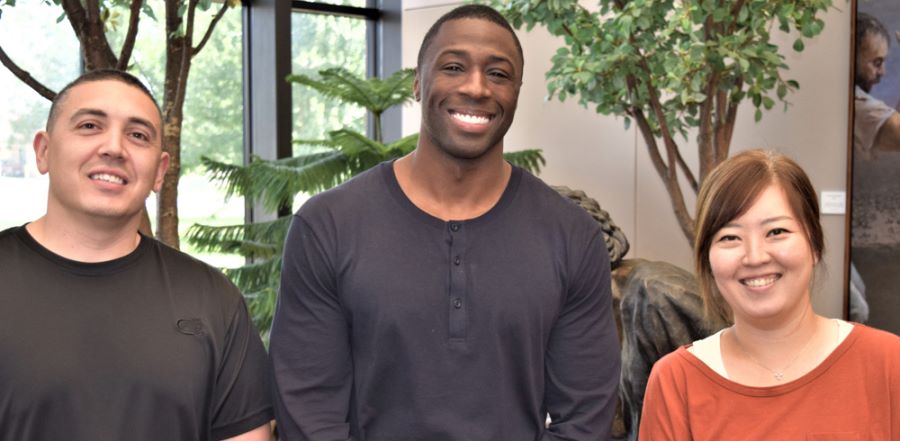 Don't miss any stories. Follow AG News!
A trio of enlisted soldiers formerly assigned to Fort Bragg are beginning classes this term at Assemblies of God Theological Seminary after transferring into the Army Reserves and enrolling as U.S. Missions military chaplain candidates.

Brent J. Lake, Minhee Lee, and Jonathan B. Williams all have moved to Springfield, Missouri, from the North Carolina post. Although all three already have graduated from college with bachelor degrees, military chaplains are required to have a master's of divinity degree. They also must have at least two years of full-time ministry experience.

The three new chaplain candidates, all in their mid-30s, are ethnic minorities.

The muscular Williams has deployed four times to support Operation Iraqi Freedom, Operation Enduring Freedom, and Operation Atlantic Resolve.

A pivotal point in his career came in 2007 when his platoon team leader died in Iraq — 11 days before the birth of his daughter. At that point, Williams served as a Ranger special operations medic. A year earlier, he became a Christian after a fellow solder invited him to church just before his deployment to Iraq. There he witnessed a vehicle in front of him blow up after striking an improvised explosive device.

"God protected me on deployments so many times," says Williams, 35. "I should have been dead."

Williams and his wife, Shayla, went to an Assemblies of God church for the first time in 2014, Harvest Christian Center in El Paso, Texas. At the time, Williams had no notion of becoming a chaplain; he hadn't completed his associate's degree at Central Texas College yet.

But on a tour of Afghanistan, Williams sensed God calling him into full-time ministry. He connected providentially with Scott McChrystal, the AG military representative and endorser, who encouraged him.

"He has given me wisdom, guidance, and gone out of his way to help me," Williams says. "He has invested in me."

Williams also sees the Christian faith as a leveler.

"I want other black people to hang out with Christian brothers — Hispanics, whites, Asians — who don't look like us but are brothers," says Williams, whose wife is Native American and Caucasian. "We shouldn't be offended by diversity."

Jonathan and Shayla have a son, Deshawn, and three daughters, Nasya, Charity, and Jude.

The personable Lake served as a chaplain assistant for four years before enrolling at AGTS. As an adolescent he turned his back on God after his brother Michael had been born with birth defects. Before going on active duty, Lake had a comfortable lifestyle — including owning a Florida beach condominium — as a result of working as an insurance broker. But he lacked fulfillment until a faith-filled friend invited him to church. Lake surrendered to Christ.

Initially Lake, 33, thought his Army stint would be a good training ground for becoming a pastor. But as he served as a religion affairs specialist in the 82nd Airborne Division, he realized he really wanted to be a military chaplain.

His father is Puerto Rican and his mother is of Korean, Irish, and Italian descent. Lake's wife, Christina, is Puerto Rican and Dominican. They have three children, Christopher, Lincoln, and Chloe, and are expecting another girl in November.

Lee became a Christian at 26, more than a decade ago. She taught Japanese in her native South Korea for eight years. After being baptized in the Holy Spirit, Lee prayed for two years for the Lord's direction. Ultimately she sensed God leading her to the United States — to become an American soldier.

Five years ago she moved to the U.S. with only one suitcase.

"I went to the Army recruiting office and couldn't speak English at all," recalls Lee. "I didn't know anyone in this country. But I had a calling."

After basic training at Fort Bragg in 2016, she says God surprised her by refining the call to military chaplaincy. She credits McChrystal, who recently retired, with supporting her during the transition.

"It's not an easy process to apply for the chaplaincy candidate program," Lee says. "Chaplain McChrystal listened to me and mentored me."

Lee and her Korean-born husband, Jaein, have a daughter, Sieun.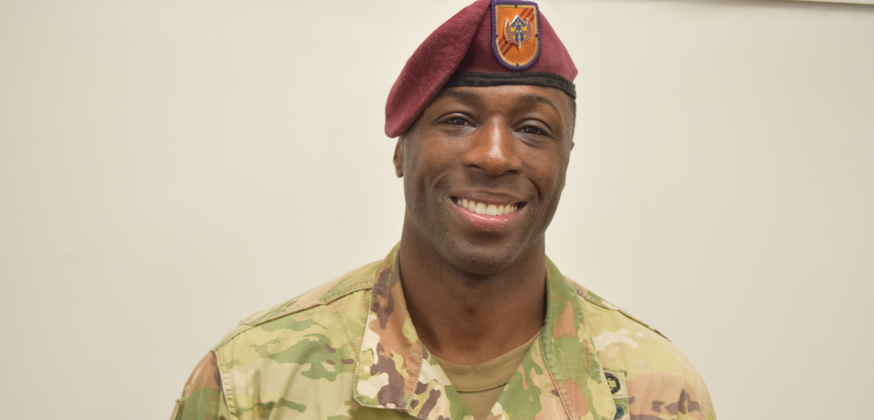 First Photo: Brent Lake (from left), Jonathan Williams, and Minhee Lee are now enrolled at AGTS.
Second Photo: Jonathan Williams in May before leaving Fort Bragg.