The $1 Surprise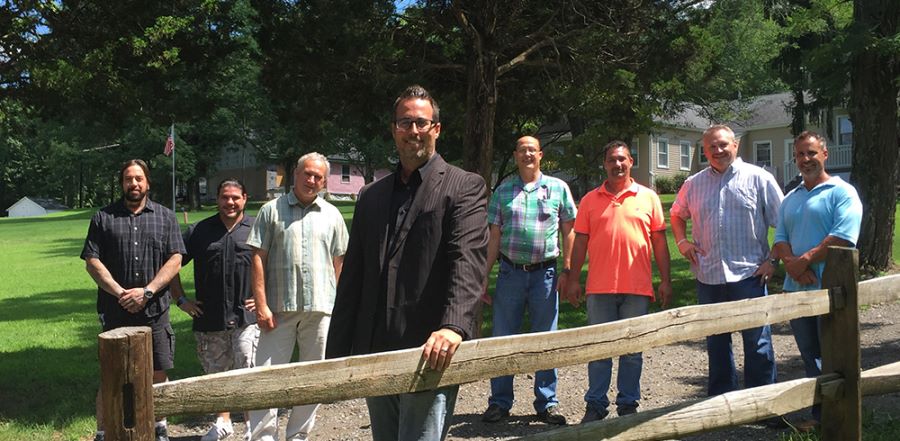 Don't miss any stories. Follow AG News!
Hanging by a thread, the Teen Challenge center in Newark, New Jersey, was about to shut down in July 2008, tossing the program's residents back onto drug-infested inner-city streets.
A perfect storm had rocked the center to its core. In the middle of a national economic crisis, failure loomed from a longstanding weak donor base, leadership issues, and a marginal facility in a violent high-crime neighborhood.
The center's checkbook was almost empty with only enough cash to operate for two weeks. The director at the time pleaded for help from Carl J. Colletti, superintendent of the Assemblies of God New Jersey District Council.
While pulling the plug seemed the best option, Colletti called his counterpart at the AG Southern New England Ministry Network, the now retired Otis Stanley, to explore a possible cooperative arrangement.
"This resulted in Teen Challenge New England, a flourishing well-established ministry, assuming operational and legal responsibility for the New Jersey center," Colletti says. "It was God's providential timing."
In March 2009, the Newark men's campus was officially adopted into its new family as Teen Challenge New England & New Jersey. Colletti joined the new board of directors with the transfer of leadership.
Teen Challenge New England & New Jersey, a ministry of AG U.S. Missions, currently operates eight centers in Massachusetts, Connecticut, New Hampshire, Vermont, Rhode Island, and New Jersey, ministering to about 300 men and women. Teen Challenge New England started in 1964.
During the fall of 2009, the center tapped Todd Sheehan, a staff member from Manchester, New Hampshire, to run the Newark center. He began spending three days a week in Newark before moving to the Garden State in early 2010 with his wife, Samantha.
He discovered the center's neighborhood to be a war zone. Gang fights and stabbings were common, along with daily illegal drug deals. Called a bunker, the 4,100 square-foot rundown brick building housing the men's program was guarded by a barbwire fence. A crack house worked its trade next door. Sheehan wondered what he had gotten himself into.
As it unfolded, the environment didn't improve. Most of the original residents had fled. Only three men stayed in the program. Sheehan repeatedly uncovered weapons hidden along the center's fence. Gunfire at night was normal. Someone was murdered on the sidewalk in front of the center. A visitor's car was stolen.
In this mayhem, Sheehan's faith was tested. But he sensed the still small voice of God urging him to stick it out. Sheehan learned to trust the Lord one day at a time.
Within five years, the program stabilized, rebounding to about 23 residents, but maxing out the center's capacity. Violent crime still plagued the city. For example, from 2010 to 2014, a total of 485 murders were reported in Newark.
The problems of operating in Newark emphasized that a new campus was desperately needed. And then during the summer of 2014, God orchestrated another rescue, surprising everyone.
THE CAMP BARGAIN
Directors of Camp Brett-Endeavor, a nondenominational 88-acre children's summer camp, who just happened to be Assemblies of God church members, approached Teen Challenge about taking over the camp that had fallen on hard times. Instead of selling the valuable land, they gifted the entire camp for $1.
Located in Lebanon, New Jersey, an affluent community of rolling hills, parks, and horse farms, the property included 20 deteriorating buildings almost beyond repair. Sheehan, his staff, and 22 residents moved to the Hunterdon County property at the end of 2014.
"We were overwhelmed with the work ahead of us," he says. "We began by loading 12 dumpsters with junk and rubbish."
A massive infrastructure rehab plan was required. In a remarkable display of faith-building generosity, New Jersey churches and individuals donated funds and volunteer help. So far, four buildings have been remodeled and upgraded: the administration center, dining hall, and two camping cabins, converted into dormitories.
Currently, the chapel, academic center, and three more dormitories with 27 beds are under renovation. Internal and volunteer construction teams have done 90 percent of the work at the cost of materials.
Last year, more than 300 people, mostly from AG church men's and youth groups, have volunteered their help on weekends or on short-term mission trips. As a result, the ministry is debt-free.
Recently, Sheehan opened an online microenterprise, Coffee for Change, selling gourmet organic coffee to churches and individuals. People are encouraged to lift up a prayer for addiction to be broken in someone's life with every cup they drink.
On the drawing board are plans for a new septic system, staff and guest housing, and additional dorms, which will bring capacity up to 90 residential beds by the end of 2017.
Men from every socio-economic, age, and ethnic mixture are finding deliverance in the 15-month faith-based program.
SUCCESS STORY
D.J. Brown, 24, from Scranton, Pennsylvania, is a classic Teen Challenge story. He joined the program nine months ago because of his uncontrollable drug habit. At 12 years old, he smoked his first marijuana joint to fit in with his friends, which led to harder drugs.
During a chapel service after two weeks in the program, he dropped to his knees worshipping God. Brown says he sensed the Holy Spirit's transformation while lying on the floor at the altar.
"I wasn't the same anymore and the desire to get high left my mind," Brown says. "Jesus means life to me." After graduation, he plans on interning at Teen Challenge and attending Bible college.
The ministry also faces a troubling local issue. Despite Hunterdon County's rank as the fourth-richest county in the United States, 40 heroin or opiate overdoses were reported in 2015, more than triple the year before.
Most of the center's full-time staff and interns are Teen Challenge graduates. They understand the struggles of the residents and their painful backgrounds. Todd Sheehan hit bottom in 2004 when his girlfriend died in his arms from an overdose of heroin and pills. Delivered by Christ through the Teen Challenge ministry, he radiates compassion and faith for the future, which includes launching a residential women's home in southern New Jersey.
"I have seen many miracles and transformed lives," Sheehan says. "Jesus always shows up on time, rescuing and providing in unusual ways. Like the $1 transaction price paid for our camp that's now worth more than $2 million."