The Onetime Foster Baby Who Gives Back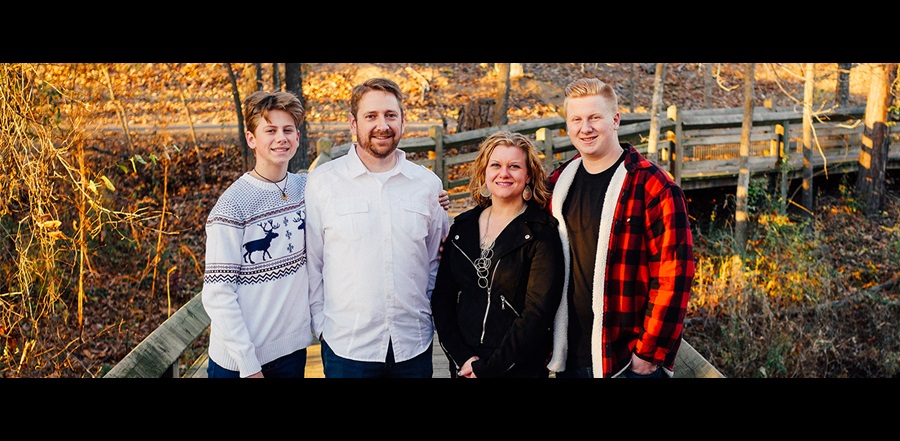 Don't miss any stories. Follow AG News!
HOT SPRINGS, Arkansas — Tamara Joy Nelson started life in the care of COMPACT Family Services. Thirty-seven years later, she's still there, caring for others.
Tammy had an ignominious beginning. Her biological father raped her birth mother, nearly killing the woman in the process. Tammy's birth mother later wandered into an Assemblies of God church, seeking money for an abortion. She didn't obtain the funds, or the abortion. Instead, in the ninth month of pregnancy, she wound up at Highlands Maternity Home, then in Kansas City, Missouri. She wanted nothing to do with the baby.
AG pastors Richard and Janet Roe served as volunteer foster parents for Highland babies. Caseworkers knew they could call the couple, who would keep an infant for a few months before adoptive parents legally took custody of the baby. In February 1980, Tammy became the 18th baby the Roes brought home in 5 years. At the time, they also had two biological children, Ricky, 11, and Taryn, 9.
"We looked at our foster babies as ones that Jesus would take in," says Richard, now 71. "Once we had Tammy for 6 months, we couldn't think of her leaving. Her blue eyes melted my heart."
"We believe we see the face of God when we look into a child's face," Janet says.
Although Tammy's biological father went to prison for the rape that resulted in her birth, he refused to relinquish parental rights. Legal proceedings dragged out for months, and then years, before courts terminated his custody chances. Then the Roes adopted Tammy.
"I literally belonged to the Assemblies of God until age 4," Tammy says.
After her adoption, Tammy went on to have 68 temporary brothers and sisters in the Roe home. As with many adopted kids, Tammy struggled with emotional outbursts and tantrums into her teenage years.
"Nobody wants to be given up," she says.
Even so, Tammy from a young age sensed a ministry calling. She enrolled in Southwestern Assemblies of God University. But at 18 she got pregnant. She and her boyfriend, Lance, (whom she would later marry) left after violating the school's standards of conduct.
Lance later re-enrolled, graduated, and secured AG ministerial ordination. They spent 14 years pastoring churches in Oklahoma. Tammy worked as a registered nurse in labor and delivery, as well as in a psychiatric hospital.
In 2015, COMPACT, now located in Hot Springs, Arkansas, hired the Nelsons. Lance is a foster care specialist for Hillcrest Children's Home and Tammy, a registered nurse, is health services manager.
The Nelsons believe they are better able to give attention to their sons now compared to their pastoring days. Logan, 17, had been suspended from school at 14 for smoking marijuana. He turned his life around after staying in a Teen Challenge center for 6 months. Chance is 15 and active on the COMPACT campus, where he has befriended many.
Lance's history with Hillcrest goes back nearly as long as his wife's. At age 6, some children from the home sang at the AG church his parents attended in Woodward, Oklahoma.
"My mom told me these kids don't have moms and dads," recalls Lance, 38. "I wept."
That day, Lance's pastor bought him a plastic mug emblazoned with a Hillcrest insignia. He has the container in his office today.
The animated Tammy is the only one of the 49 COMPACT employees who interacts with every residential child on campus. She does a full medical assessment upon their arrival, and manages prescription drug care and medical emergencies thereafter.
"We want to get them medically stable," Tammy says. "A child in physical pain can't move forward with spiritual healing."
Her office is the first stop when children suddenly ripped from a home environment wander in with a trash bag of their most treasured belongings. Eventually, kids who interact with Tammy learn about her past.
"Nothing I can say will make it better immediately," Tammy says. "I listen to their story, and they open up about the scars on their body. Every scar tells a story."
Tammy shares with the foster child how she came under control of COMPACT Family Services as a baby. She explains how she found a forever family at this place.
"I try to calm the kids' fears," says Tammy, now married for 18 years. "They don't know grace when they arrive."
Although they no longer care for babies, Richard and Janet Roe for the past quarter century have been full-time caregivers for Booth, whom they started raising at 2 months old. Booth suffered profound brain damage while shaken as a baby, and the Roes adopted him because they didn't want him to be institutionalized. After pastoring for 8 years, Richard became a high school special education teacher.
The Roes moved to Hot Springs in 2016 to be near their daughters Taryn and Tammy. Taryn Cicero works as a secretary at COMPACT Family Services.
"We are so proud of Tammy," Richard says. "She has accomplished so much in her life."