The Urgency of Tyranny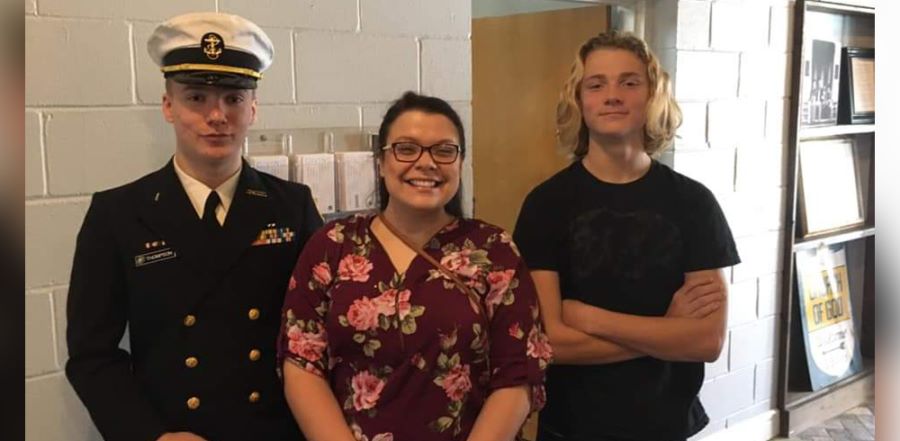 Don't miss any stories. Follow AG News!
Former drug addict Tyranny June Osborne can't wait to tell others about how Jesus redeemed her from the pit. Despite a lifetime of trauma, Osborne believes she has much for which to be grateful.

The articulate way Osborne expresses herself belies the fact that she left school at the age of 13. But her inauspicious start began much earlier, when her father named her after a Blue Oyster Cult album: Tyranny and Mutilation. The record contained songs such as "O.D.'d on Life Itself" and "Hot Rails to Hell."

She says a distant family member began molesting her at age 6. After her bickering parents divorced, Tyranny became a latchkey kid in Spokane, Washington, with her mom working day and night to support the family, which included her older brother, Michael. By 8, the girl had started smoking cigarettes and marijuana. Drinking alcohol and dropping LSD followed a year later.

"Drugs were around and I used them to escape the reality of my broken family," Tyranny says. She also had her first encounter with police at 9, after vandalizing a neighbor's mailbox.

"I got in a lot of trouble for rebelling," she says. "I had no direction."

At 13, Tyranny moved in with an aunt, but she quickly began a methamphetamine habit and dropped out of school. She gave birth to her first son three days before turning 17. Prescription pain medications dispensed in the hospital following the birth resulted in yet another addiction. She had her second son 16 days after her 19th birthday.

"I kept getting hooked on harder drugs," she says. When she no longer could gain access to Oxycontin and Oxycodone, she turned to heroin at 25.

Osborne broke up with the father of her children, relinquished custody of her boys to her mother, and spiraled down in a series of toxic relationships with men. In exchange for heroin, she acted in pornographic films.

Once she intravenously injected too much heroin, turned blue, and passed out in a foreclosed residence without electricity. An intoxicated woman also doing drugs in the house called 911 and performed mouth-to-mouth resuscitation. Osborne had no pulse for eight minutes by the time paramedics arrived, yet she suffered no brain damage.

Homeless, at 27 she turned to a life of prostitution on the streets — in the same area where serial killer Robert Lee Yates had murdered more than two dozen prostitutes in Spokane. In desperation, Osborne fled to Challis, Idaho, to live with her mother, Cheryl Ballou. Yet she didn't forsake her waywardness. In fact, she became a profitable drug dealer, selling meth, morphine, and Suboxone via her Spokane connections.

Then a television interview she saw of NFL quarterback Russell Wilson just before the Seattle Seahawks won the Super Bowl in 2014 changed her life. Wilson told how his relationship with Jesus Christ meant more than football ever could.

"I knew I had to have such a relationship," Osborne remembers.

A MOVE TOWARD RECOVERY
Through a Facebook friend, she found Shalom Recovery Centers in Hot Springs, Arkansas. But her unruly, haughty behavior hadn't abated. She refused to wash dishes as part of the detox program and found herself on the street again, this time in an area where she knew no one.

Osborne filled a syringe full of morphine — enough to kill her — and prepared to shoot up. Police stopped her on the street, took her to jail, and charged her with possession of a controlled substance, a class D felony.

Church volunteer Dee Michau invited the incarcerated and suicidal Osborne to a service at the facility, promising there would be candy for her. Osborne went for the treats and jadedly listened to participants singing "I'll Fly Away" during the gathering.

"I thought it was ridiculous because clearly jailbirds don't fly anywhere," Osborne recalls. Nevertheless, she allowed Michau to pray over her.

Back in her cell, Osborne says she experienced a transformational encounter with the Lord and surrendered her life to Him. She started reading her Bible daily during her 18-day jail stay before being released to Adult & Teen Challenge in Russellville. Although severe endometriosis prevented her from completing the 13-month program, she later returned to Shalom Recovery Center in Hot Springs — with a better attitude — and graduated. She then lived for another year at Shalom Transitional House, where she led Celebrate Recovery classes.

SILENCING THE LIES
Mentor Julie E. Ballard helped Osborne overcome her fears and self-doubt. Osborne, while living at the transition home, didn't know Ballard when she heard her preach at a church service. Ballard, who operates an evangelistic ministry based in Beebe, Arkansas, says the Lord prophetically directed her during the message to use Osborne as a sermon illustration, affixing labels to her body that presented wrong perceptions Osborne had about herself.

"The enemy always told me I'm not smart enough, I'll never be anything but a drug addict and prostitute, I'm an unfit mom, I'm unqualified to minister," Osborne admits.

During the sermon, Ballard covered up such disparaging labels with new ones affirming God's love and compassion for Osborne. Osborne began to weep. Ballard told her God had called her into full-time ministry.

"Julie told me I was clean, anointed, chosen, and a conqueror," Osborne remembers.

Soon after that exchange three years ago, Osborne moved into her own home and regained custody of her two sons, Kaidin, now 17, and Gage, now 15. The boys, who both accepted Christ as Savior, had lived with Osborne's mother for many years. Both parents as well as her brother are now sober and Christians.

School of Urban Missions recruiter Caitlin Sandage urged Osborne to obtain her General Educational Development diploma. Osborne took the test and passed at the age of 32, permanently silencing the negative implanted messages that had been swirling in her head for years.

She enrolled in SUM's Hot Springs campus and now is a recruiter and cohort adviser for the school.

While in her second year as a SUM student, Osborne, at 34, also is program director at Two12 Missions Group, a faith-based transitional home for women who have completed a substance abuse program.

"God is so sovereign," says Osborne, who is scheduled to graduate with a bachelor's degree from SUM in the summer of 2021. "He had good and pleasing plans for my life." She is grateful that her body bears no telltale signs of years of drug use.

Osborne and Ballard still talk every week. Ballard, 45, says her protégé has learned to take constructive criticism.

"Julie gives me strong spiritual direction and speaks into my life in ways nobody else can," says Osborne, who will commemorate five years of sobriety in May.

"Tyranny has a tremendous desire to help other people, to grow not just in the Lord, but also in their life assignment," Ballard says. "She's as sharp as a tack."
Photo: Tyranny Osborne is grateful for the restored relationships she has with her sons, Kaidin (left), and Gage (right).