The Vision Continues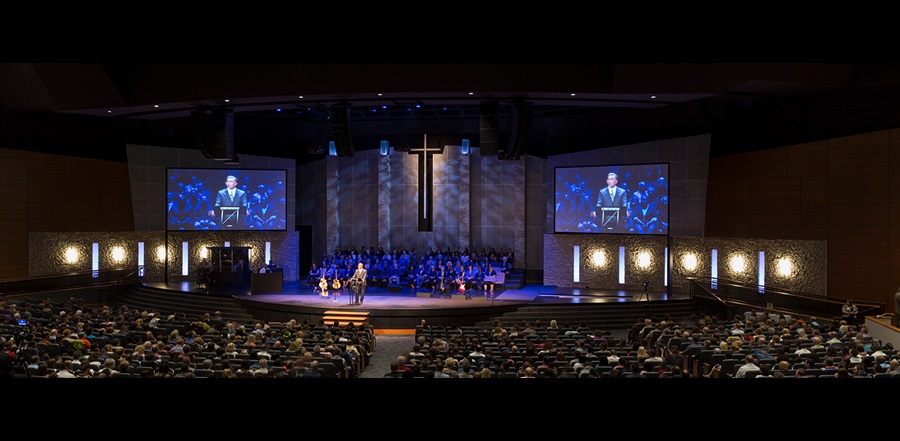 Don't miss any stories. Follow AG News!
Calvary Church in Naperville, Illinois, needed a senior pastor. In 1998, in an unexpected and traumatic turn of events, the church lost its founding pastor Bob Schmidgall, and needed someone to continue the visionary growth he started. So, the congregation extended an invitation to Randal L. Ross, certain that God wanted him to be the new leader.
Ross, however, declined. He had recently moved from Texas to North Carolina, to serve as lead pastor for First Assembly of God in Winston-Salem. He didn't feel comfortable leaving that church and relocating his family halfway across the country.
Yet Ross felt deeply for Calvary Church. He had been friends with Schmidgall, and ached for the loss when he heard Schmidgall died of heart failure. He knew the pain of congregants due to the loss of the beloved pastor who led Calvary Church for more than 30 years. Schmidgall and his wife, Karen, started the church in 1967 with eight other Central Bible College students and saw it grow to 2,000 attendees.
After two years of discussion and prayer, and with the blessing of First Assembly in Winston-Salem, in 2000 Ross and his family packed up and headed to the Chicago suburbs.
"It was a tough decision, but I knew that's where God was calling, and my family agreed," says Ross. "I saw my role as keeping a legacy moving forward, while also incorporating the vision God gave me for the church."
A tough line to balance, but one Calvary embraced eagerly. Today, the church, which celebrated its 50-year anniversary this year, has mushroomed to an average weekly attendance of 8,500 across four campuses, making it the eighth largest church in the U.S. AG. And its impact on the community hasn't only been attendance. Calvary Church also hosts sports leagues, runs a food pantry, and invests extensively in missions — both from the 20 mission trips throughout the world every year, plus statewide projects that involve everything from painting schools to cleaning up communities.
One of the major adjustments to Calvary under Ross has been the style of the worship services. His goal is to reach as many diverse people as possible.
"The Church needs to represent all of God's people," he says. In worship, for instance, Calvary regularly integrates both hymns and modern choruses.
"Calvary has done a good job accommodating multiple generations," says Larry H. Griswold, one of the national AG's executive presbyters, as well as a staff member and consultant at Calvary. He cites a flourishing teen ministry, growing millennial outreach, and a vibrant ministry to senior citizens. And it isn't just age diversity Calvary seeks.
"Calvary has been intentional about reaching diverse groups, not only in age, but in ethnicity," says Griswold, who has had a relationship with the church for all but three years of its existence.
The megachurch is one of the most ethnically diverse congregations in the Fellowship, including an embedded Hispanic church, Calvary en Español, which averages 800 adults in weekly attendance. Calvary Church plans to open four more campuses within the next year, including an additional congregation geared to Hispanics and one for East Indians.
"The kingdom of God pulls us together in Jesus," Ross says. "We work hard to keep that as our main focus."