Thinking Differently on Campus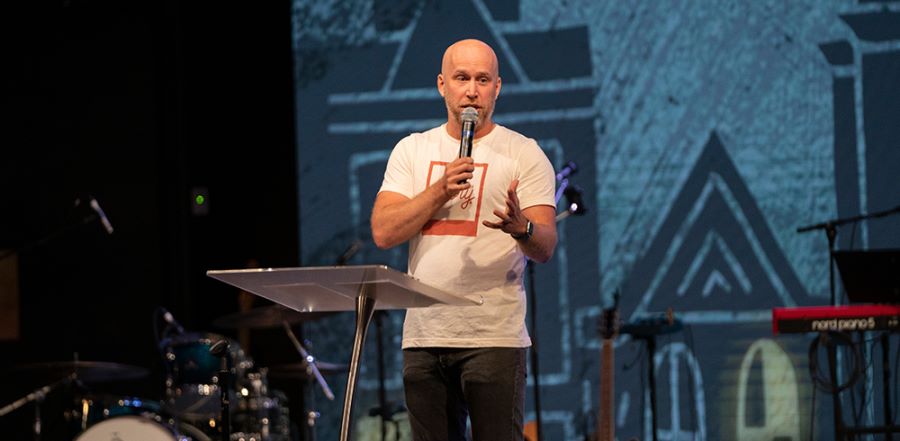 Don't miss any stories. Follow AG News!
Derek A. Britt had landed his dream job, ministering to college students as a staff pastor at The Caring Place, a large Assemblies of God church in his native Indianapolis.

But eventually Britt sensed God calling him to minister to students on a secular college campus rather than inside church walls. Britt, 39, believes ministry to young adults needs to look different than a generation ago because U.S. culture has changed so much.

"Now 60% of Americans have no interest in church and 90% of college students are not involved in any ministry," says the fast-talking Britt. "How do we position ourselves for maximum impact?"

Britt, who had been raised in the Assemblies of God, knew the Fellowship had an effective ministry on nonreligious campuses called Chi Alpha. He served a 10-month Chi Alpha internship at Florida State University before returning in 2011 to his beloved Indiana, where his entire family and the family of his wife, Jordan, reside. The Britts have two sons, 8-year-old Davis and 6-year-old Jonas.

Britt saw an opportunity to minister on one of the largest campuses not only in the Hoosier State but the entire country: Indiana University (IU) in Bloomington, which has an enrollment of over 45,000 students.

But Britt had a problem. The Chi Alpha group on campus had ceased to function more than a decade earlier. He didn't quite need to start from scratch, however. Graduate student Kenji Kuriyama launched the group while Britt began itinerating as a U.S. missionary. Kuriyama now is a U.S. missionary serving as Chi Alpha director at The Ohio State University.

The attraction model of yesteryear — expecting students to come to Chi Alpha meetings because they, or their parents, attend church — no longer is enough, Britt says.

Instead, Britt and his staff have developed a missional incarnational small group discipleship model designed to allow Jesus to transform the lives of students and unleash their spiritual potential.

Consequently, Chi Alpha involvement at IU is not limited to the traditional safe church service settings.

"We need to go on their turf, to live in their world," Britt says. "We need to think differently. We need to know our neighbors." So, Chi Alpha staff or student leaders intentionally join the soccer team, become part of the campus bicyclist enthusiast club, and befriend international students. It also means not being afraid to engage leaders of fraternities or even LGBTQ activists.

"Students are deconstructing their faith as never before," Britt says. "The world has changed dramatically in the last decade."

The aftermath of COVID-19 restrictions is impacting the lives of college students even further, according to Britt. Many collegians, isolated in dormitories for entire semesters, have diminished social skills as a result, he says.

Although Indiana might be considered a conservative state, the IU campus definitely has a long tradition as "progressive." After all, this is the school where professor Alfred Kinsey started the Institute for Sex Research in 1947.

During the pandemic, Britt became a ride-hailing driver and found out just how far away from God some students are. Rather than concentrating on studies, Britt encountered students enmeshed in illicit drugs, alcohol binges, and stripper performances.

"How do we reach that group of people?" Brit wonders. "We need to find a neutral ground. But it's going to take multiple years of investment."

One such Chi Alpha team member who did so is Chris Anderson, who regularly pedaled on 50-mile bike rides with classmates while finishing his master in business administration degree. Anderson also participated in the Little 500, an annual track cycling race that attracts over 25,000 spectators.

Sports are a great entry point for relationships and discussions, according to Britt, who played soccer on a team that went to national competition when he attended the AG's Southeastern University in Lakeland, Florida. He still coaches high school soccer.

In preparation for Britt relaunching the IU Chi Alpha, U.S. missionary Jeffrey S. Alexander, then Chi Alpha director for the Indiana District, took him to visit other campuses with a thriving Chi Alpha ministry. Alexander says Britt gleaned the best of each. That included the missional heartbeat and lordship of Christ at Sam Houston State University under U.S. missionary Eli Gautreaux and the strength and multiplication of small groups at the University of Virginia under U.S. missionary Pete Bullette.

"Derek is a high-capacity learner," says Alexander, who now is Chi Alpha's national people and health director in Springfield, Missouri. "What sets Derek apart is he follows through on learning. Derek has the ability to lead a large team to be an effective army; a lot of people don't."

This fall the IU Chi Alpha will have three dozen staff members ministering to 425 students expected to attend small groups.

Alexander says Britt — who succeeded him as Chi Alpha director for the AG Indiana District — has captured the ministry's emphasis to think outside the box.

"We exist on campus to take the gospel to people who won't show up at our meetings," says Alexander, 52. "Derek is willing to take risks to engage people groups. He is tremendous at casting vision."

The Indiana University Chi Alpha team also is focusing this fall on a branch campus in Indianapolis that is a unique partnership between IU and Purdue University: IUPUI. Nine team members will be at the school once the semester starts.
BOTTOM PHOTO: Derek Britt (left) is grateful for the support of (from left) Indiana District Superintendent Don Gifford, U.S. Missions Executive Director Malcolm Burleigh, and former Indiana Chi Alpha director Jeffrey Alexander.