Tradition Bound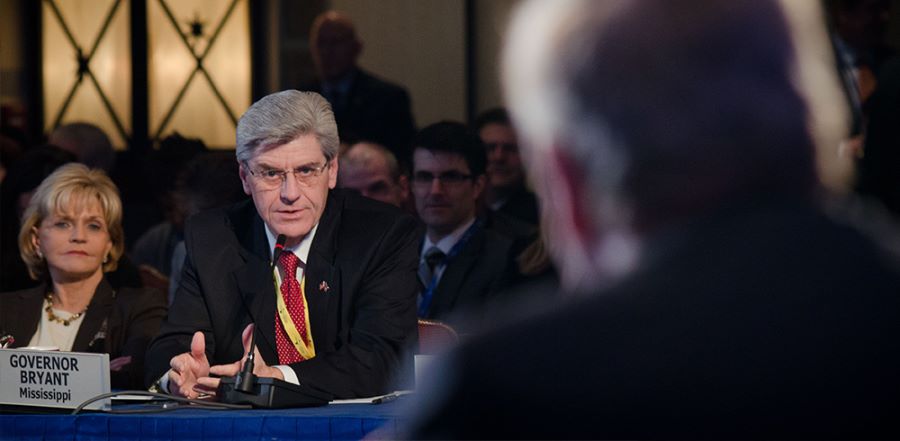 Don't miss any stories. Follow AG News!
As the one-year anniversary approaches of the U.S. Supreme Court ruling legalizing same-sex marriage nationally, Christians are grappling with the fallout of a culture increasingly opposed to upholding biblical standards on matrimony.
The question of expanding lesbian, gay, bisexual, and transgender (LGBT) rights has grown more acute this spring, as technological firms, entertainment conglomerates, and sports teams have threatened to boycott states passing laws designed to provide religious liberty protections for churches, Christian campus groups, and other faith-based organizations that promote traditional views of marriage.
In the wake of the landmark Obergefell v. Hodges ruling last June, marriage-specific religious-freedom legislation has been introduced in two dozen states.
However, in recent state clashes over religious liberties and "sexual liberty," LGBT preferences increasingly have prevailed. For instance, Georgia Gov. Nathan Deal vetoed legislation March 28 that would have exempted pastors from performing same-sex wedding ceremonies and protected Christian schools from renting facilities to organizations advocating same-sex marriage. Virginia Gov. Terry McAuliffe vetoed a similar bill two days later.
"LGBT groups have the firepower to really bring heat on states passing these laws, especially when they reach a governor's desk," says Tim Schultz, president of the 1st Amendment Partnership in Washington, D.C. "LGBT groups and their allies have made a show of force in bringing pressure to veto religious liberties laws."
In Mississippi, lawmakers passed the Religious Liberty Accommodations Act on April 1. Monday afternoon, over 300 protesters gathered outside the governor's mansion in Jackson, Mississippi, in a rally organized by the Human Rights Campaign, American Civil Liberties Union, and Planned Parenthood. Gov. Phil Bryant decided to sign the bill Tuesday morning, making Mississippi the first state to ratify such an act.
"I am signing HB 1523 into law to protect sincerely held religious beliefs and moral convictions of individuals, organizations, and private associations from discriminatory action by state government or its political subdivisions, which would include counties, cities, and institutions of higher learning," Bryant tweeted on Twitter Tuesday morning. "This bill merely reinforces the rights which currently exist to the exercise of religious freedom as stated in the First Amendment to the U.S. Constitution."
Schultz says such bills, if enacted, generally would resolve marriage-related conflicts between LGBT rights and religious freedom in favor of religious freedom.
In Missouri, conservatives are pushing to get a religious freedom constitutional amendment on the fall ballot, meaning it would bypass the potential of a governor's veto if approved. Last week, Assemblies of God General Superintendent George O. Wood, backed by Northern Missouri District Superintendent Ray Brewer and Southern Missouri District Superintendent Don Miller, sent a letter to AG ministers in the state urging them to support the proposed ballot measure.
Wood is perplexed that in a nation with a long history of tolerance toward minority views — including allowing conscientious objectors to serve elsewhere as noncombatants during conscripted times of war — suddenly those with moral objections to certain sexual behavior are labeled as hatemongers.
"The LGBT community is insisting that regardless of one's conscience, it must be violated," Wood says. "There actually is discrimination against people who have a strong view of life and marriage based on their reliance on sacred texts."
In addition to the marriage-specific bills in the hopper, Schultz notes that 21 states have enacted legislation patterned after the Religious Freedom Restoration Act.
"Originally these were in place before LGBT marriage rights became a national issue," Schultz says. "RFRA bills broadly protect religious freedom with a well-known, well-tested standard."
Religious freedom bills also are being mulled that explicitly safeguard the rights of Christian student groups on college campuses. On March 22, Kansas Gov. Sam Brownback signed a campus freedom law to take effect July 1 that allows Christian ministry groups to choose leaders who adhere to their religious beliefs and doesn't force Christian schools to accommodate same-sex couples with married student housing. Chi Alpha Campus Ministries has been involved in such struggles elsewhere.
Laws also are being considered focused on permitting Christian adoption agencies such as COMPACT Family Services to place children only in homes consistent with the ministry's faith principles.
Wood believes evangelicals, who still comprise an estimated one-fourth to one-third of the populace, need to battle against further marginalization in society. Churches need to continue to teach that heterosexual marriage is an institution established by God.
"Any definition that a legislature or court reaches that is contrary to how God defined marriage in the Bible is an aberration," Wood says. "Same-sex marriage is a novel experiment that will ultimately prove extraordinarily injurious not only to the individuals involved, but also to society as a whole."
Yet with same-sex marriage the law of the land and cultural opposition from various realms, Schultz says it's time for Christians to take a countercultural approach to challenges, as the Early Church did.
"Evangelical Christians, whether Assemblies of God or otherwise, may feel they are a majority in their community, but in the nation as a whole people with these views on sexual ethics are becoming more and more of a minority," Schultz says. "We have to be shrewd about what we're capable of protecting. These conflicts will be with us for a long time."
Wood urges pastors to uphold sexual standards on teachings beyond homosexuality, including in areas such as divorce and cohabitation.
"Churches must have sufficient intentional discipleship for young people to understand how their beliefs impact their behavior," Wood says.
Meanwhile, Wood says Christians need to walk a fine line in being kind and gracious to those who disagree with teachings on sexuality.
"Christians should not be discriminatory and hateful in their actions toward persons who have aberrant sexual behavior," Wood says.
Image used via CC BY 2.0 license. Photo credit: U.S. Department of Agriculture