Trail Angels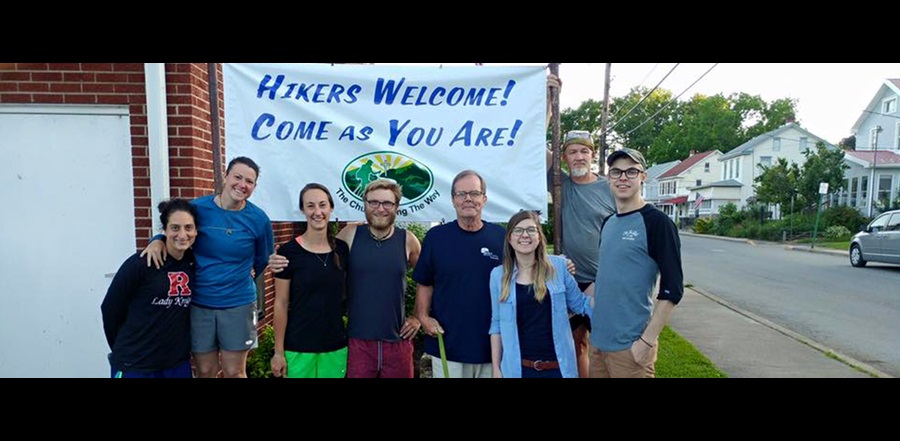 Don't miss any stories. Follow AG News!
An Assemblies of God church in central Pennsylvania has taken a different path to fulfill the biblical admonition in Romans 12:13 to practice hospitality.
This summer, Duncannon Assembly of God launched a unique ministry that caters to hikers of the Appalachian Trail, considered the longest hiking-only trail in the world. The church has provided shelter to individuals from every state, as well as 13 different nations.
Duncannon AG is located within 50 miles of Cumberland Valley, Pennsylvania — the halfway point of the 2,200-mile trail, which extends from Springer Mountain in Georgia to Mount Katahdin in Maine. More than 2 million people complete at least a one-day hike on the trail annually.
Pastor Dennis K. Campbell says he had a revelation about what the congregation could do in the community of 1,500 to reach out to the world.
"The sidewalk, which runs in front of our church and the parsonage, is the trail," Campbell, 63, says. "You can have one foot on church property and one on the trail at the same time. The world passes by Duncannon AG every day."
So in June, based on the suggestion of a church member who is a hiking aficionado, Campbell and some church members went on a congregational hike along the Appalachian Trail after a Sunday service. They asked some hikers what the church could do to help them along their way. Hikers responded that sometimes they just need a place to rest, shower, change clothes, charge their cellphone, and maybe sleep for a night to escape the weather. The church decided to do something about the need.
"It's about offering people kindness," says Campbell, who moved to Duncannon in 2012 after living in the Pittsburgh area for 13 years. "The congregation has gotten behind this ministry by donating supplies, time, and money whenever there is a need."
The hikers have access to the basement of the parsonage, which offers kitchen and shower facilities, as well as Wi-Fi, television, and games. The church provides a yard to pitch tents and wash lines to dry out tents and clothing, plus a pavilion to serve meals, hang hammocks, and be sheltered from inclement weather.
The hospitality ministry has been a blessing to hikers, who use "trail names" as a tradition. Trail names are given to hikers by one another, typically because of something a hiker will do or say or based upon how the hiker looks. Duncannon AG has received the moniker, "trail angel," bestowed upon someone who provides goods or services to hikers in need.
"We so appreciated the church's kindness and generosity in letting hikers stay in their fellowship hall," wrote "Burning Man" and "Peach," who are from Boston, in a note to the Duncannon AG. "It was such a treat to have a meal and shower provided with a smile. The church is truly the definition of trail angels!"
"Grandpa" from Jacksonville, Florida, agrees.
"Hungry for food and needing spiritual uplifting, this church provided for my needs," he commented.
"Hop Along" from Greensboro, North Carolina, also appreciated Duncannon AG.
"You are opening doors that God will never close," he said.
Word has spread fast among the hikers. Since the ministry started in June, more than 1,000 hikers have stayed anywhere from a couple of hours to the entire night on the property.
"Scripture says go into all the world, but our situation was a bit different," says Campbell, a native of Kentucky who never hiked much before. "The whole world is coming to us."
Duncannon AG is developing a reputation all along the Appalachian Trail, spread by word of mouth from hikers.
"We are so excited that hikers are looking forward to staying at our church, because it means they're expecting to be blessed, and we are here to bless them in the name of the Lord," Campbell says.
The church in Duncannon, which is near the juncture of the Susquehanna and Juniata rivers, already is making plans for next year's hiking season.
"There have been countless seeds planted, and some hikers have added me on Facebook to keep up with what we are doing here," says Michael Schaffer, youth pastor at the church. "Next year we plan to strategically plan out our summer schedule to cater to hikers in a way that will encourage them to reach us in time for them to come to Sunday or Wednesday services, as well as having a Hiker Sunday, where the whole theme of the service will be about the hiker ministry."