Training Latin American Pastors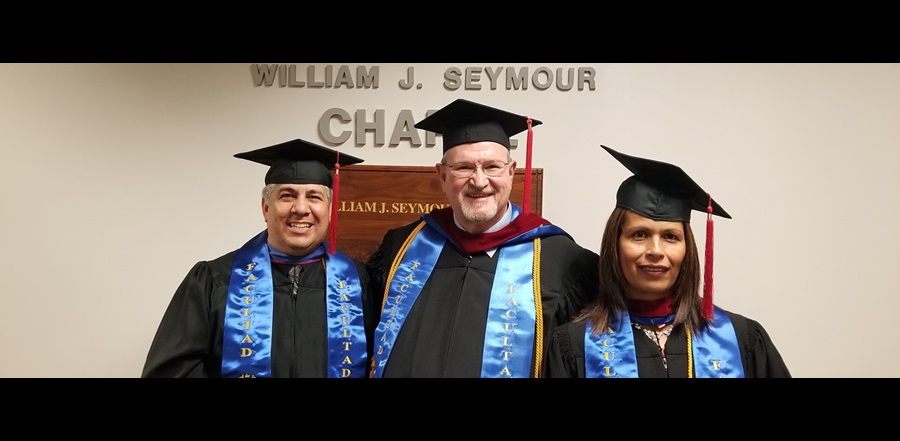 Don't miss any stories. Follow AG News!
A Springfield, Missouri-based ministry is helping Hispanic ministry leaders throughout the Western hemisphere obtain higher education in the only Assemblies of God graduate-level Latin American Bible school training system.

Facultad de Teología, in conjunction with Assemblies of God World Missions, is the graduate school branch of the Fellowship theological education system in Spanish-speaking Latin America. The majority of the over 47,000 students learn in three-year Bible institute-level schools that meet in 450 brick and mortar Bible institutes and seminaries, 450 church extension sites, and 150 roving locations.

The fourth year of the program then is taught in strategically located regional Bible schools with roaming professors as part of the Latin America Advanced School of Theology (LAAST). Students learn in a trio of one-month-long live-in intensive courses.

Each year, Facultad de Teología conducts three-week modules in Panama, Argentina, Bolivia, Chile, Peru, Ecuador, Colombia, El Salvador, Guatemala, the Dominican Republic, Mexico, Venezuela, Cuba, and the U.S. A different professor teaches each new course for 30 hours each week, with students writing a research paper at the conclusion.

"We are the AGWM graduate program for all of Spanish-speaking Latin America," says Facultad President H. Allen Martin. "We are mentoring the top leaders, both current district and national officials as well as up and coming ministers. Over 80 percent of our students are currently Bible school professors, and many are preparing to become foreign missionaries."

For the first time in its 30-year history, Facultad de Teología last month graduated two master of divinity students, Dallas pastor Gilberto Montes de Oca and Consuelo Ribas de Barrón, a pastor at White Horse Christian Center in West Lafayette, Indiana.

"They're solid, incredible people," says Martin, who succeeded Larry McNeill as president in 2011.

The school has offered master's degrees in practical theology and advanced theological education since being founded by Sam Balius, the onetime missionary in residence at Central Bible College who led Facultad its first 12 years. The new master of divinity program includes 10 added biblical language courses in Greek, Hebrew, and Aramaic.

Overall, in three decades 1,500 students have enrolled in Facultad de Teología, with 450 currently taking classes. There are 45 professors, evenly divided between missionaries and nationals. Missionary professors pay their own travel expenses to keep costs low, while churches in the countries cover the housing and meals of the visiting faculty. Professors teaching modules receive an offering from students.

Martin, 62, served as a national representative in Ecuador for Facultad de Teología before his appointment. He didn't start speaking Spanish until the age of 34. In 1992, Martin and his wife, JoAnn, became the first U.S. Assemblies of God missionaries to reach out specifically to the Quichua in Ecuador. Martin founded the first Quichua Pentecostal Bible school in the nation. The school Martin started in the city of Riobamba 25 years ago is now a four-year Bible seminary.

Montes de Oca graduated summa cum laude and has been an ordained AG minister in the U.S. since 2008. He leads the Dallas-based Iglesia El Buen Pastor. Montes de Oca, originally from Ciudad Juarez in Chihuahua, Mexico, received his initial biblical and theological education at a Mexico seminary. He sought further training through Facultad, traveling to Ecuador, the Dominican Republic, and Springfield for studies. He obtained his first master's in theology from Facultad in 2015, as a prerequisite to obtain the master of divinity.

"I was happy to receive more knowledge of God and the power of the Holy Spirit from ministers with a lot of knowledge and also anointing," he says. "Most of my teachers are missionaries, and some have doctorates. It was a long path, I wrote a lot of research papers and studied much, but I am very happy."

For the past two years, Montes de Oca, 48, has been a teacher as well, traveling around Mexico, the U.S., the Caribbean, and Central America. When teaching in economically depressed Cuba, he donates his pay to provide scholarships for students.

Facultad de Teología has a contractual relationship with Assemblies of God Theological Seminary in which students study in English, but write papers in Spanish. Montes de Oca hopes to earn a doctorate from AGTS.

Montes de Oca believes Facultad fills a vital role.

"The best books of theology, commentaries, lexicons, and other resources are in English, not Spanish," he says. "Most Latin American ministers don't speak English, so Facultad provides these good master's level theological teachings in their own language."

Montes de Oca is the newly elected director of Christian education for the South Central Hispanic District.

"La Facultad de Teología has opened the door to Latin America to obtain superior biblical education," Montes de Oca says. "We need more Hispanic scholars. We need the power of the Holy Spirit and the knowledge of the Word."
Photo: Gilberto Montes de Oca (left) and Consuelo Ribas de Barrón (right) receive their graduate diplomas from H. Allen Martin.