Transformational Living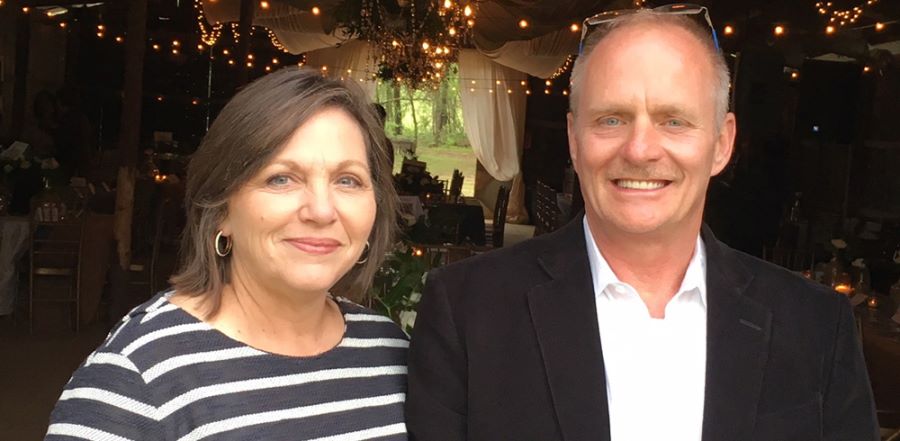 Don't miss any stories. Follow AG News!
Arkansas Fifth Judicial District Prosecuting Attorney David L. Gibbons couldn't believe it when Pope County Sheriff Jay Winters told him in 2000 that he had made inmate Marcus Hubbard a trustee on work detail in the sheriff's office.

Gibbons had prosecuted Hubbard, who received a 10-year sentence in 1999 upon being convicted of manufacturing methamphetamines and possession of drug paraphernalia.

Indeed, Gibbons had little reason to think Hubbard could be assigned duties around the law center. Earlier, Hubbard had received a 36-month suspended sentence after pleading guilty to possession of marijuana with intent to deliver.
"I told Jay that Marcus was beyond rehabilitation, and would create nothing but problems," Gibbons recalls. "But I was very wrong."

Winters felt safe in granting responsibilities to Hubbard because he saw a transformed life after the inmate committed his life to Jesus. Following six months in prison, Hubbard transferred back to the Pope County Jail, where he served the remaining mandatory 6½ years of his term.

Hubbard's loving but lenient grandparents raised him for the most part, and regularly took him to Russellville First Assembly . But by age 12, Hubbard rebelled with addictions to marijuana and beer. His life continued to spiral out of control during his teen years and beyond.

However, at a jail church service on Thanksgiving night in 2000, Hubbard responded to a preached message. He recognized that without Jesus as his Savior, his life had no meaning. Hubbard experienced Holy Spirit baptism at the same time he made a salvation decision.

"I had become pretty good at blaming others," Hubbard remembers. "God helped me realize I needed to accept responsibility for my own behavior."

Hubbard says he determined to amend his ways once and for all when he accepted Christ into his heart.

"I would hear other men blaming everyone but themselves for their past mistakes, and I decided I did not want to be one of those men," Hubbard says.
As a trustee, Hubbard helped AG U.S. Missions Chaplain Bob C. Holyfield with the logistics of conducting a dozen Institute in Basic Life Principles seminars at the jail in six years. He says repeated exposure to the five-day intensive scripturally based training program blessed him, and the kindly Holyfield became a mentor to emulate.

On several occasions, Pope County Judge Jim Ed Gibson saw Hubbard's reliability as a trustee on road projects. Gibson cleared the path for a full-time job for Hubbard as head of building maintenance for the courthouse as well as all other county departments.

The day after Hubbard's paroled release from jail in 2007, Gibson hired him and gave him the keys to every office in the county courthouse. He's still employed there. Among other duties, Hubbard orders supplies, drives a county vehicle, and conducts outbuilding repairs.

"He is very responsible and I have total confidence in him," says Gibson, now retired. "He is a mature and responsible man with high morals and exemplary character."

Since being freed, Hubbard has returned to jail every Thursday night — to help lead church services for 2½ hours.

"His attitude is respected by the inmates he preaches to every week," says Holyfield, who is based in Little Rock. "He genuinely exhibits the character traits of Christ."

Hubbard is one of many released inmates who have turned their lives around with help from Christians on the outside. But Hubbard, now 56, says a transformed life must occur while a prisoner is still behind bars, rather than waiting to change when released. Once on the outside again, he had no interest in renewing acquaintances with the crowd he hung out with before.

"I asked God to help me hate drugs with a passion when I was in jail," says Hubbard, who has kept up a pattern of reading the Bible at least 15 minutes every morning for the past 18 years. "If you wait until you walk out the door to try to get a handle on things, it's usually not going to happen."

By being incarcerated in his hometown, Hubbard saw his four children for two hours on Saturday afternoons. His daughters were ages 16 and 11 and his boys were ages 5 and 4 when he began serving his sentence. He regrets missing much of the formative years of the lives of his children.

"I couldn't be much of a dad on Saturdays from one to three," says Hubbard, who voluntarily has spoken to student groups at several area schools about the dangers of drugs.
Hubbard is in his second stint as a deacon at Russellville First Assembly, a congregation of over 700. His wife, Clara, whom he met a decade after being freed, works at the church's day care and Noah's Ark nursery.
Initially, Clara declined a lunch invitation from Marcus. But he enlisted friends to help him pray for the right wife and he kept sensing God wanted him to marry Clara. Eventually Clara relented.
"I knew she had knowledge of my past, so I kept praying for God to let her see Jesus in me," Hubbard says. "God really rewarded me for waiting on Him."
"Marcus is a shining example for all who have been trapped in the grip of addiction," says senior pastor Ronnie S. Morris. "Marcus has aggressively encouraged and helped other men break the cycle of addiction."
Ironically, one of Hubbard's biggest boosters today is retired Russellville Police Department Capt. Charles Falwell, who arrested him in 1995. Falwell remained skeptical about Hubbard throughout his incarceration because he had seen many jailhouse professions of faith that failed to bear fruit.
Yet after Hubbard's released, Falwell, who also attends Russellville First Assembly, says he trusts Hubbard explicitly and has come to see the rehabilitated inmate's past as no worse than his own.
"Every one of us faces a temptation that can easily distract us unless we stay in tune with God," says Falwell, who continues to work weekly construction side jobs with Hubbard. "My life was just as messed up as his because I was a workaholic. His sin just happened to be illegal."
Gibbons, the retired prosecuting attorney who put Hubbard behind bars, today considers him an outstanding member of the community.
"He donates several hours each week helping people conquer their problems, find jobs, and become productive citizens," Gibbons says. "When I think of redemption, I think of Marcus Hubbard."