Treating the Whole Family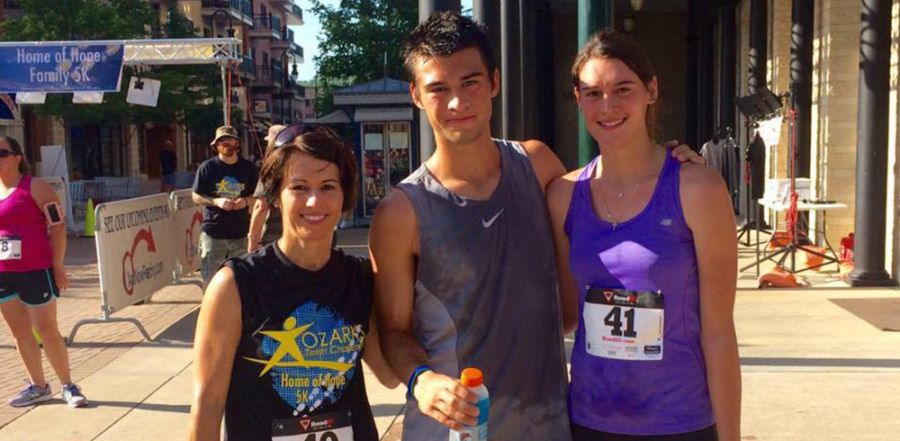 Don't miss any stories. Follow AG News!
Stacey McGough felt as though she had reached the end of the line in an effort to turn the life of her drug-addicted teenage son around. Hunter Lamoureux had gone to short-term treatment centers, a group home, chemical dependency counseling, and a psychologist.
Being arrested, placed on probation, taking depression medication, and forced to wear an ankle bracelet to trace his moves made no impact on improving Hunter's behavior. Neither did dropping out of high school, nor losing privileges such as playing soccer or snowboarding, activities in which he had excelled earlier.
Stacey made inquiries with dozens of treatment facilities, but none seemed a right fit to provide a breakthrough to restore the apathetic and angry Hunter.
But a phone conversation Stacey had with Ozarks Teen Challenge Boys Academy Admissions Coordinator Adam Holderread provided hope.
"I knew Hunter was supposed to be there," says Stacey, a single mother in Whitefish, Montana. The athletic emphasis at Ozarks Teen Challenge especially appealed to Stacey.
However, the beginning of the 15-month residential stay proved to be anything but smooth for Hunter.
During the first month he ran away from the facility, located on 190 acres of woods among rolling hills at the edge of Branson West, Missouri. By the fourth month, when Stacey first visited Hunter in the Show Me State, she encountered a son much different from the one who cursed at her and punched holes in the wall at home.
"His whole demeanor and spirit had changed," Stacey recalls. "I had my child back for the first time in three years."
Six months into the program, Hunter made a profession of faith in Jesus Christ.
When he graduated from Ozarks Teen Challenge Boys Academy in February 2016, Hunter had earned 23 online credits for courses taken during his stay, finishing with a 4.0 grade point average. In the fall, Hunter will be a student at Sierra Nevada College in Lake Tahoe. He received the highest academic grant from the school, as well as a sports scholarship to become part of the top college snowboarding team in the nation.
Stacey mortgaged the family home to send Hunter to Ozarks Teen Challenge. Teen Challenge is a ministry of Assemblies of God U.S. Missions.
"It was worth every penny," she says. "The staff poured into Hunter in so many ways. They are such a gifted team. What they did was a miracle."
Indeed, the dozen disparate team members at Ozarks Teen Challenge blend well in seeing that lives of boys ages 12 to 17 get back on track after substance abuse and other life-controlling issues. The therapy features a highly structured schedule that includes year-round on-site schooling in a classroom setting, group discipleship classes, and individual mentoring.
Residents at the 28-bed facility aren't just from southwest Missouri, but from around the nation. Relatives usually decide to place boys in the faith-based center, although some are there because of court orders.
"Families need to buy in and be an active part of the process," says the upbeat and personable Development Director Wendy Buttacy, noting the value of bimonthly parental visit weekends, weekly phone calls, and detailed monthly progress reports. "Family involvement is one of the biggest factors for continued success after the boys leave the program."
Wendy, 32, and her husband, Michael Buttacy, the center's 33-year-old executive director since July 2015, met at Evangel University. They lead a highly educated staff. Michael earned a master's in business administration while Wendy holds a master's in counseling from Assemblies of God Theological Seminary.
Although neither Michael nor Wendy traveled down an addictive road as youths, others on staff did.
Program Director Steven Borchert, the youngest of eight children, says when he was 6 years old his grandfather began giving him scotch and whiskey to drink at family reunions. He tried to overdose on painkillers at 15. After a stint in the Army that ended with an excruciating ankle injury, Borchert cultivated a prescription drug addiction that led him to the brink of suicide.
"I was just empty," recalls Borchert, 35. "I was trying to find fulfillment in the things of the world."
Borchert has been at the center since it opened nine years ago. While he sensed God calling him to ministry during college, he went down his own path, earning a bachelor's degree in wildlife biology, before surrendering to the call.
Youths sometimes feel freer to be real with Borchert because of his tattooed-covered arms and rough-around-the-edges exterior.
"When our students first get here they hate it," says Borchert, whose mother died when he was 13 months old. "I've been bit, kicked, spat on, and had stuff thrown at me. Guys we're dealing with have been kicked out of youth group or school."
But students eventually come to see Ozarks Teen Challenge as a place of refuge, Borchert says, and before leaving they already are ministering to fellow students.
Holderread, the 32-year-old admissions coordinator, has a master's degree in criminal justice, served as a Special Weapons and Tactics police officer, and is a chaplain candidate at AGTS. Especially now that he and his wife, Rachel, have two preschool children of their own, Holderread believes he should be a role model to boys at the center.
"These young men need to have a father figure," Holderread says. "But we also strive to restore the family unit — parents, guardians, siblings, grandparents — because they also are in need of ministry."
Uniformly, staff members credit Buttacy — who tries to ensure that employees don't put in more than 40 hours per week — with ensuring that they don't burn out. Buttacy says he wouldn't be surprised if most of the current team wind up leading Teen Challenge centers themselves someday.
"We can't pay the people in these positions what they deserve, but they want to be here," Buttacy says. "Their drive and passion is bigger than any paycheck, but nowhere in the Bible does it say people need to work 90 hours of ministry a week."
Leigh Roberts, whose son Sam graduated from the program in October 2014, felt so impressed by Ozarks Teen Challenge that she heads up a support group in which parents of alumni counsel parents of current students over the phone.
"It's a family disease and if you want your child to have the best chance at success, the family has to be involved," says Roberts, who lives in Oklahoma City. "I hope to get every parent to talk about drug addiction to try to get rid of the stigma."
Roberts, whose son is preparing to start his second year of college, lauds the Teen Challenge personnel for their care and involvement.
"More than anything, people who struggle with addiction need to be shown love, and the staff pours so much love into those kids," Roberts says. "They act out God's Word in the way they live."
Pictured: Stacey McGough (left) participated in a five kilometer run with her son, Hunter (center), and daughter, Andrea, near the end of Hunter's Teen Challenge stay last year.