Turnaround in Odessa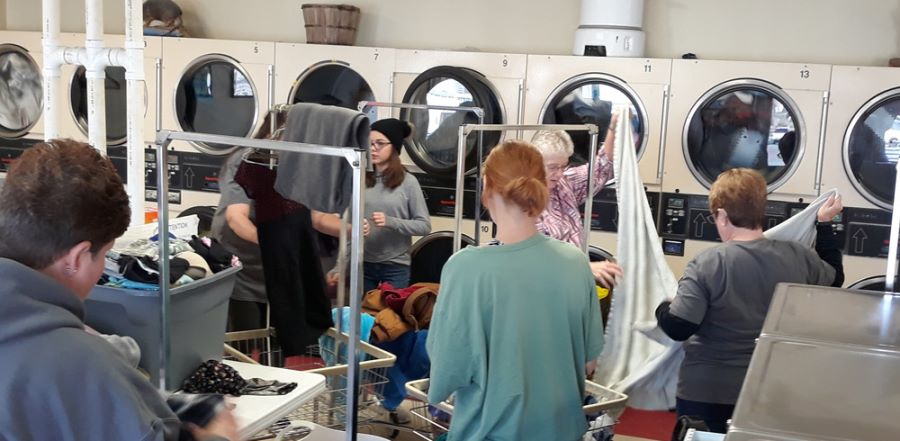 Don't miss any stories. Follow AG News!
One day in 2015, pastor Danny W. Davis went to his bank, just wanting to cash a modest paycheck. He didn't expect to encounter a former church member who chose to loudly unload his frustrations for all in the bank lobby to hear. Although Davis managed to control his response, the episode left him wondering whether everyone in Odessa, Missouri, considered First Assembly a place of conflict.

If they did, they don't anymore. Instead, First Assembly, now Life Point Church, is known for its service to the community. The church received the community betterment award last year from the Odessa Chamber of Commerce.

"They are the first to step up for any community service event," Tamara Kirk of the Odessa Chamber of Commerce says of the church. "They provide supplies, and people volunteer. They are a big part of the success of our events." The church is currently partnering with local and national organizations to assist families affected by school and work closings due to concerns with coronavirus.

Davis, 50, has small-town roots, but hadn't planned on ministering in one. With his wife, Sherry, he served as a missionary and church planter in South Africa. In 2011, Davis transferred his ministerial credentials to the Assemblies of God, enrolled in Assemblies of God Theological Seminary in Springfield, Missouri, and got involved in a local church. In 2013, Jason St. John, then the Kansas City sectional presbyter, suggested Davis consider pastoring Odessa First Assembly. Following a series of short-term pastors, the church had plateaued at around 25 congregants.

Davis chronicles the story of Life Point Church in Rural Church Turnaround scheduled to release in June.

Defining rural by not only population but also by proximity to larger metropolitan areas, nearly half of the nation's churches are rural, including 163 of 360 churches in the Assemblies of God Southern Missouri District. Attendance, however, has declined, with over 75 percent of the rural U.S. population uninvolved in church. Rural areas also tend to have significant rates of poverty, increasing problems with dysfunctional families, and substantial amounts of substance abuse. Many rural churches are plateaued or dying. But it doesn't have to be that way.

To identify rural challenges and ways to address them, the book draws from the stories of Life Point and three other Missouri churches: New Life Church in Barnett; Licking Assembly of God; and New Life Church in Farmington.

Even though the Davises had a vision for Odessa, the first three years proved tough.

"Small towns tend to resist people who didn't grow up there," says Davis. It helped that their sons, then 13 and 12, got involved in school sports, providing opportunities to meet other parents. The Southern Missouri District arranged a grant to supplement Davis's salary, but he also worked two years as a substitute teacher, building relationships with students and staff. Sherry opted to work in a local bank rather than commute to Kansas City, 35 miles to the west.

Finding ways to make a living is one of several challenges discussed candidly in the book. Most small towns offer limited job opportunities, but church finances frequently necessitate a bivocational pastor and/or a working spouse.

While some pastors live in a city and commute to the rural church, this takes time away from ministry in the community. Living rural, though, creates its own challenge: isolation.

"You have to find ways to get involved," says Davis. "And you must be intentional about networking with other pastors who understand." He benefits from groups such as Small Town Big Church, Rural Compassion, and Rural Matters Institute.

During Davis's third year in the Odessa pastorate, several members, even some who participated in the church's Acts 2 Journey, decided to leave, despite a growth in church attendance.

"There was some resentment at loss of control," Davis says. "Identifying leaders who embrace the shift from an inward to a missional focus is essential." The book features interviews with such mission-minded leaders from each church.

When attendance dropped, Davis again needed extra income. A friend referred him to SUM Bible College & Theological Seminary. He is in his fifth year of teaching classes. Former students who are involved in church planting and rural ministry consider him a mentor.

Another challenge of rural ministry is what Davis calls "vision fatigue." Pastors serve rural churches an average of 1½ years, just enough time to introduce new ideas, but not staying to follow through. A succession of such experiences leaves the congregation tired of trying new ministry methods. Outdated facilities, shaky finances, and ineffective ministry programs — or none at all — may be the norm. To address these troubles, Davis says a pastor must commit for the long haul, working through conflict and loving people.

Davis believes the flight of rural young people to jobs in cities is starting to reverse. With lower housing costs and smaller schools, towns within 30 to 50 miles of large metropolitan areas are attracting young families and experiencing revitalization in the form of coffee shops and arts communities. Farther from larger metro areas, however, the culture is different. Often, a base of older people may be hard to convince that new vision is needed — or possible. Some younger families have stayed around, but lost interest in church. Understanding community culture takes time and intentionality.

Examining similarities in revitalized churches, Davis discovered they commit to serving. At Life Point, the youth group grew to nearly 30 students after the church initiated a Wednesday night meal. Volunteers at each table greet youth and are available for conversation.

The principles in Rural Church Turnaround are not a quick fix, but Life Point Church, now averaging 65 on Sundays, shows change is possible.
Photo: The Loads of Love ministry involves church members either picking up laundry or transporting people to a laundry from the local housing authority project, and paying for the use of the machines.