Ukrainian Prepares to Launch Church in Heartland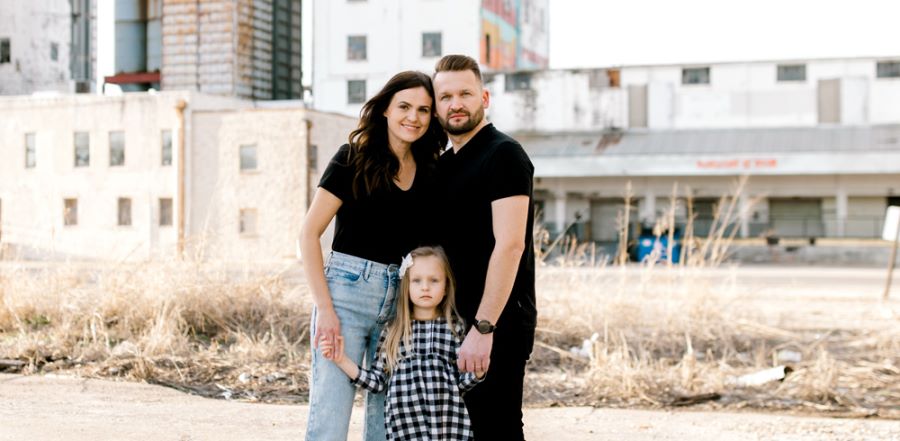 Don't miss any stories. Follow AG News!
When Alex Limonchenko immigrated to the United States at the age of 18, he knew no English. Now, 22 years later, he is preparing to launch a church in Nixa, Missouri, where he will preach in English.
He will be assisted by his wife of 18 years, Marianna, a native of Georgia, another country on Russia's western border. Marianna moved to the U.S. in 1989 with her parents at the age of 6. Alex has a distinctive Slavic accent; Marianna, not so much.
The parents of both Alex and Marianna came to the U.S. as religiously persecuted refugees seeking a better life. Alex is a third-generation pastor. His father, Leonid, worked bivcationally as a pastor and mechanic. Although he sensed from an early age that he had been called to be a minister, Alex didn't know how he could support himself in such an endeavor.
Thus, he obtained a bachelor's degree in respiratory therapy from Georgia State University. He then moved to Portland, Oregon, where an estimated 150,000 Eastern European refugees settled following the Cold War. In Portland, he attended a Slavic Pentecostal megachurch. Alex and Marianna met when they both sang in the choir. Alex volunteered for a host of ministries: hosting a cell group, serving as deacon, teaching teenagers, and running leadership seminars in multiple countries.
Together, the joyful couple oversaw a deliverance and healing ministry connected with the church that turned into a discipleship group with a holistic approach.
"We laid hands on the sick and they recovered," Alex recalls. "Many of these people were far from God, but they started reading the Bible, praying, and seeking the Lord."
There are a multitude of Slavic residents in the Springfield, Missouri, area, with several new families arriving every week. A decade ago, the Limonchenkos moved to Rogersville, Missouri, where Marianna's parents, Mikhail and Nadia Osenniy, attend Bread of Life, an AG church with 700 regular attendees in Russian- and English-language services. Marianna's father is a deacon and likewise had been bivocational.
Alex initially affiliated with the AG's National Slavic District, for which his uncle, Viktor Limonchenko, serves as vice superintendent. An estimated 3,000 Russian- and Ukrainian-speaking residents live in the greater Springfield area — the majority of whom are Pentecostal. However, Alex wanted to open an English-speaking church.
He became part of the AG's Southern Missouri Ministry Network and in 2016 obtained a master's degree in divinity with concentration in expository preaching and church planting from Assemblies of God Theological Seminary. Alex interned at James River Church in Ozark and then joined the staff as associate pastor of the nascent Freedom City Church, which now has an average weekly attendance of 270. The Limonchenkos met Freedom City pastor John C. Alarid through AGTS.
While preparing to pioneer, Alex and Marianna started attending Springfield's Connect Church, an AG church with an average weekly attendance of 1,300 that also opened in 2016.
In October, the Limonchenkos — who have one child, 6-year-old Zoe — will plant Victory Church in Nixa, a growing suburb of 22,000 south of Springfield. Russian translation will be available for the English-language services.
While Victory Church won't have official ties to Connect Church, Ukrainian-born Peter Golosinski says much of the launch team will be from the congregation he pastors. Like Victory Church, Connect Church is affiliated with the Southern Missouri Ministry Network. Only around 15% of the Connect Church's adherents are Slavic, according to Golosinski. He has known Limonchenko for 20 years, when they both attended the megachurch in Oregon.
"Alex has always been committed to ministry, whether he has an official role or he is just helping out," says Golosinski, 49. "He shared his vision and I can confirm that he is qualified."
Earlier this year, the Limonchenkos attended a Church Multiplication Network Launch Training event to be better equipped. They have been forming a core team, holding interest parties, conducting prayer gatherings, and sponsoring picnics.
"We learned about the assimilation process," Marianna says. "So many teams — children, worship, hospitality, ushering — are needed for a church to have healthy functioning."
Their goal, as in Portland, is to foster an environment of discipleship so that churchgoers aren't nominal or lukewarm Christians.
"We want to see people go to church more than twice a year," Alex says. "Our desire is for Victory Church to be a place for people who are far from God, broken by sin, and oppressed by the devil. We want them to receive freedom, healing, and redemption for their spirit, soul, and body through the power of Jesus Christ."
Limonchenko naturally is concerned about the now war-torn country where he grew up (and where his older sister Liliya Ivanov continues to live). Still employed as a respiratory therapist, this spring Limonchenko helped engineer through his employer, Springfield's Mercy Hospital, the delivery of 13 pallets of life-saving medical supplies and surgical equipment for Ukrainians injured in the war with Russia. Connect Church also participated in the project and Convoy of Hope delivered bandages, gauze, IV fluid, and other provisions, worth $128,000.
"In Christ, there is no Russian, no Ukrainian, no ethnicity, but rather a new creation," Marianna says.