United in Charleston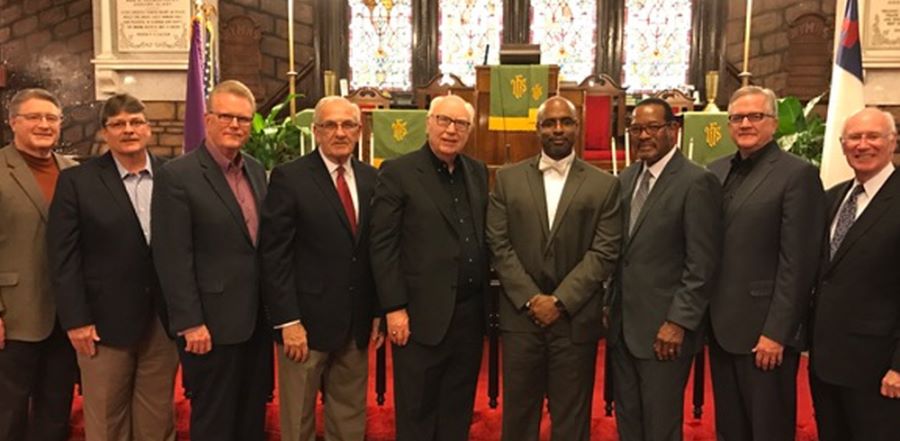 Don't miss any stories. Follow AG News!
CHARLESTON, S.C. — On June 17, 2015, churchgoers at Charleston's historic "Mother" Emanuel African Methodist Episcopal church welcomed a stranger in their midst at a fateful prayer meeting. Their trust was betrayed when the assailant fired multiple rounds, killing nine of the faithful gathered in prayer — including the church's pastor, Rev. Clementa Pinckney.
Last week, leaders from eight major Pentecostal denominations gathered at the Mother Emanuel church for a time of prayer. Participants included: Rev. Randall A. Bach, president,
Open Bible Churches
; Bishop Doug Beacham, Jr., presiding bishop, the
International Pentecostal Holiness Church
; Bishop Charles E. Blake, Sr., presiding bishop of the
Church of God in Christ, Inc.
; Dr. Glenn Burris, Jr., president, the
International Church of the Foursquare Gospel
; Bishop Sam Clements, general overseer,
Church of God of Prophecy
; Bishop Dan Coleman; general secretary,
Pentecostal Church of God
; Dr. Tim Hill, general overseer,
Church of God
; Dr. George O. Wood, general superintendent of the
General Council of the Assemblies of God
.
According to Wood, the leaders "prayed in the place below the sanctuary where these dear ones died," describing the gathering as a "sobering experience, reminding us of the need for genuine racial reconciliation."
The Pentecostal leaders had gathered in Charleston for the annual meeting of the
Pentecostal and Charismatic Churches of North America
(PCCNA). The time of prayer at Mother Emanuel seemed fitting for the PCCNA executive committee. Among the chief reasons for the creation of the PCCNA was racial reconciliation among Pentecostal and charismatic denominations and organizations.
The Pentecostal leaders spent time in prayer and discussion with Mother Emanuel pastor, Rev. Eric S. C. Manning.
A statement from the PCCNA noted that as "these leaders stood in the sanctuary with the pastor and listened to his heart, the Lord gave opportunity for these eight men to pray for the pastor, the church, and its future for continued purpose and hope."
Members of the PCCNA Prayer Commission also took time to visit the Mother Emanuel church, meeting with chaplains and police who were among the first to arrive to the scene of the tragedy. P. Doug Small, chairman of the PCCNA Prayer Commission says "the room was still; all were moved as this black and white panel talked about love and forgiveness."
Prayer Commission members also visited the site of the Anson Street Revival of 1857 — a pre-Civil War revival at a black church pastored by a white pastor. Small recalls, "The powerful moment was inside the church where we prayed. And sang. And asked God for another Anson Street. Precious."
As for the hope of racial reconciliation, the Pentecostal groups in the PCCNA are seeing progress. In the Assemblies of God, 43 percent of adherents in the U.S. are ethnic minority. That's up dramatically from 29 percent in 2001.