Valley Forge President Honored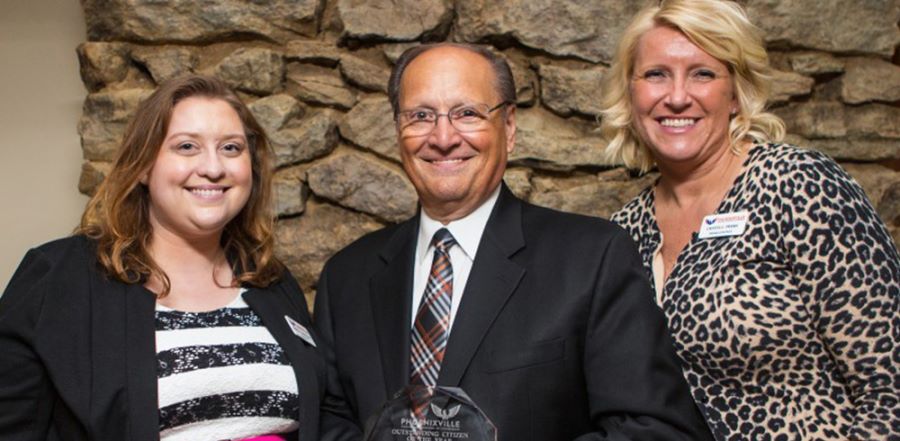 Don't miss any stories. Follow AG News!
University of Valley Forge (UVF) President Don G. Meyer has been named the 2015 Outstanding Citizen of the Year by the Phoenixville Regional Chamber of Commerce. 
 
The award is given to an individual who "has contributed an extraordinary amount of time, service, and leadership to promoting the quality of life and welfare of the regional community." Meyer has served as president of the University of Valley Forge since 1997, and has overseen the university through its 75th anniversary and a recent name change from Valley Forge Christian College.  
Meyer encourages students, faculty and staff to dedicate one day of service to Phoenixville annually in what the university has designated as Community Service Day. On this day, UVF personnel perform such services as cleaning up debris in yards, parking lots, streets and parks, as well as painting and helping neighbors with assorted jobs they cannot do themselves.

With Meyer's support, UVF also hosts annual events that benefit specific organizations in the community. The Phoenixville American Cancer Society Relay for Life is a 24-hour continuous walk on the campus that raises funds for various American Cancer Society programs. The university's homeless ministry and community volunteers gather on the campus to assemble care packages for the homeless and raise funds for the Good Samaritan Shelter in Phoenixville while hosting an all-night vigil. 
Crysta C. Peers, the chair of the Phoenixville Regional Chamber of Commerce Board, presented the award to Meyer on March 18.
"His extraordinary leadership, vision and exceptional decision-making skills enable him to bravely navigate through each task," Peers said. "He is a noble leader both locally and within the higher education community, one who provides inspiration to all he serves."  
 
Meyer said when he and his wife, Evie, arrived in Phoenixville 19 years ago they knew no one.
"What we discovered here in the Valley Forge community, was a community of people committed to a mission that mattered," Meyer said. "We discovered a family that grew around our hearts and our hearts grew around theirs."