Vidcasting Enlarges Rural Pastor's Territory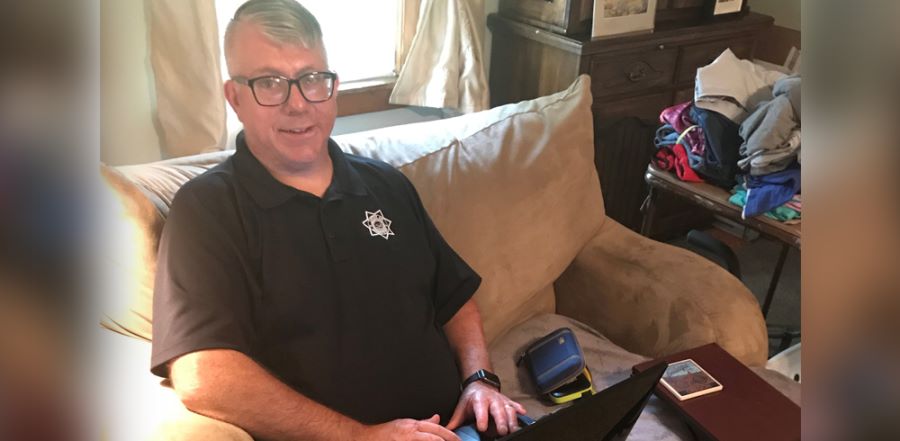 Don't miss any stories. Follow AG News!
For rural Midwest pastor Tim A. Hammye, God's answer to the ancient prayer of Jabez for favor is found in something decidedly modern — "vidcasting," or social media-based video broadcasting.
Seven years ago, Hammye found inspiration from 1 Chronicles 4:10, which records the plea of Jabez to God: "Oh, that You would bless me and enlarge my territory."
"I was looking for some way to go beyond the borders of our church," says Hammye, 48. "I like technology, so I began using YouTube to do these five-minute devotionals." About a year and half ago, he added Facebook Live.
His "studio" is wherever his webcam, laptop, or smartphone takes him. It may be his kitchen table one day, his office the next, and on still another occasion the great outdoors.
Nowadays, Hammye has indeed enlarged his territory. Hundreds of people have logged on to see his Monday through Thursday, "Tim Preacherman Hammye" Facebook vidcasts, or alternatively catch him on his YouTube channel.
The vidcasts help the pastor reach well beyond First Assembly of God in the eastern Kansas town of Burlington where he pastors. An average of 40 people attend Sunday services.
Church outreaches range from nursing home visitation to sponsoring summer camps for elementary, middle school, and high school children. Hammye also serves as a Kansas Ministry Network presbyter and as a chaplain for the Coffey County Sheriff's Department.
Hammye has pastored in the community of 2,600 for 14 years. His wife, Carrie, is a schoolteacher and the couple has two daughters. When hired, Hammye made a commitment to the church board to be a pastor to the entire community.
His four-day-a-week vidcasts have expanded that community to an audience that is international — and ethnically diverse. More than parishioners, friends, and family tune in; other rural Kansas pastors and viewers from the Pacific Northwest to the Florida coast do as well. Even missionaries as far away as Bangladesh receive encouragement from his thoughts on Scripture, practical Christian living, parenting, and marriage.
"I look forward to his daily devotions and he's helped me through some rough times," says Sherry Tritten Donovan, of Hartford, Wisconsin. "He inspires me. He helps keep my faith alive."
Allison Nauertc of LeRoy, Kansas, adds that Hammye's vidcasts provide a dose of encouragement, starting off her days bound in the Bible and prayer.
"What a blessing it is!" she says.
Along the sparsely populated plains of Kansas, Assemblies of God pastors can be long drives away from any ministerial fellowship; Hammye's devotionals help ease that isolation, according to Art Wagner III, pastor at Crossroads Victory Lighthouse in Kinsey, a town of 2,600 located 230 miles west of Burlington.
"His posts have encouraged me to reach out to others with the gospel through Facebook Live," says Wagner. "Tim is also a big blessing to a group of pastors with Sunday morning texts of encouragement and the Word. That has caused me to text my fellow pastors in my own community."
Hammye believes Christians need to use whatever resources are available to share the good news.
"Every time somebody watches the devotionals it is like planting a seed," Hammye says. "That seed will be watered and grow and someone else may be saved."