Welcoming the Stranger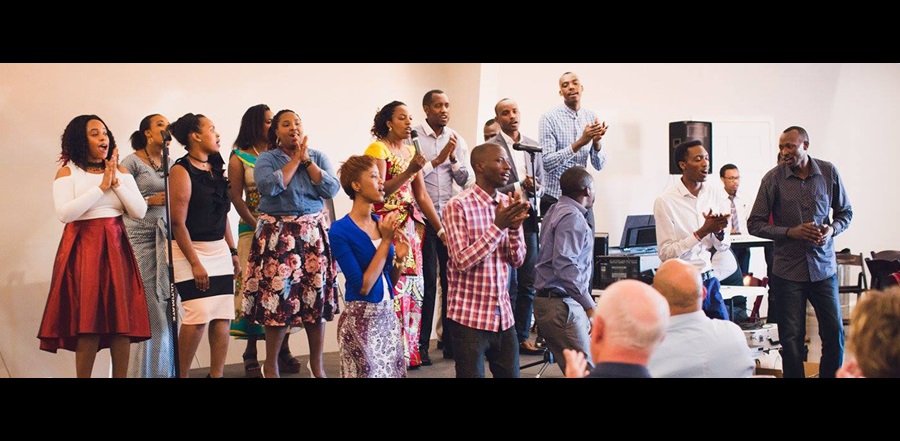 Don't miss any stories. Follow AG News!
In 1998, war in the Democratic Republic of the Congo chased Rwemera Nyakagabo Fidel and his family from Katanga province into South Kivu. But in 2004, the war reached their adopted city, Uvira, pushing them into a United Nations camp of 11,000 refugees in neighboring Burundi.
Two years later, Fidel, an ordained Assemblies of God pastor, co-planted Bethlehem Assembly of God in that camp and served as its youth pastor. Like everyone else in the camp, congregants held onto ever-dwindling hope of being chosen by the United Nations High Commission for Refugees to receive a rare coveted visa anywhere.
"You have to wait your turn," says Fidel, 47. "Everybody is waiting to leave Africa. Even a year can go by and nobody in the church is selected."
In the 11 years since Bethlehem AG's founding, only around 100 received visas. Its 900 congregants, including Fidel and his wife, Uwizeyimana Jeanne, 36, fasted and prayed.
Earlier this year Fidel, Jeanne, and their five children, ages 4 to 23, received word their prayers had been answered. In September, the family arrived in Amarillo, Texas, where Jeanne's sister had settled. To fulfill a vow to God, her first Sunday in the Congolese Zoe Church, a parent-affiliated congregation of 140 that's part of First Family Church (formerly First Assembly of God of Amarillo), Jeanne danced before the Lord in thanksgiving.
The church has committed to help the family, which has no vehicle. They speak no English. They will be assisted by AG U.S. missionary Steve Woodward, who also runs an English as a second language program to help those from other cultures. Woodward describes the Fidel family journey as typical of refugees to whom he ministers.
"I visit their churches, I have them in English class," says Woodward, who is an AG Intercultural Ministries U.S. missionary. "We don't hear enough of their stories."
Since 2007, Amarillo has resettled 4,614 refugees, the highest number of any Texas city, due to its low cost of living and abundance of jobs for which English is non-essential.
Scott Temple, director of the AG Office of Ethnic Relations, is developing a 100-page manual to help districts be more receptive to minorities and immigrants. Temple is working with the West Texas District, which is formulating plans to better welcome the expanding immigrant population.
Temple's ministry provides help beyond churches with congregants who have lived for generations in the United States. He received a request from Dallas-area Cameroonian refugees who wanted their church to be more ethnically diverse.
"They wanted to fulfill the Scripture as well and reach all nations," Temple says. "It's a growing vision."
"(Immigrants) bring a fresh look at what heaven is going to be like," says Glenn R. Beaver, West Texas AG superintendent. Beaver notes that in some areas, cultural barriers keep people from seeing immigrants as people who need Christ.
First Family Church ethnic congregations include the Kirundi-language Congolese and a Spanish-language group from several nations. Billy D. Nickell, First Family's pastor, connected five years ago with Congolese Christians through Woodward, who helped Zoe pastor Eliazard Mudakikwa and other Congolese ministers receive their AG U.S. credentials. The church moved from meeting in the First Family gym into the building that had been home to a now-defunct Anglo AG congregation.
While refugees need help from established churches, ranging from English lessons to assistance setting up their homes, Nickell notes that the key to any outreach to newcomer internationals is being Kingdom-minded and interested in evangelism.
"It must be initiated by the American church," Nickell says. "The immigrant feels alone, in a totally different world. We have to open our arms, hearts, minds, and pocketbooks."
A great place to start is potlucks and joint worship services and youth gatherings. English classes are a huge need as well.
"They're so appreciative of our friendships," Nickell says. "They want to be part of our churches. They don't want to just be stepchildren; they want to be embraced. So it takes a very deliberate, conscious effort on the part of the pastors, board, and congregation."
Rewards abound for incorporating new immigrants into a congregation. Nickell cites a refugee couple from Iran who fled Tehran after coming to Christ and ultimately resettled in Amarillo, where they connected with First Family Church. Today the couple are AG U.S. missionaries aiming to plant a Farsi-language church in Amarillo.
Congolese pastor Fidel compares his family's journey as refugees to the children of Israel wandering in the wilderness. He notes multiple difficulties in the refugee camp, and expresses his family's deep gratitude in finding a new home in Amarillo.
The church of refugees remains burdened for those still in the Burundi camp. Mudakikwa, Zoe's pastor, says Fidel helped 60 widows and war orphans with food, clothing, and shelter as part of his ministry in the Burundi refugee camp.
"They had nothing," Fidel says. Zoe Church sends donations to those still in the camp.