Wildfires Claim Another AG Church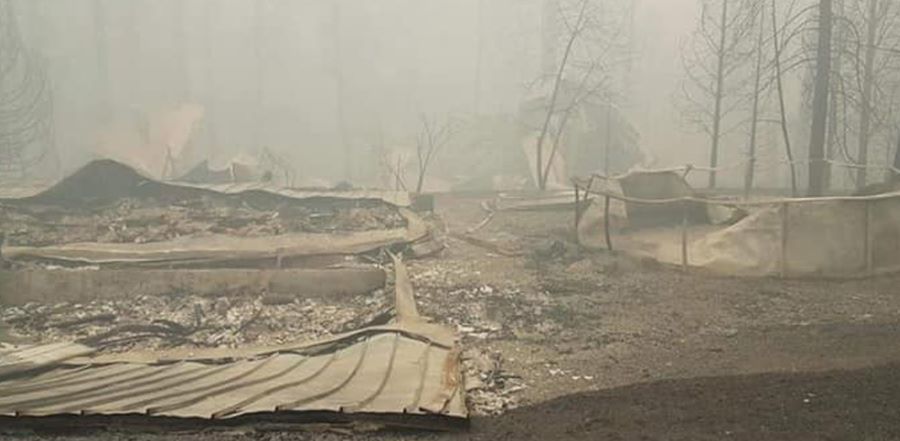 Don't miss any stories. Follow AG News!
Mountain Chapel
in Berry Creek, California, and its parsonage are now nothing more than a scarred foundation and charred rubble as the Bear Fire — now part of the North Complex, West Zone fire — decimated the town, taking out hundreds of homes along with businesses, the school, and fire department.
Gerald Ballard, pastor of Mountain Chapel, says that for about three weeks the smell of smoke and a smokey haze settled in and around their small community of about 1,200, as 20 separate slow-moving fires, started by lightning strikes, surrounded the area.
Pacific Gas & Electric Company (PG&E) informed Berry Creek residents it was cutting power to the community beginning Sept. 7 for at least three days to reduce fire risk.
"We have had rolling blackouts for more than a year now, and they aren't all that comfortable," Ballard says. "So, following the Sunday morning service [Sept. 6], I packed a bag and left."
On Sept. 8, mandatory evacuation orders were given and the following day, the Bear Fire swept through the community.
Mountain Chapel, which is located about 90 miles north of Sacramento, averages about 30 to 35 in attendance for Sunday services, but the church also ministers to an additional 40 families that come each Sunday for food from the church's pantry. Following the fire, Ballard received some pictures of the sparse remains of the church and parsonage from a former firefighter. He believes nearly everyone in the church — and those who visit the pantry — lost their homes.
Although the church and parsonage were insured and most families who regularly attend the church had insurance, Ballard says he is very concerned about the people who are ministered to through the pantry.
"Many of the younger people who come to the pantry have inherited their property from parents or grandparents," he says. "Because the homes have been paid off a long time ago, there's no mandate for insurance . . . many did not have the insurance necessary for replacement."
Although emergency responders are the only ones currently allowed into the Berry Creek area, Ballard says he and his congregation are going to rebuild the church. However, as they do, they also want to minister to the needs in the community.
"The people who do not have insurance are going to be a big thing for us," he says. "They're going to want to rebuild, but won't have the resources to do that -- we want to help them because they are part of the community and it's their entire heritage."
Ballard says that he has been in touch almost daily with the
Northern California and Nevada District Resource Center
and he has spoken with
Convoy of Hope
.
"They [Convoy] are on another fire north of us now," he notes. "My understanding is that they will be moving resources to our area within a week or so — in fact, they are already sending pallets of different things to one of the food distribution areas."
At this point, Ballard says that he will continue with online services — possibly even from associated churches — for his congregation. Once he's able to return to Berry Creek, he'll have a better idea of what the church's next steps will be when it comes to the congregation coming together in person for services.