Pizza, Football, and Flat Tires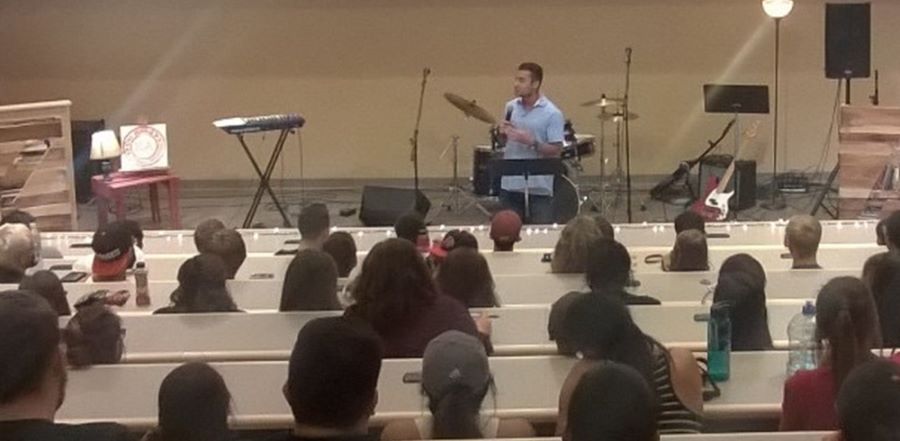 Don't miss any stories. Follow AG News!
Stunned, Alex stopped talking in mid-sentence. He was sharing Jesus with a university student in a pizza shop in a Central Asian country. But he had difficulty processing the Muslim student's response: "I know exactly who you are talking about. It's Jesus!" The student had never heard a Western preacher or read a Bible, characterizing his answer as even more surprising to Alex, who admits being caught off guard. "It freaked me out," Alex recalls.
The student continued describing his dreams when he was a toddler about a man on a cross. He would even draw pictures of the cross and the man — Jesus — with a big heart that somehow he knew loved him. His parents, devout Muslims, ripped up the drawings and warned him never to talk about it again.
That afternoon, the university student left the pizza shop with the takeaway that Jesus is real.
Missionary Associate Alex, U.S. Missions Chi Alpha Campus Ministries leader at New Mexico State University (NMSU), Las Cruces, New Mexico, and his wife Abby spent one year ministering to university students a Central Asian country in 2009-10. They landed in Central Eurasia as newlyweds following graduation from Sam Houston State University (SHSU) in Huntsville, Texas. Committing to an overseas term, they responded to the challenge of Chi Alpha's student missions motto to "give a year and pray about a lifetime." It was a faith-building adventure personally, spiritually, and ministry-wise. Joining a team headed by E. Scott Martin, national senior director of Chi Alpha Campus Ministries U.S.A., the couple learned valuable ministry skills they use today at NMSU.
Over 1,000 students have responded to the call to give a year since 2006, Martin reports. Moreover, the number of missionary associates serving in Chi Alpha USA has soared by 450 percent since 2008. And close to 20,000 students have served on a short-term cross-cultural mission trip in the past decade.
According to Martin, the rewards of the program are life changing. Participants return home with much dross left behind, a servant's heart, and a greater desire to reach the lost for Christ. Finally, many who give a year end up committing a lifetime.
Alex and Abby served in a large city in Central Asia – predominately Muslim with 1.4 million residents. Upon arrival, Alex dove into evangelism by using his sports major, kinesiology (the mechanics of physical activity) from SHSU as a bridge. He clicked with university teams practicing, coaching, and playing sports, playing video games, and just listening. He organized dodgeball events that led to forming relationships in small groups and worship services drawing 75 students. This opened doors for more serious spiritual talks. Alex joined other U.S. colleagues in planting a Chi Alpha group at the university, and helped out in a Russian-speaking church.
His wife, a physical education major at SHSU, taught PE to expat children at a local international school and shared activities with her husband at the Russian church.
"We learned so much in that year in [Central Asia] about ministering together as a married couple and working with Chi Alpha team members," she says. "We also learned about having a relationship with the local church, which helped us plant Chi Alpha at New Mexico State."
Other Chi Alpha workers at NMSU echo Alex and Abby's positive overseas experiences. James (JT) and Nikie Billings spent 2012 helping develop a campus ministry established by AG missionaries Kent and Leslie Linneweh. Almost 60 students attended weekly meetings at Maastricht University in the Netherlands. Steeped in extreme social liberalism, the country permits euthanasia, physician-assisted suicide, prostitution, and recreational drugs. Coffee shops are well known as cannabis bars. Reaching young people saturated by this notorious secular culture is daunting.
The Billings hit the ground running, attending a welcoming pancake party for female students on their second day in Holland. Nikie Billings bonded with Celine, an agnostic, who initially snubbed her Christian witness. Showing a genuine personal interest in Celine, she gained her trust hanging out with her. Several months later, Celine accepted Jesus as her Savior.
JT Billings joined other Chi Alpha teammates treating students to lunch and fixing their bicycle tire flats. Students bike everywhere and face frequent tire problems.
"By this lots of students recognized something different about us," says Billings, who is a U.S. missionary associate.
The couple admits their time in the Netherlands was the most stretching year of their lives as they learned how to launch a new ministry and work in a close-knit community with other Christians. Yet undoubtedly they have made friends for life among Chi Alpha team members.
Mike Winters spent a year and a half in Spain with AG World Missions International Media Ministries. As a foreigner in a strange land he discovered firsthand how international students feel attending a U.S. university. Away from familiar surroundings, family, and friends, they are lonely and vulnerable. As a U.S. missionary associate, he takes this knowledge overseeing Chi Alpha's international students program at NMSU.
"A lot of students find coming to our meetings inspirational," says Winter, who, like Alex, went overseas prior to joining U.S. Missions. "They see us as friends."
Alex and his Chi Alpha team are building on their overseas mission experiences to reach to NMSU's 15,000 students from 49 states and 89 foreign countries.
The new school year welcomed students through invitations to small groups and friendship-linking events such as hiking, longboarding, and video games. Eventually students make their way to weekly gatherings for worship and teaching that attract as many as 100 participants. Along the way, many swear off smoking marijuana, binge drinking, and sexual promiscuity. In the past two years, 24 students have been baptized.